Place
Kennecott Mines National Historic Landmark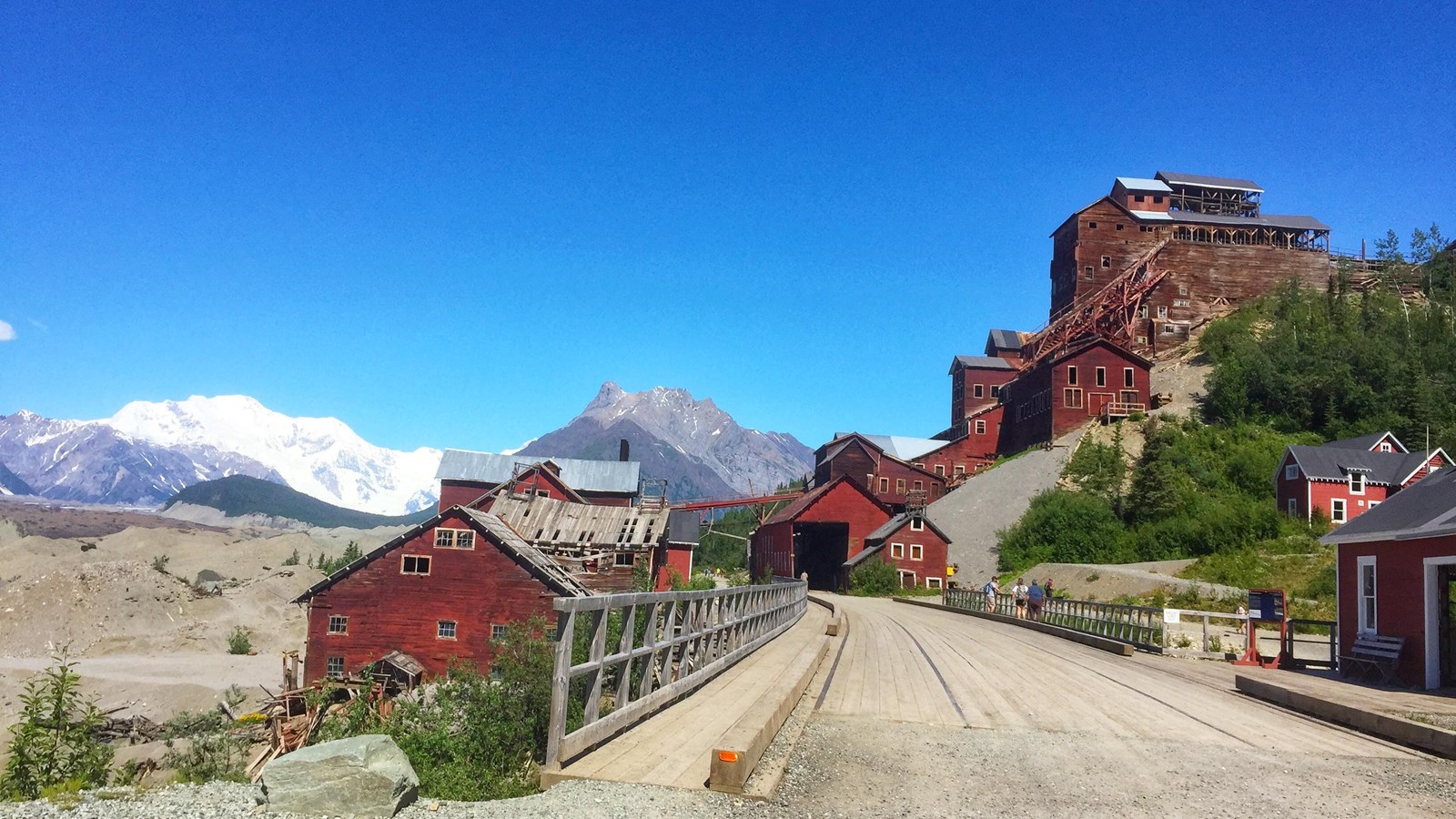 Location:
Kennecott, Alaska
Significance:
National Historic Landmark
Designation:
National Park and Preserve
Benches/Seating, Bicycle - Rack, Bus/Shuttle Stop, Gifts/Souvenirs/Books, Historical/Interpretive Information/Exhibits, Information, Information - Maps Available, Information - Park Newspaper Available, Information - Ranger/Staff Member Present, Information Kiosk/Bulletin Board, Internet/WiFi Available, Picnic Table, Restroom, Restroom - Seasonal, Scenic View/Photo Spot, Toilet - Vault/Composting, Trailhead, Water - Non-Potable
The Quintessential Historic Mining Town
The Kennecott Mines National Historic Landmark is in the heart of Wrangell-St. Elias National Park and Preserve, America's largest national park encompassing 13.2 million acres. Even by Alaskan standards, the site is remote, accessed by small plane or the infamous McCarthy Road. The Kennecott Mill Town, the center of the Landmark, is linear in plan, an orientation dictated by the glaciated, mountainous terrain and the railway that served the site. Designated a National Historic Landmark in 1986, the preservation efforts underway by the NPS since 1998 have uncovered an illustrious history and logistical challenges.

Following the initial "discovery" of the ore in 1900, the development of the site took considerable effort not to mention financial commitment. Accessing the remote site required the construction of a 196-mile railroad from Cordova at a cost of $25 million. It included 44 miles of bridges and trestles, many of which were wiped out each spring and had to be rebuilt. The mill town and mine camps included over seventy-six buildings ranging in size from outhouses to the 14-story timber frame mill building. The fist sized chunks of ore were mined from seventy-seven miles of underground tunnels and transported to the mill building along three aerial tramways, totaling 6 miles in length.

By April 1911, the first trainload of copper ore was headed to Cordova on its way to Tacoma for smelting. At its peak, Kennecott employed 500 to 600 men on three 8-hour shifts. By the time the operation closed in 1938, the Kennecott mines extracted 591,535 short tons of copper from 4,525,909 tons of ore valued at $200,000,000 in 1938 dollars.

Exploitation of natural resources has formed the basis for Alaska's economy since Russian fur traders arrived more than 200 years ago. The mining of mineral resources has left an enduring mark on Alaska's landscape.

Latitude: 61.481048 Longitude: -142.885231

A project through the Save America's Treasures Grant Program, which helps preserve nationally significant historic properties and collections, funded work to rehabilitate the Recreation Hall at Kennecott Mines in 1999.

Additional Information
Library of Congress, Historic American Buildings Survey - Photos and Drawings
National Register of Historic Places - Official Nomination Form
Last updated: April 9, 2021