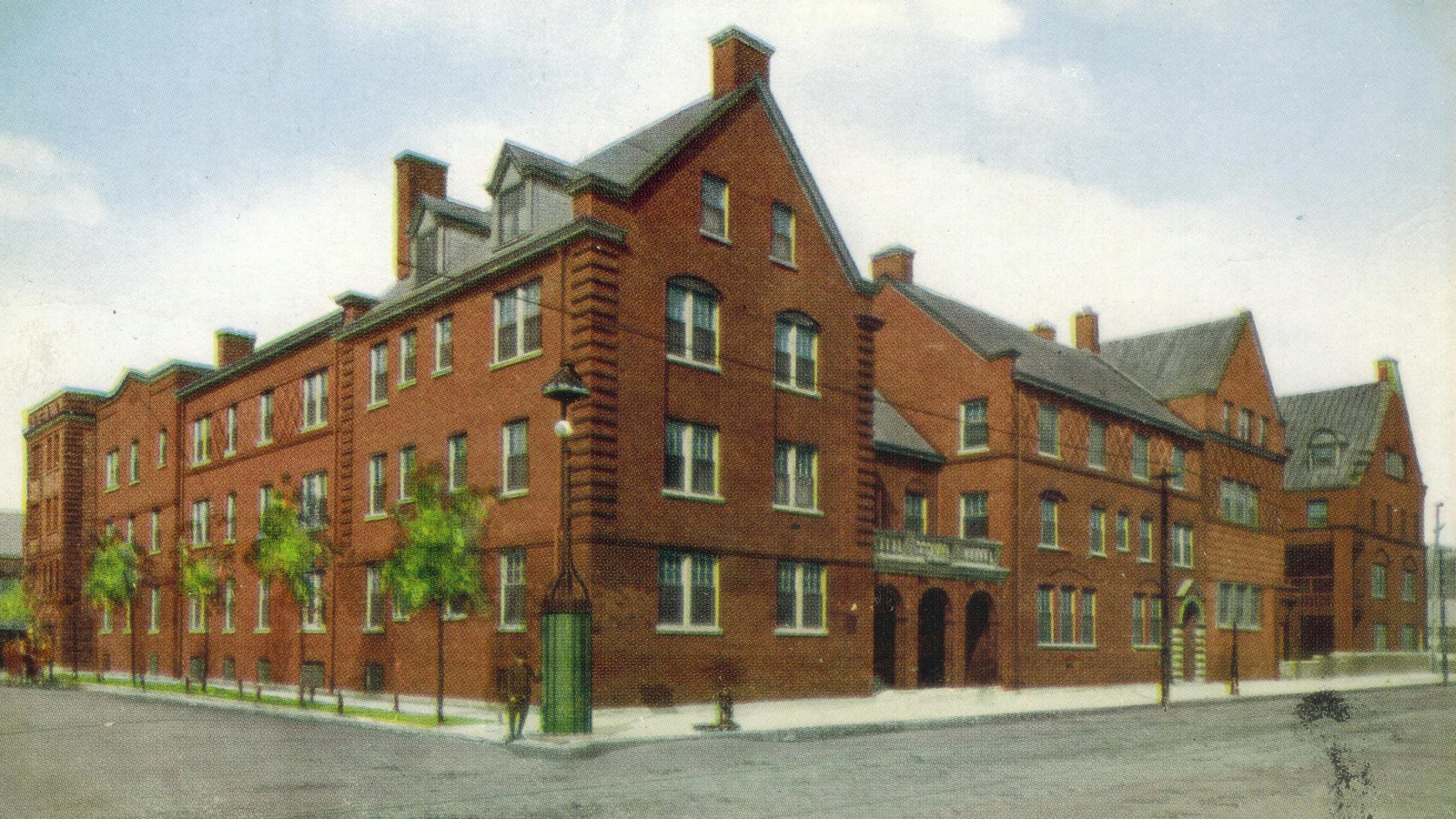 Location:
800 S. Halsted Street, Chicago, IL
Significance:
First settlement house in the United States
Designation:
National Historic Landmark
The content for this article was researched and written by Jade Ryerson, an intern with the Cultural Resources Office of Interpretation and Education.
During the late 1800s and early 1900s, social reformers established
settlement houses
in cities to address issues created by urbanization and industrialization, such as housing shortages and unsanitary living conditions. In 1889,
Jane Addams
and Ellen Gates Starr established Hull-House in Chicago, the first settlement house in the United States.
By the late 1800s, Chicago had begun its transformation into the manufacturing hub of the United States. The steel, clothing, and meatpacking industries attracted thousands of workers from Europe and the American South. The Nineteenth Ward on the Near West Side became an enclave for Eastern European working-class immigrants. Many of them took low-wage jobs in sweatshops and garment factories in the surrounding neighborhoods.  
Jane Addams and Ellen Gates Starr founded Hull-House to offer social services to the community. Some of those services included legal aid, an employment office, childcare, and training in crafting and domestic skills. While touring Europe in 1888, Addams and Starr had visited Toynbee Hall in London and been inspired to create their own institution. Hull-House expanded from one aging mansion, built by Charles J. Hull in 1856, into a 13-building complex that spanned an entire city block. Its facilities included a gymnasium, theater, art gallery, libraries, pools, classrooms, a kindergarten, and dormitories.
Many of the staff who worked at Hull-House were educated, white women from middle- and upper-class families. Some lived full time at Hull-House, while others commuted from their homes in other Chicago neighborhoods. Their work at Hull-House exposed them firsthand to the
unsafe and unsanitary conditions
faced every day by the working-class residents of the Nineteenth Ward. Some Hull-House workers also became involved in social and political reforms, such as protective labor laws for women and children,
women's suffrage
, and addressing neighborhood housing and sanitation problems. 
Hull-House was designated a National Historic Landmark in 1965. It was listed in the National Register of Historic Places in 1966.
Selected Sources:
Addams, Jane.
Twenty Years at Hull-House with Autobiographical Notes
. New York: Macmillan, 1912. A Celebration of Women Writers. University of Pennsylvania Digital Library. Accessed December 15, 2020.
Johnson, Mary Ann. "
Hull House
." Encyclopedia of Chicago. Chicago: Chicago Historical Society, 2005. Accessed January 5, 2021.  
Last updated: June 9, 2021