Place
Gauley Bridge Depot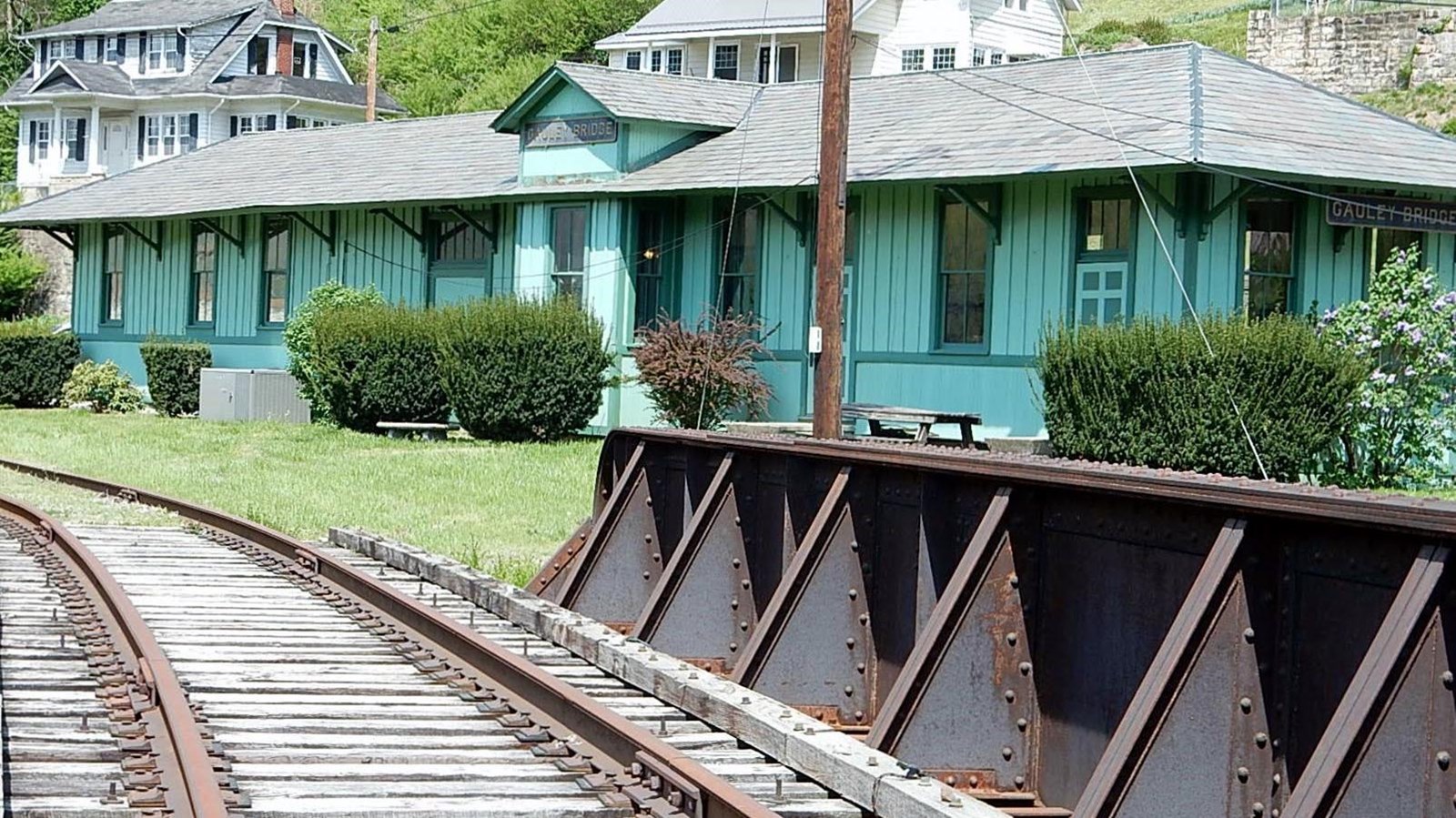 Location:
Gauley Brige Depot
Significance:
After construction of the C&O Rail Line was completed, the depot and rail yard at Gauley Bridge, as at other towns along the rails, continued to provide many African American workers with steady jobs.
African American Heritage Driving Tour Stop 7: African Americans and the Railroad
Construction of railroads and stations brought thousands of people to the coal-rich region of Appalachia. Three railroads opened the vast coalfields of Southern West Virginia to mining: the Chesapeake & Ohio Railway along the New and Kanawha rivers, the Norfolk & Western Railway through the Pocahontas coalfield, and the Virginian Railway into the Winding Gulf fields. This meant jobs building and maintaining the railroads as well as jobs in the coal mines.   

African Americans made up the majority of workers whose sweat, muscle, and blood carved the C&O Railway, its branch lines, and other railroads through the mountainous landscapes. Constructed between 1869 and 1873, it employed thousands of black laborers. Jobs in these industries provided the opportunity for African American families to escape the "Jim Crow" segregated society of the Deep South. African American men were able to build new lives as vital, more respected, and better-paid workers.


For the full story go to: African Americans and the Railroad: Gauley Brige Depot; Gauley Bridge, WV

Other nearby places of interest:
Cathedral Falls
Kanawha Falls
Gauley Bridge
Driving Directions:
Physical Address: 278 Railroad Street, Gauley Bridge, WV 25085
GPS Coordinates:  N38.164560 -W81.196938

From Beckley and Fayetteville, WV: Take Highway 19 north to Highway 60. Follow the exit up the ramp and turn right onto Highway 60 West. Travel 15 miles to the town of Gauley Bridge, WV. Cross the bridge over the Gauley River and turn right on the first road after the bridge (at Welcome to Gauley Bridge sign).Drive under the old railroad bridge and immediately turn left and drive up the hill to the parking lot behind the Depot. 
Directions to the next Tour Stop
Bright Hope Lodge
Physical Address: 65 Gaines Street, Montgomery, WV 25136
GPS Coordinates: N38.179942 -W81.315825
From Gauley Bridg take Hwy 60 West 10 miles to the Town of Smithers, WV. Turn right onto the exit for Hwy 61 to Montgomery. Cross the river and continue straight across the overpass and turn right on Hwy 61 South. Travel .2 of a mile and turn left on the first road (Gaines Street). Tour Stop and parking is in front of the lodge.
African Americans and the Railroad (Audio Narrative)

Written by: Richard Altare Narrated by: Adrienne Jenkins Music: His Eyes, performed by The Gospel Singaleers
Last updated: May 24, 2022