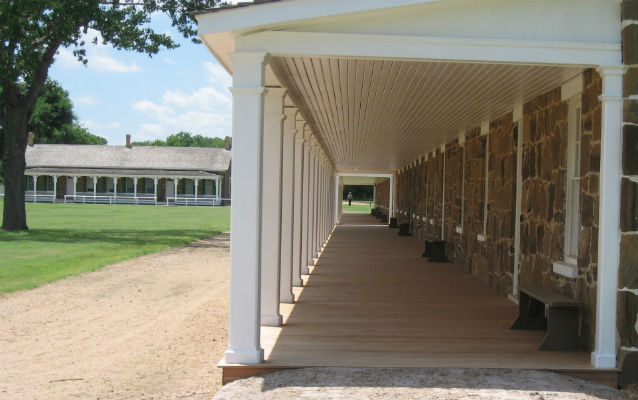 Quick Facts
Location:

Larned, KS

Significance:

Army Post on the Santa Fe Trail

Designation:

National Historic Site

OPEN TO PUBLIC:

Yes
In a time of change and conflict, Fort Larned was on the front lines. The fort's mission began to protect the mail, grew to support the protection of other traffic on the Santa Fe Trail, culminated in Hancock's War and the Medicine Lodge Treaty in 1867, then ended with the completion of the railroad in less than two decades. Today Fort Larned remains the best-preserved fort of its time.
Discover a complete and authentic army post from the 1860s-1870s! This well-preserved fort on the Santa Fe Trail shares the tumultuous history of the Indian Wars era. These sandstone buildings sheltered the Buffalo Soldiers and witnessed history being made by Winfield Scott Hancock and George Armstrong Custer.
If you're looking for an authentic frontier military experience, Fort Larned delivers. Step back in time as you tour ten fully furnished buildings restored to their historic appearance. Attend the largest living history events in Western Kansas and you'll be able to see how the soldiers and their families lived on the frontier during the Indian Wars era.
Error: You have supplied an invalid NPMap ID. Please edit this element's data and check to ensure the id is correct.