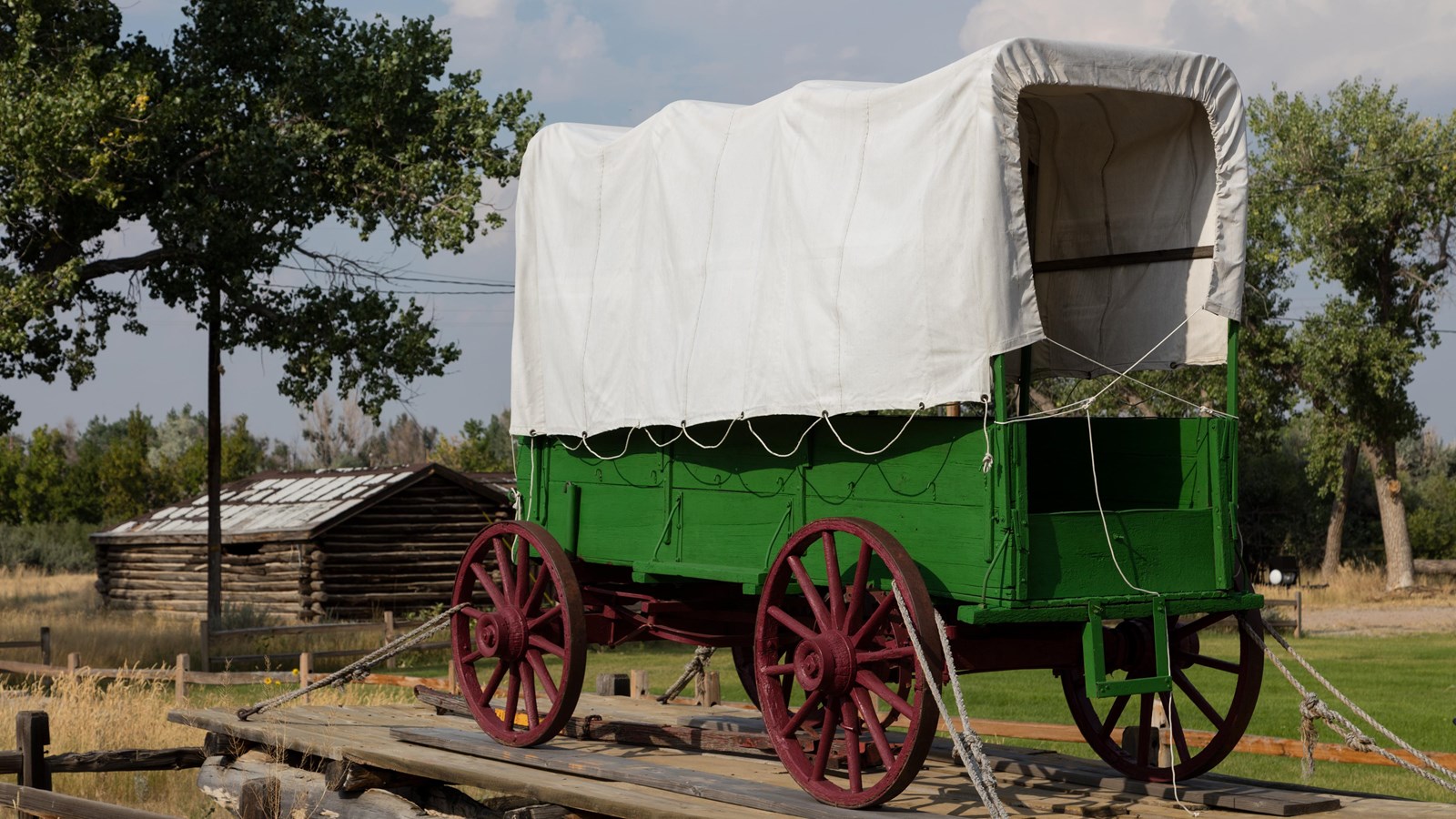 Location:
4001 Fort Caspar Rd, Casper
Significance:
A reconstructed 1865 military post located at a major river crossing on the Oregon, Mormon Pioneer, California, and Pony Express Trails
Gifts/Souvenirs/Books, Historical/Interpretive Information/Exhibits, Information, Restroom
A map of Passport and Places to Go locations for National Historic Trails.
In 1859, Louis Guinard built a trading post and a bridge near the point where the Mormon Pioneer Company crossed the North Platte River in 1847.This station was used as an overnight stage stop, where Richard Burton spent the night on August 16, 1860.
"Our station lay near the upper crossing or second bridge, a short distance from the town. It was also built of timber at an expense of $40,000 about a year ago by Louis Guenot. . . . It was impossible to touch the squaw's supper: the tin cans that contained the coffee were slippery with grease, and the bacon looked as if it had been dressed side-by-side with 'boyaux'."

The Pony Express also established a station at this complex. Pony riders crossed the North Platte River on Guinard's Bridge, but the route stayed close to the north bank of the river until reaching Red Buttes Crossing, where another Pony Express station was located. In 1862, Lt. Col. William O. Collins sent one company of the 11th Ohio Volunteer Cavalry to protect the telegraph line at "Guinard's Bridge." The soldiers moved into Guinard's station complex, and named the garrison "Platte Bridge Station."

The post was renamed in honor of Lieutenant Caspar Collins after his death in the Battle of Platte Bridge in 1865. The fort continued to protected emigrant trails and the transcontinental telegraph line until it closed in 1867. All salvageable materials were transferred and used to build Fort Fetterman.
Site Information
Location (4001 Fort Caspar Rd, Casper, Wyoming)
A 1936 reconstruction of the fort is furnished as it was in 1865.Fort Caspar Museum is operated by the City of Casper. Visitors can explore the fort buildings, reconstructions of the Mormon ferry and a section of the Guinard Bridge, and interpretive exhibits in the museum.
Last updated: January 11, 2023