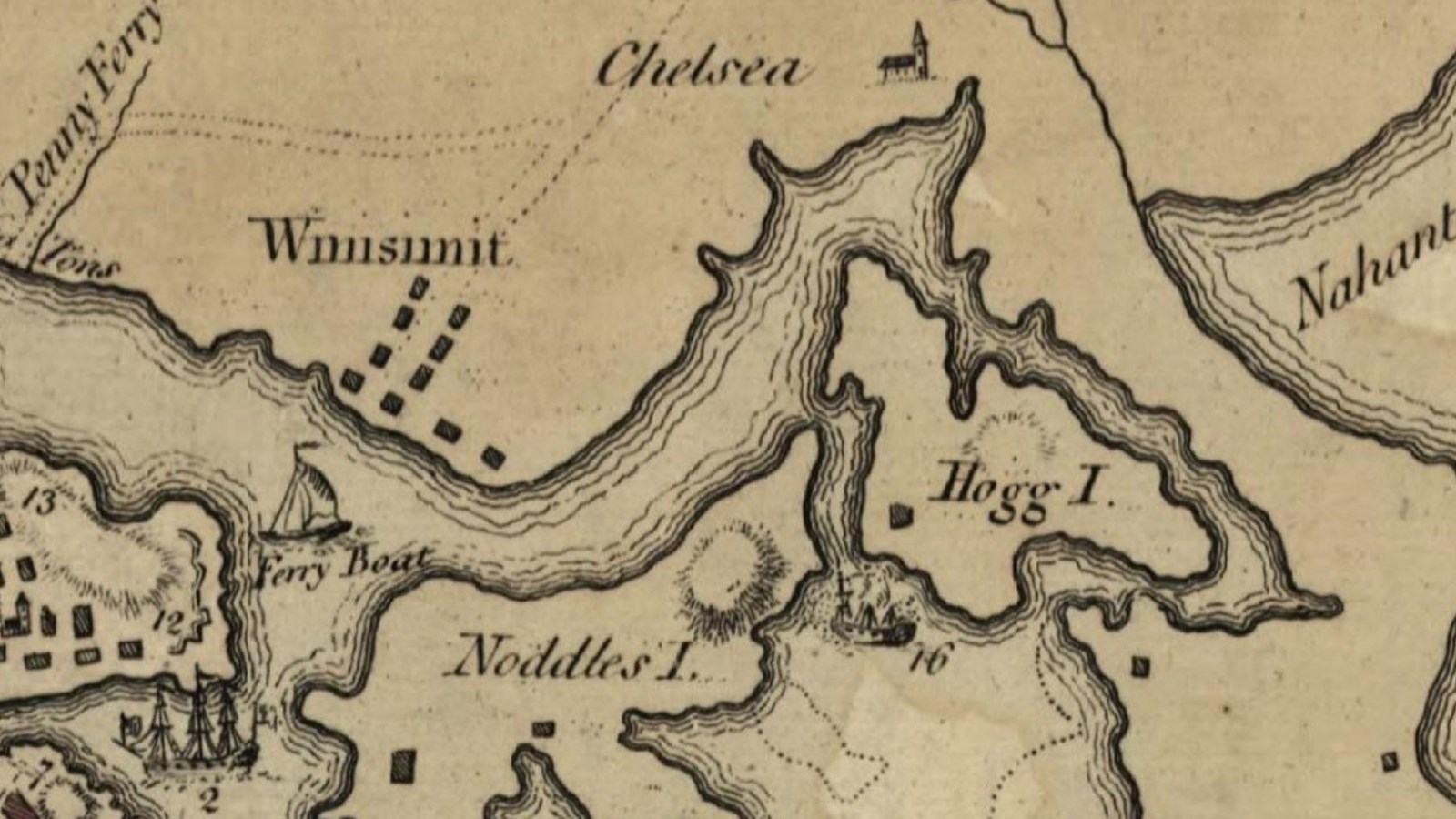 Significance:
Site of the Battle of Chelsea Creek
Less than a month into the Siege of Boston, General Artemas Ward, commander of the siege, directed Colonel John Nixon of Massachusetts and Colonel John Stark of New Hampshire and their militias to remove hay and farm animals off Noddle's and Hog Islands in Boston Harbor and bring them to the mainland. Ward and the Massachusetts Committee of Safety wanted to deny these items to the 6,500 British Regulars in Boston.
Since the British Regulars arrived in Boston in October of 1774, they had been relying on loyalists and other local people to supply them with food and supplies. Some islands in Boston Harbor, which had been turned into agricultural-use by colonists, provided some of this food. In the Siege of Boston, the Massachusetts leaders planned to stop British access to these islands.
On May 27, 1775, colonial forces, known as Provincials, began burning down buildings on Noddle's Island, inadvertently alerting the British Navy to their activity. British Admiral Samuel Graves had orders to sail to Noddle's Island and stop the Provincials.1
The British Navy sent marines to pursue the Provincials on foot on Noddle's Island and also sailed up a narrow tidal waterway called Chelsea Creek on the HMS Diana. A series of land and sea skirmishes occurred involving hundreds of men over two days; both sides fired small cannons and muskets in close proximity in a lethal cat-and-mouse game. The Diana ran aground and the Provincials ransacked and burned it. Casualties on both sides were light but higher on the British side. In the end, the colonial forces denied the British forces the supplies of Noddle's and Hog Islands. These colonial forces also laid waste to Noddle's Island and neither side used it for the rest of the siege.
This skirmish that occurred May 27 and 28, 1775 became known as the "Battle of Chelsea Creek." Like many Revolutionary War confrontations, Americans did not recognize its significance until after the 1820s, starting with the 50th anniversary of that battle.
For some historians, the Provincial action at Chelsea Creek showed that the Provincials were looking to contain the British Army within Boston. Gaining experience from the French and Indian War, Provincial leaders like Colonels Stark and Nixon and General Putnam spared no time in responding to the Lexington Alarm and led the Chelsea Creek action. Provincials who wished to drive the British military from Boston saw that experienced Provincial officers and their men from three colonies could work cooperatively. Colonial forces would need that cooperation and experience in less than a month, at Bunker Hill on June 17, 1775.
 
---
Footnotes
Neither Noddle's nor Hog Islands exist on a modern map; they are now part of East Boston and Logan Airport.
Source
Brown, Craig, Victor Mastone, and Christopher Maio, "The Revolutionary War Battle America Forgot: Chelsea Creek, 27-28 May 1775." The New England Quarterly Vol. 86, No. 3 (September 2013), pp. 398-432.
Last updated: February 16, 2022