Place
Blackdom New Mexico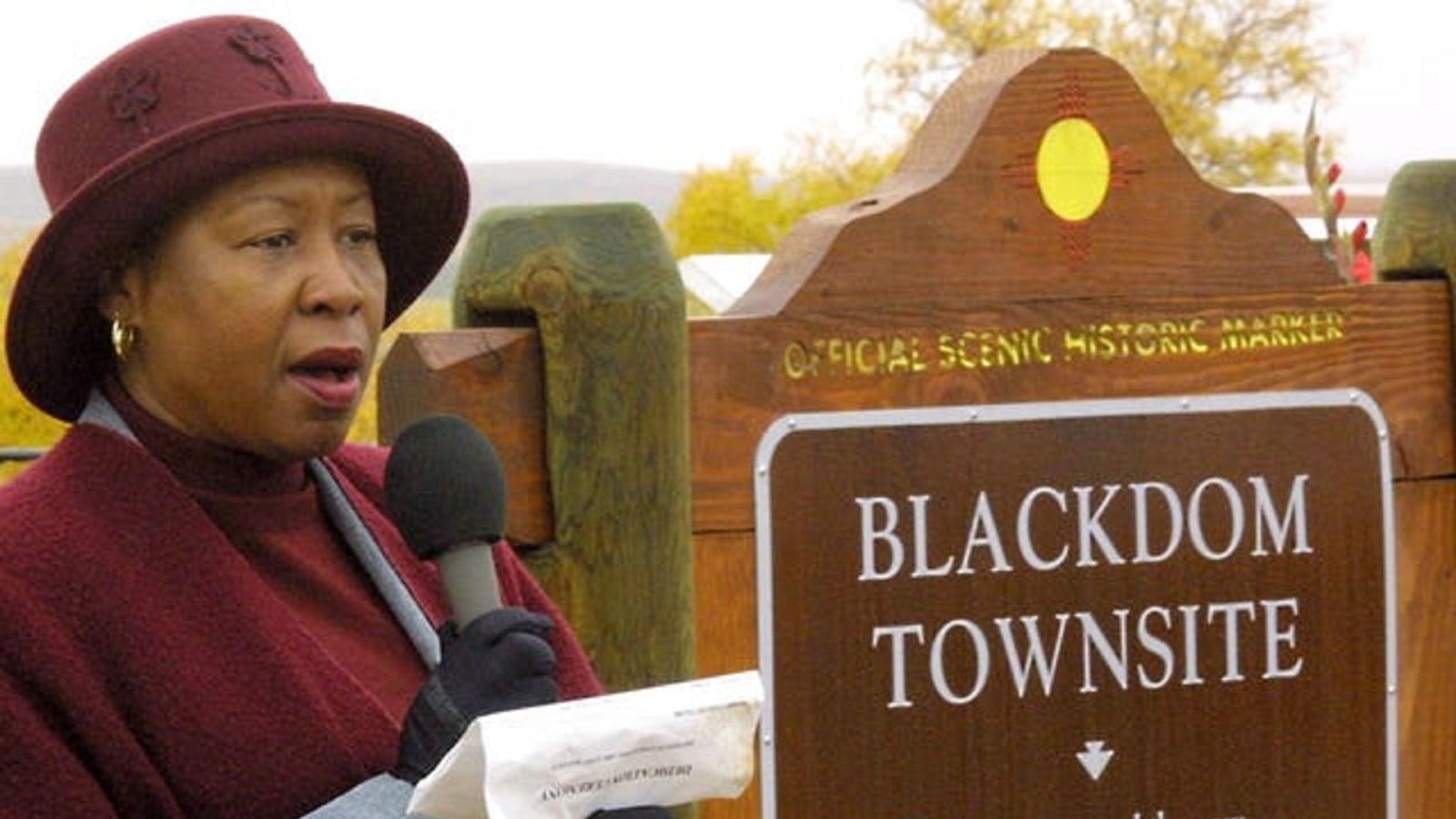 Location:
Chaves County, New Mexico
Significance:
Black homesteader colony in New Mexico
Blackdom, New Mexico was the most important black homesteader colony in New Mexico.
Blackdom was located fifteen miles south of Roswell. The town was incorporated in 1903 by thirteen African Americans. This group formed the Blackdom Townsite Company with $10,000 in combined assets. The group named
Frank Boyer
as their president.
After some false starts, settlement began in an area of desert prairies around 1909. The region receives around 12 to 13 inches of precipitation annually. Underground reservoirs and artesian wells offered hope of bolstering poor rainfall with irrigation.
Homesteaders may have been attracted to the area by a string of wetter years. They may also have been reacting to whites' increasing hostility toward blacks living in Roswell (and elsewhere).
Prominent families of Blackdom included the Boyers, Herrons, Proffits, Collins, Eubanks, Wilsons, and Smiths. Many of these families were intertwined through kin and marriage relationships.
The community's exact population is unknown, but estimates suggest around 150 persons. At least twelve women homesteaded, several on their own. One of those women was
Mattie Moore Wilson
; she owned 640 acres of land under two different land laws.
By 1929, Blackdom residents had received homestead patents on sixty-four claims. Some residents filed for 160 acres under the Homestead Act. Other people filed for 320 acres under the Enlarged Homestead Act, Stock Raising Homestead Act, or the Desert Lands Act. Together these residents owned 13,056 acres; averaging 204 acres per claim.
The residents of Blackdom established a community school, initially housed in the church. The school ensured that Blackdom's children would be educated. The residents understood the importance of education and its connection to power and influence.
Many lived on farms, but Blackdom also developed a small village that gained its own US post office in 1912. The village opened a store, a new church, a pumping plant, and an office building (likely containing land sales and legal offices).
Blackdom's prosperity depended on adequate precipitation. From 1911 through 1923, rainfall in the area averaged 13.5 inches. This prosperity was marred only by the dry years of 1917, 1918, and 1922. Rainfall in the 1920s, however, was less plentiful and highly variable. The disastrous decline in crop prices after World War I badly damaged Blackdom's farmers.
Blackdom's post office closed in 1919. Blackdom began to empty out in the 1920s, though current records do not allow us to say by exactly how much.
National oil companies and local oil speculators discovered oil in the Roswell Basin. These companies began buying leases and sinking exploratory wells. Blackdom residents pooled their lease rights and formed the Blackdom Oil Company. The company was formed to make their land more attractive to major lease buyers and strengthen their bargaining power. The Company controlled lease rights to perhaps 10,000 acres.
By March 1920, the Blackdom Oil Company entered a contract for 4,200 acres with the National Exploration Company in a deal worth up to $70,000. Unfortunately, the fields were not commercially viable, prompting oil activity in the Roswell Basin to come to an end.
The community of Blackdom did not survive the Great Depression.
Learn more about 
Black Homesteading in America
.
Last updated: November 2, 2021