Person
Francis Marion Boyer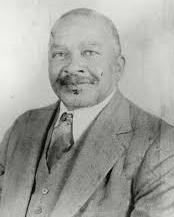 Significance:
Founder of the Blackdom Homesteader Community
Place of Birth:
Hancock County, Georgia USA
Date of Birth:
1871 circa
Place of Death:
Vado, Dona Ana County, New Mexico USA
Place of Burial:
Vado, Dona Ana County, New Mexico USA
Cemetery Name:
Vado Riverview Cemetery
Francis (Frank) Marion Boyer was a homesteader and community leader in Blackdom, New Mexico.
Frank attended Morehouse College and Fisk University. While in school he learned about homesteading and its requirements. While working as a teacher in Georgia, he married Ella Louise McGruder. Ella was also a well-educated teacher, a graduate from the Haines Institute.
After he was threatened by the Ku Klux Klan, Frank's father encouraged him to move West. Franks's father was a Buffalo Soldier during the Mexican-American War. As a child he heard stories about New Mexico from his father. Boyer and two of his students traveled to New Mexico Territory in 1896. He arrived in the Pecos River Valley in 1898 near the community of Roswell, where he worked in the courts. In 1901 Ella and their four children joined him in New Mexico.
Frank Boyer and twelve other African American homesteaders established the Blackdom Townsite Company in 1903. The idea was to create a self-sustaining community free from the problems of the South. Boyer became president of the land speculation venture.
Frank relied on his training to help reform the townsite board and make Blackdom prosper. Boyer and his family offered temporary housing to newcomers to help them get started and help the community grow.
Frank and Ella were college-educated and made education a priority for Blackdom youth. The residents of Blackdom established a community school, initially housed in the church. The school ensured that Blackdom's children would be educated. Boyer understood the importance of education and its connection to power and influence. He also realized that teaching black history was a pathway for empowering black children.
 Boyer struggled to successfully farm in the desert landscape. He secured an electric water pump, which helped him produce hay and alfalfa. He obtained his homestead patent in 1908. Greater-than average rainfall during the 1910s helped the Blackdom residents to prosper.
The return of desert drought and collapsing crop prices at the end of the decade prompted Boyer and his family to move to Vado, New Mexico in 1921.
Patent for his original 160 acre claim.
Patent for his additional 40 acre claim.
Learn more about Black Homesteading in America.
Last updated: November 2, 2021