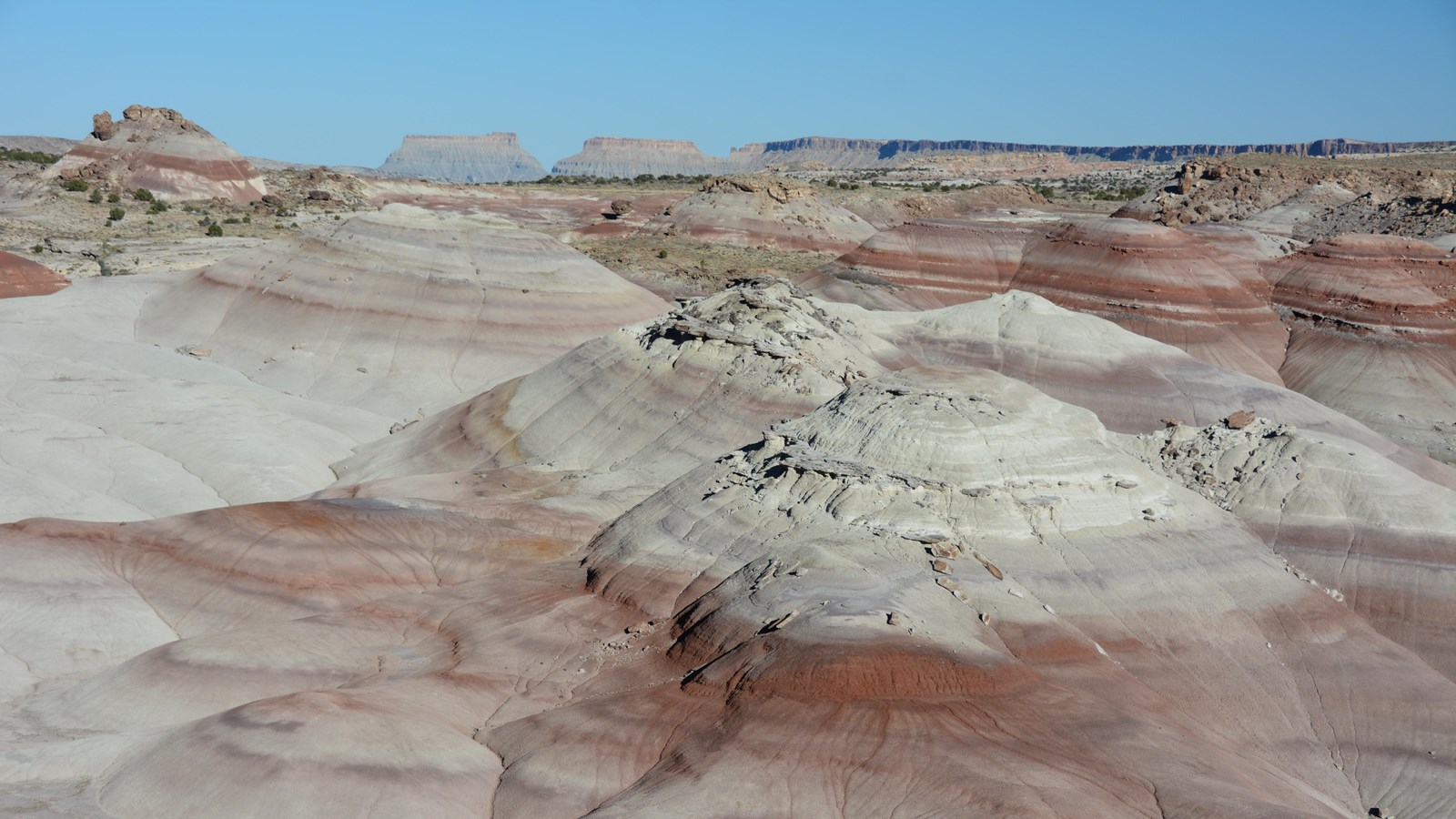 Location:
Cathedral Valley Loop
Significance:
Unique, colorful geologic layer
MANAGED BY:
Bureau of Land Management
The Bentonite Hills are located outside the park boundary on Bureau of Land Management land. They are accessible by the Hartnet Road which requires a high clearance vehicle. Call 435-425-3791, press 1 for more information, and 4 for road conditions before visiting the Bentonite Hills. Visit the Cathedral Valley page for more information and check the forecast. The roads through the Bentonite Hills can become impassable when wet. 

The Bentonite Hills appear as softly-contoured, banded hills in varying hues of brown, red, purple, gray, and green. The hills are composed of the Brushy Basin shale member of the Morrison Formation. This layer was formed during Jurassic times when mud, silt, fine sand, and volcanic ash were deposited in swamps and lakes. Bentonite clay (altered volcanic ash) absorbs water and becomes very slick and gummy when wet, making vehicle or foot travel difficult or impossible. Repeated cycles of absorbing water and then drying results in a popcorn-like appearance on the clay's surface.

There are no trails through the Bentonite Hills. The surface is easily damaged; scars from footprints and tire tracks take many years to heal. Please only drive on the road and limit foot travel to firm, previously disturbed areas and wash bottoms. Remember to leave no trace of your visit. 

Learn more about the geology of Cathedral Valley and of Capitol Reef's Waterpocket Fold. 
Last updated: December 21, 2020