Place
Forty Acres, California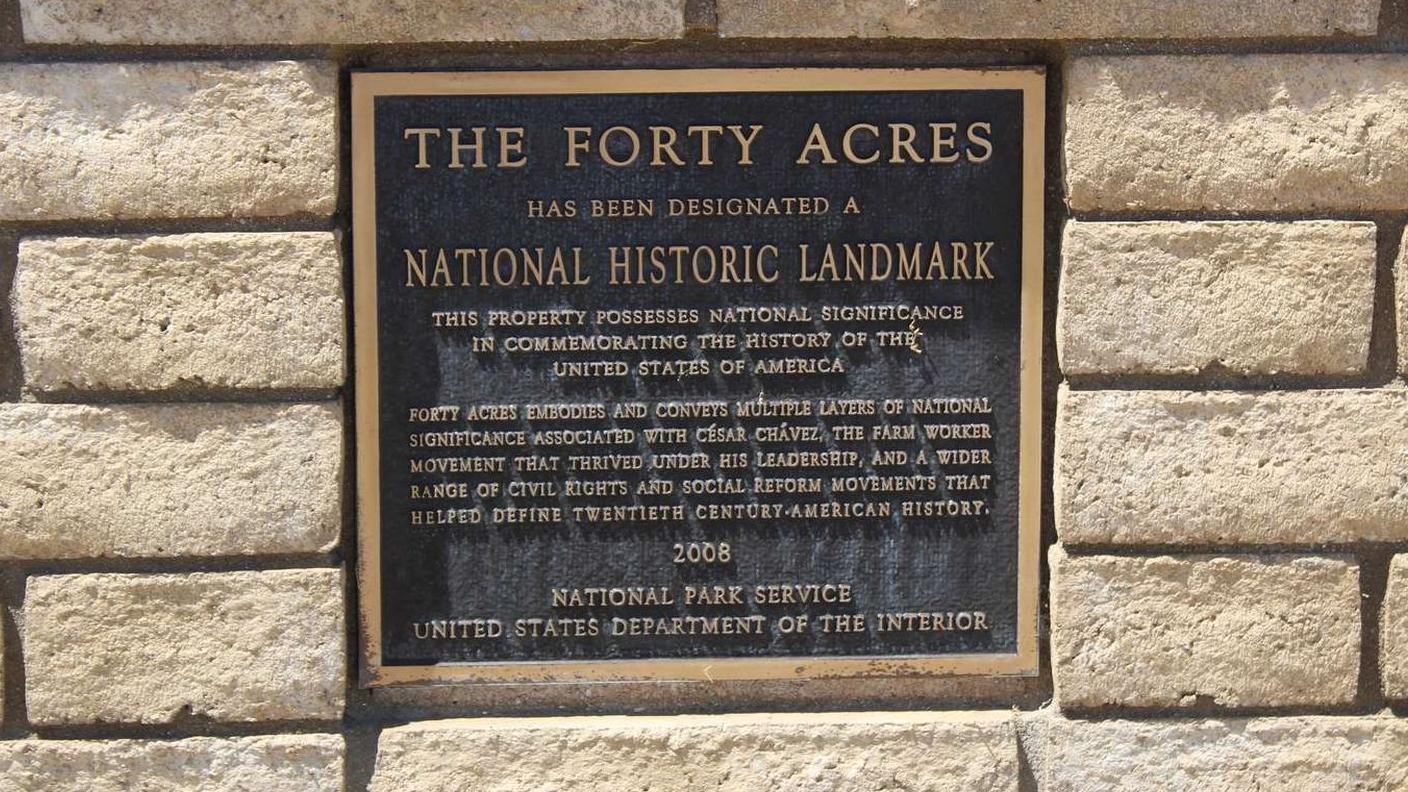 Audio Description, Cellular Signal, Historical/Interpretive Information/Exhibits, Information Kiosk/Bulletin Board, Parking - Auto
The United Farm Workers quickly expanded during the 1965-1970 Delano Grape Strike and international grape boycott. The movement purchased a 40-acre parcel of bare land just west of Delano to supply room for the union to grow. The land came to be known as Forty Acres. It was the site of Cesar's first public fast in 1968, his final public fast in 1988, and his funeral services in 1993. It was also the target of violence, vandalism and one bombing by movement opponents during the 1970s. Forty Acres was designated as a National Historic Landmark in 2008.

Cesar's brother Richard organized volunteers to clear and level the land. Buildings were constructed, which provided basic infrastructure to meet the needs of the union and farm workers: a co-op service station, Reuther Hall that housed movement headquarters, a rambling health clinic, and Agbayani village for elderly Filipino farm workers. Over the years, many of the farmworker movement's most historic events took place here. The property is still owned and managed by the National Chavez Center, part of the Cesar Chavez Foundation.
The Rodrigo Terronez Memorial Medical Clinic
Backbreaking labor, pesticide exposure in the fields, and low incomes meant many farm workers went without basic medical attention. A health clinic for farm workers was established in a trailer at Forty Acres in 1968. Volunteer doctors and nurses provided health services.

The movement purchased two buildings scheduled for demolition and moved them to Forty Acres. They connected the buildings, and in 1972, built a modern, well-equipped clinic in adobe-brick, Mission-style achitecture. It was here that one of the most vulnerable populations could finally receive badly-needed medical care. Patients included residents of the nearby Agbayani Retirement Village.

It was named the Rodrigo Terronez Memorial Clinic to honor a dedicated union member who died during the grape strike. The building later became the regional office for the United Farm Workers.
Reuther Hall
The original office of the United Farm Workers (UFW) was at the corner of First Avenue and Albany Street in Delano. They moved here, to Reuther Hall, in 1969. This large, one-story structure on the Forty Acres property was named after Roy Reuther, a United Auto Workers leader and brother of United Auto Workers International President Walter P. Reuther. The building included a large union hall and served as headquarters for the UFW until 1971, when it moved to Keene.

On July 29, 1970, hundreds of grape strikers and boycotters watched as Delano-area growers signed their first UFW contracts in Reuther Hall. John Giumarra Sr., owner of the nation's largest table grape company, held his hands up in mock surrender for the news cameras as Cesar Chavez and Larry Itliong looked on.
Last updated: December 19, 2022