Place
Desert View Entrance Station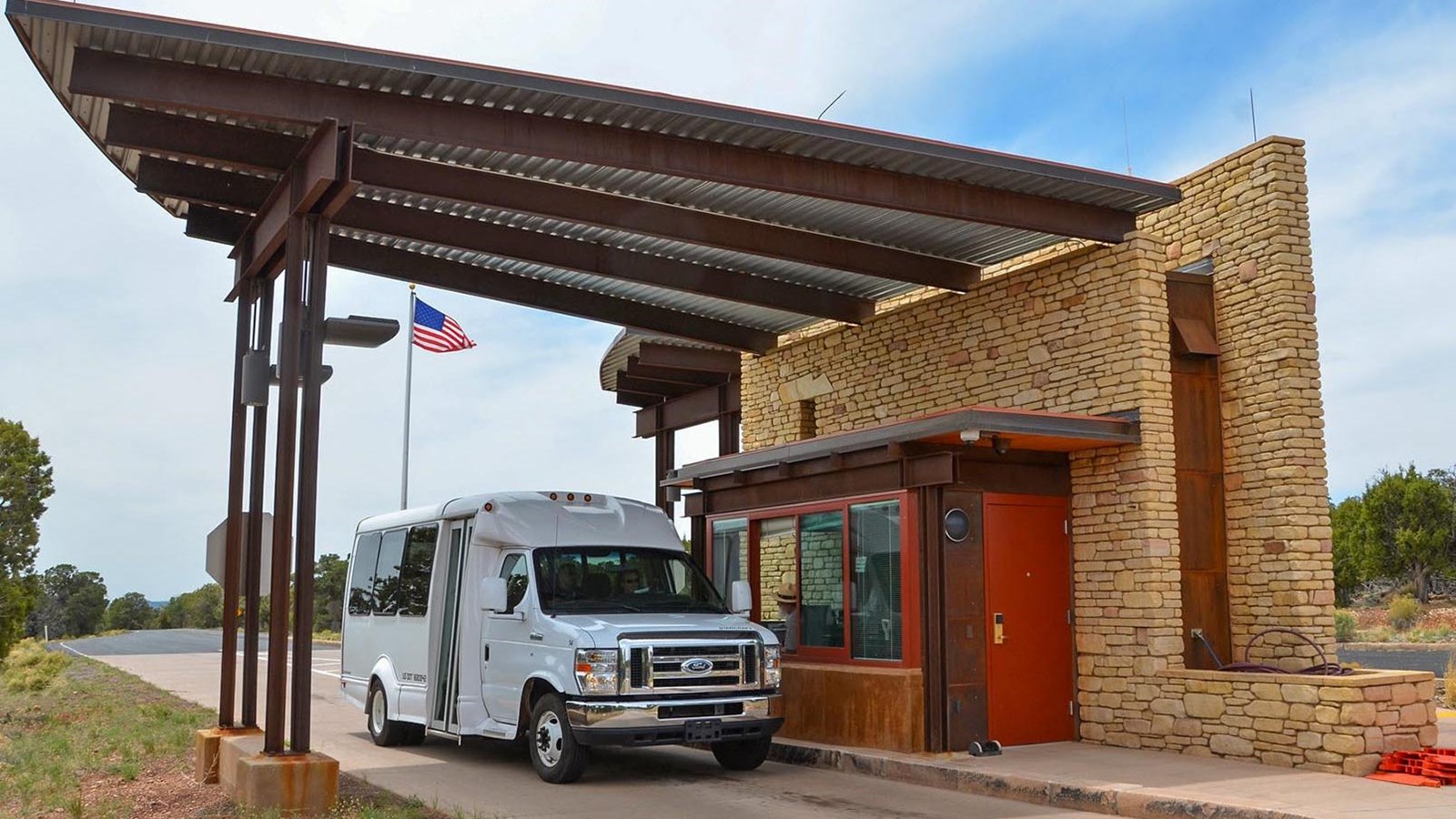 Entrance Passes for Sale, Information - Maps Available, Information - Ranger/Staff Member Present
Approximately 30 miles (48 km) west of Cameron, Arizona, the Desert View Entrance Station serves as a secondary gateway to the South Rim and the primary portal to the Desert View area. The entrance is open 24 hours/day, 7 days/week. 

This entrance is ideal for motorists traveling to/from Southwestern Colorado, Southern Utah, New Mexico and Phoenix, Arizona.
Entrance Fees and Passes
Admission to Grand Canyon National Park is valid for seven days. It includes both the North Rim and South Rim.

No refunds are given due to inclement weather.

Prices below reflect increases that went into effect on June 1, 2018:

Vehicle Permit: $35
Admits one single, private, non-commercial vehicle and all its passengers. Organized groups are not eligible for the vehicle permit.

Motorcycle Permit: $30
Admits one single, private, non-commercial motorcycle and its passenger(s).

Individual Permit: $20 per person
Admits one individual when entering by foot, bicycle, park shuttle bus, Grand Canyon Railway, and private rafting trip. Individuals 16 years of age and younger are admitted free of charge.
Annual Passes
There are several types of annual passes available at each of the park's three entrance stations:

America the Beautiful - Annual Pass ($80)
America the Beautiful - Annual Senior Pass ($20)
America the Beautiful - Lifetime Senior Pass ($80)
"Every Kid Outdoors" - 4th Grade Pass (Free)
America the Beautiful - Lifetime Access Pass (Free)
Military Pass (Free)
Grand Canyon National Park Pass ($70)

Detailed information about these passes, and which one is right for you, here > 

Documentation and ID are required when presenting or acquiring a pass. 

At Grand Canyon National Park's Entrance Stations, credit and debit cards, digital passes, and America the Beautiful passes are accepted for entry. Cash is no longer accepted.
Group Tours
Organized, Non-commercial Groups >
Organized, non-commercial groups include church groups, college or school groups, scouts, service organizations, military, etc.
Commercial Tours
Commercial Tour Fees >
Fees are based on vehicle capacity for all tour groups and bus companies that originate outside a 100-mile (160 km) radius of an entrance station to Grand Canyon National Park. Taxis are classified as commercial tours since they do not have regularly scheduled service.
Educational Fee Waivers
Educational Fee Waivers are not issued automatically. Educational groups must apply and meet the criteria to receive a fee waiver. Details >
Last updated: August 29, 2023