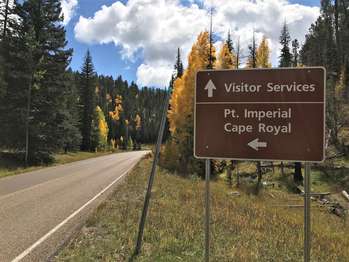 Cape Royal Road is a fantastic scenic drive leading to various points of interest, including Walhalla Glades Pueblo, Point Imperial and Cape Royal. Diverse viewpoints and several trails can be reached via this winding scenic drive that can be a great way to spend anywhere from a few hours to day exploring the canyon. 
Point Imperial, the highest point on the North Rim at 8,803 feet (2,683 m), overlooks the Painted Desert and the eastern end of Grand Canyon. Here the canyon transforms as the narrow walls of Marble Canyon, visible only as a winding gash, open dramatically to become "grand." Layers of red and black Precambrian rocks, not visible at Bright Angel Point, add contrast and color. Part of the viewpoint is accessible, and there are restrooms available. With no stops, allow 20 minutes of driving each way.
Vista Encantada's picnic tables make it a great spot to break for a meal while enjoying wide open canyon views. 
Walhalla Glades Pueblo offers a small canyon view from the parking area and a short interpretive walk to visit the remains of an ancient native american site on the rim of the canyon. Signs and waysides along the way help to explain the life and culture of the people who lived at the canyon before it became a National Park. 
Cliff Springs Trail is a short hike into the canyon that takes you past other archeological sites down to a small water feature. This short trail only descends into the second layer of Grand Canyon strata making it a nice introduction to canyon hiking.
Cape Final Trailhead is an easy pullout to drive past without even noticing, but those that stop and take the 2.1 mile (3.4 km) walk through the forest will find an excellent panoramic view of the canyon as it bends and begins its westward journey. 
Cape Royal provides a panorama up, down, and across the canyon. With seemingly unlimited vistas to the east and west, it is popular for both sunrise and sunset. The sweeping turn of the Colorado River at Unkar Delta is framed through the natural arch of Angels Window. Look for the Desert View Watchtower across the canyon on the South Rim. This popular viewpoint is accessible via a paved, level trail. With no stops, allow 45 minutes of driving each way.
Last updated: June 1, 2023