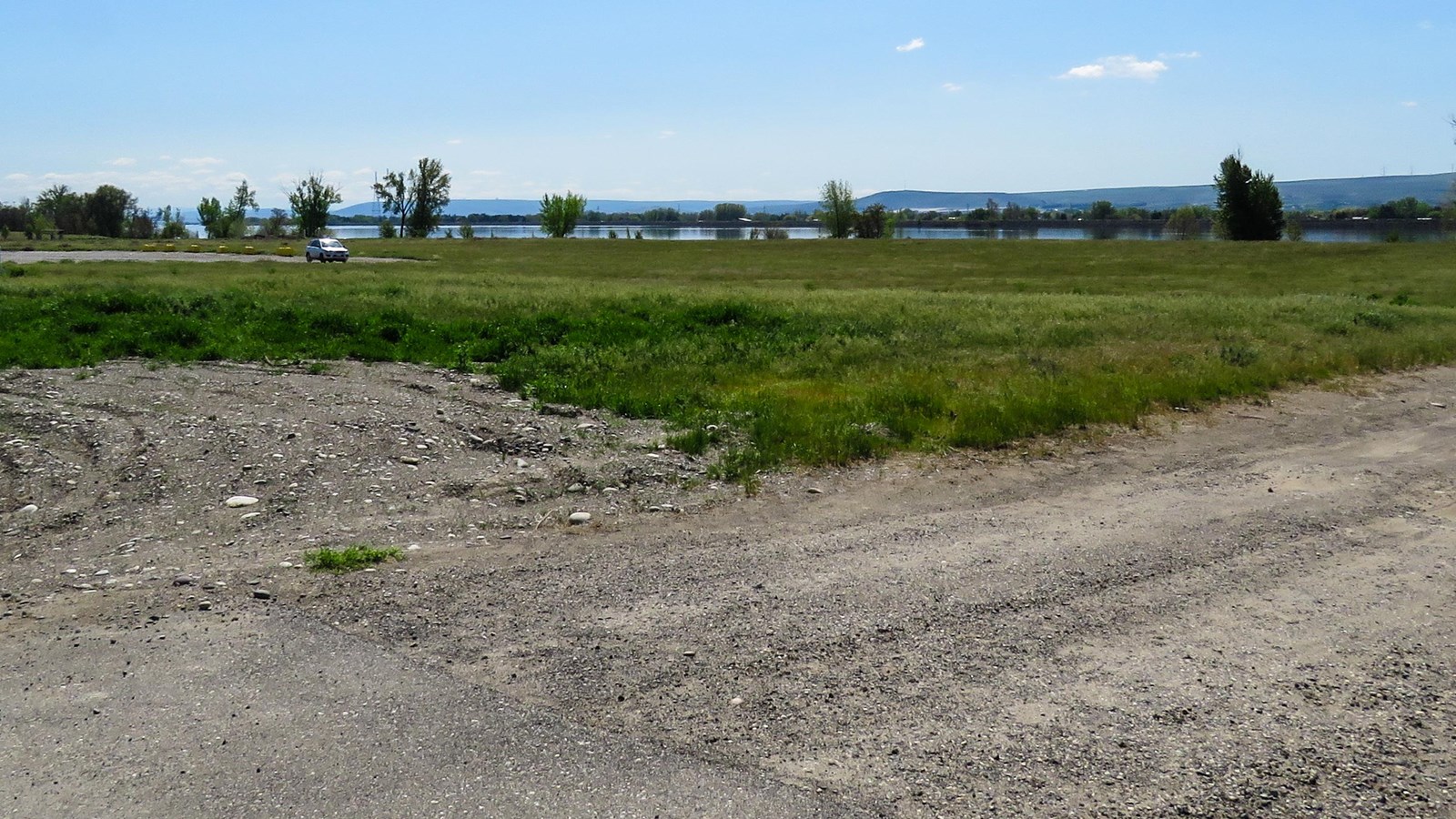 The quiet emptiness of this lot today belies the loud, busy, and important role it played in World War II, when locals knew the place as Big Pasco. During the war, between 100 and 225 railroad cars carrying military supplies and equipment arrived here every single day. Soldiers unpacked and repackaged supplies such as jeeps and construction equipment destined for America's allies in the distant Soviet Union and for nearby military facilities in the Pacific Northwest.  
Big Pasco consisted of two facilities, the "Pasco Holding and Reconsignment Point," which primarily handled materiel shipped onward to American allies and the "Pasco Engineer Depot," whose mission was to supply units and facilities including the Hanford Engineer Works. Big Pasco opened on August 15, 1942, with 1,039,000 square feet (96,526 square meters) of storage space, making it one of the largest wartime logistics centers in the United States.  
Due to wartime worker shortages, which also impacted hiring workers for the Manhattan Project at Hanford, approximately 300 Italian POWs labored at Big Pasco from 1944 to 1945. These Italians were among approximately 50,000 Italian soldiers who surrendered on the battlefield and were brought to the United States to serve as workers. Though still enemy prisoners of war, these men were paid the same wages they received in the Italian military, plus $18 per month to spend at the on-site canteen.  
The Italians contributed mightily to Big Pasco's mission, "perform[ing]necessary labor operations which have heretofore been neglected because of the impossibility of obtaining sufficient manpower," according to the Pasco Herald. They especially enjoyed operating heavy equipment and driving American military vehicles, which they had less access to in Italy. During their time in Pasco, some of the Italians attended church at St. Patrick's Church in Pasco, socialized with local people, and enjoyed foods not found in Italy at the time, such as cornflakes. The prisoners became so well integrated into the surrounding community that they held a Christmas performance for their American coworkers and practiced popular dances such as the boogie-woogie so that they could impress American women at social events. 
In 1959, the Port of Pasco purchased a portion the World War II army depot. Now known as the Big Pasco Industrial Center, manufacturers, shippers, and produce packers use the industrial center to create, package, and transport their goods to distant markets.  
Continue Your Journey 

Naval Air Station Pasco, now preserved as the Pasco Aviation Museum, was another WWII-era military facility in the Tri-Cities region. The USO club that Naval Air Station Pasco and Big Pasco shared was one of the few integrated USO clubs during World War II. The Tri-Cities was highly segregated during World War II. The only community where African American workers could live was East Pasco, an isolated area with unequal city services. To learn more about this community visit the Lewis Street Underpass, Kurtzman Park, and Morningstar Baptist Church.  
From this parking lot, you can access the Sacagawea Heritage Trail and enjoy a walk or bike ride along the river. For those who would like an extra challenge you can ride your bike on the trail to Sacajawea State Historical Park. 
Last updated: January 17, 2023