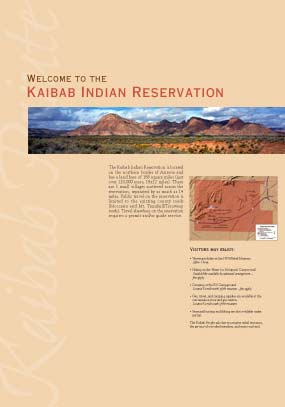 The Kaibab Indian Reservation is located on the northern border of Arizona and has a land base of 188 square miles (just over 120,000 acres, 18x12 miles). There are 5 small villages scattered across the reservation, separated by as much as 14 miles. Public travel on the reservation is limited to the existing county roads (Moccasin and Mt. Trumbull/Toroweap roads). Travel elsewhere on the reservation requires a permit and/or guide service.
Visitors may enjoy:
• Viewing exhibits at the NPS/Tribal museum - Allow 1 hour.
• Hiking on the Heart (or Mu'uputs) Canyon trail.
Guided hikes sometimes available during the months of November and March - fees apply.
• Camping at the RV Campground
Located 1 mile north of the monument. Purchase permits at the gas station located ¼ mile south of the visitor center - fees apply.
• Gas, travel and camping supplies are available at the convenience store and
gas station, located ¼ mile south of the cultural center.
• Seasonal permitted hunting and fishing are also available.
The Kaibab People ask that you respect tribal resources, the privacy of our
tribal members, and enjoy our land.