Pipe Spring Centennial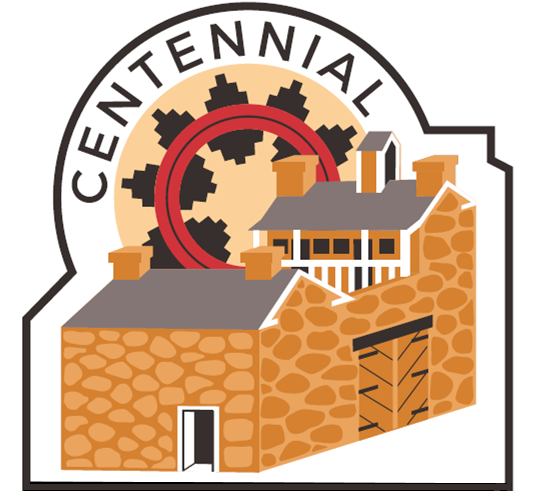 On May 31, 1923, Pipe Spring was established as a National Monument, under the care of the National Park Service, but the history doesn't start there. People have been utilizing the waters from the namesake spring for countless generations - Ancestral Puebloans, the Kaibab Band of Paiute Indians, Spanish explorers, traders, and missionaries, members of the Church of Jesus Christ of Latter-day Saints, Euro-American cattle ranchers, and the U.S. Federal Government, just to name a few. In fact, visitors to Pipe Spring today still use water from the same source when they wash their hands in the restroom or fill up their water bottle in the Cultural Museum.

Pipe Spring shares the stories of the geologic and hydrologic forces of water and the people, plants, and animals who have relied on that water since time immemorial. Over the past 100 years, various stories were shared, and sometimes not shared. Some of those stories can be difficult to hear - stories of indentured servitude, Native American slavery, religious persecution, water usage in a desert climate, the loss of vast grasslands, and more.

Throughout 2023, our Centennial events and programs will be a mix of celebration and commemoration. We will celebrate the lifelong memories that have been made over generations at Pipe Spring, the individuals and families across all cultures who have made a positive impact on the Monument and the region and build a foundation for future celebrations. At the same time, we will share those difficult stories, update our interpretive products, and set the tone for the next 100 years.

Join us throughout the year for any number of events at Pipe Spring and in the surrounding communities. Visit Pipe Spring for the first time, tenth time, or hundredth time this year, and you too will be able to make a special connection to our little 40-acre Monument on the Arizona Strip.
---
Select Centennial Events
This page will serve as your primary point for all things related to the Pipe Spring Centennial, and will be regularly updated as events are added and information changes. All times are in Mountain Standard Time and all events will be hosted at Pipe Spring National Monument, unless otherwise noted.
Pipe Spring Olympics
April 29, 10:00am - 2:00pm
Have you every wondered what fun and games looked like to kids from generations ago? This day will surely answer that question for you as you get to play various games and participate in activities just like Southern Paiute and western pioneers did in years past. Learn something new, play some games, and maybe even take home a craft in this day geared toward kids of all ages. Dress accordingly for the weather and make sure to bring some water and snacks! For more information, contact our Education team at pipe_spring_education@nps.gov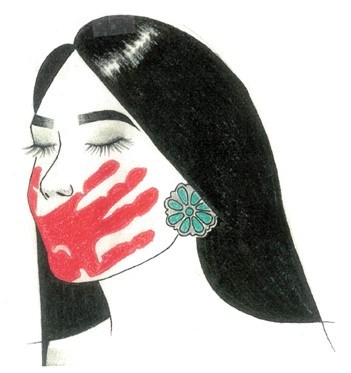 Missing and Murdered Indigenous Women and Girls Awareness Day Presentation
May 5, 12:00pm
Today, thousands of unsolved cases of missing and murdered Native Americans continue to cry out for justice and healing. On Missing and Murdered Indigenous Women and Girls Awareness Day, we remember the people who we have lost to murder and those who remain missing. Join Ranger Autumn as she dives deeper into this topic in the Visitor Center and Museum Theater.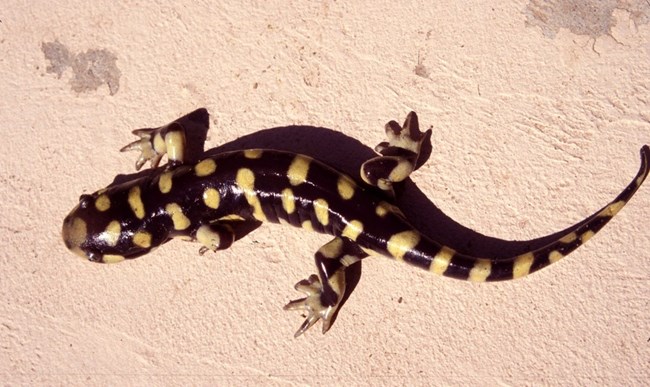 Salamander Gander
May 6, 10:00am - 2:00pm
When you think of the desert, your first thought may not be about amphibians, but Pipe Spring's ponds are home to Tiger Salamanders! Learn the imporance of amphibians for the ecosystem as Rangers showcase some of their unique adaptations (amphibians, not Rangers) next to the ponds by Winsor Castle. Maybe you'll even get to see one of these elusive creatures and some of their neighbors during this National Amphibian Week event. For more information, contact our Education team at pipe_spring_education@nps.gov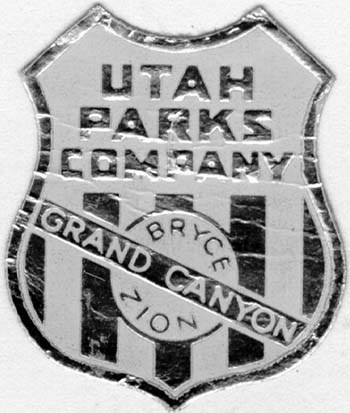 National Train Day Program
May 8, 12:00pm
Trains and railroad companies were essential in the establishment of many western National Parks and Monuments, Pipe Spring included, even though the closest rail was over 100 miles away. Learn more about the importance of these groups to the National Parks and tourism in the region by attending this special 45-minute presentation at the Pipe Spring Visitor Center and Cultural Museum.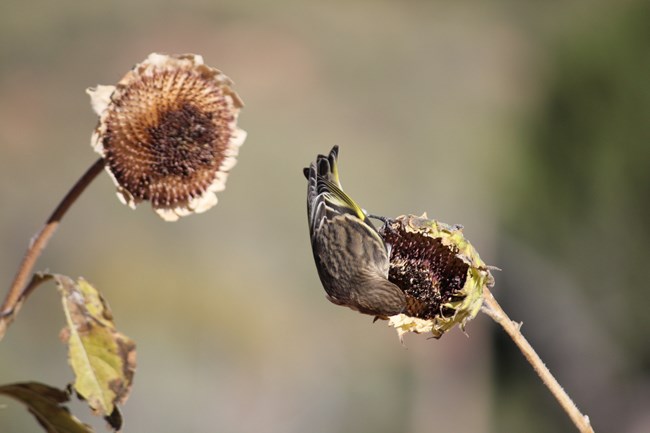 World Migratory Bird Day
May 9, 9:00am - 12:00pm
Grab those binoculars and your bird book for a day of birding at Pipe Spring National Monument. The flowing spring waters, ponds, orchard, garden, and native vegetation are perfect for over 170 species of birds known to visit or reside at Pipe Spring. With the assistance of Rangers, maybe you can cross a new bird off your life-list or see a familiar favorite once more. Birders will meet at the Visitor Center and explore the Monument grounds. Dress for the weather and bring plenty of water and snacks! For more information, contact Community Volunteer Ambassador Samuel Guerrero at samuel_guerrero@partner.nps.gov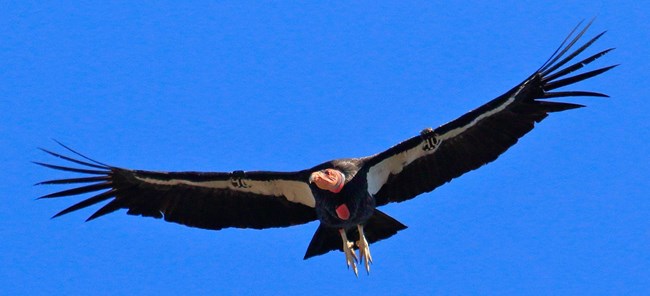 Endangered Species Day
May 19, 12:00pm
When Congress passed the Endangered Species Act in 1973, it recognized that our rich natural heritage is of "esthetic, ecological, educational, recreational, and scientific value to our nation and its people." It further expressed concern that many of our nation's native plants and animals were in danger of becomming extinct. Pipe Spring is home to a number of threatened and endangered plants and animals, and you can learn all about them in this Ranger-led, 45-minute program hosted at the Pipe Spring Visitor Center and Museum.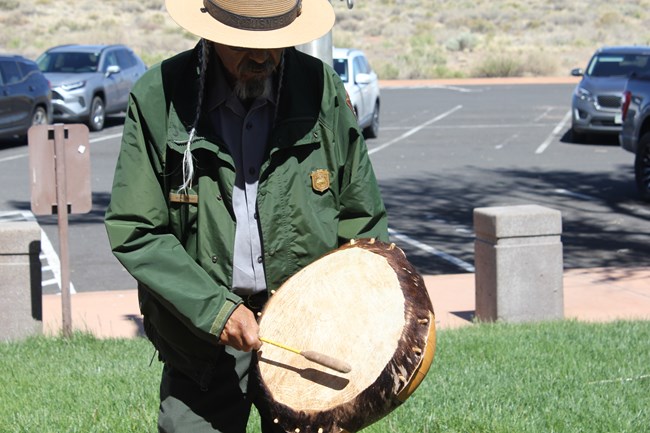 Southern Paiute Drumming, Symphony of the Canyons, Astronomy Program
May 20, 5:00pm - 10:00pm
Hosted at the Kaibab Band of Piute Indians RV Park and Campground, join us for an evening of music and astronomy as Kaibab Paiute Cultural Resource Director Daniel Bulletts shares traditional Southern Paiute drumming and dancing, followed by a performance by the Kanab-based Symphony of the Canyons of their Spring playlist, leading us into the first Ranger-led astronomy program of the season. Bring your own chairs or blankets for a grassy lawn and be ready for an evening you won't forget!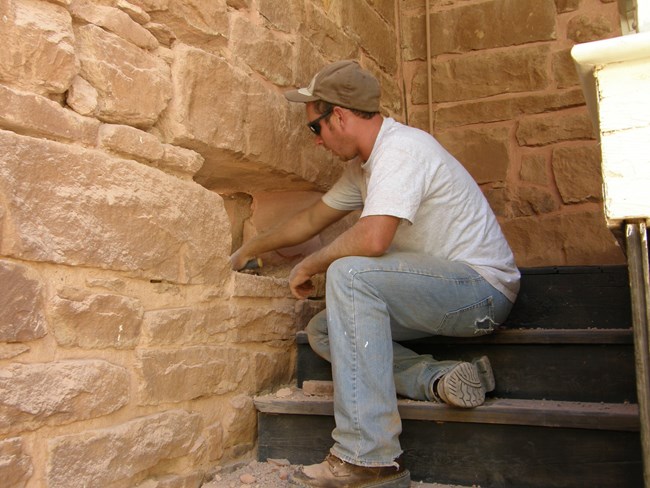 Historic Preservation Presentation
May 23, 11:00am - 12:00pm
It takes quite a bit of work and knowledge to keep Pipe Spring's historic structures in such great shape. Our in-house maintenance crew is constantly doing important work to ensure Winsor Castle and the East and West Cabins look just as good today as they do in your family photo album from years ago. Join one of our Historic Preservationists as they share what all is involved in maintaining these historic structures and the tools needed to keep everything running smoothly. Participants will meet at the East Cabin for a presentation lasting approximately one hour.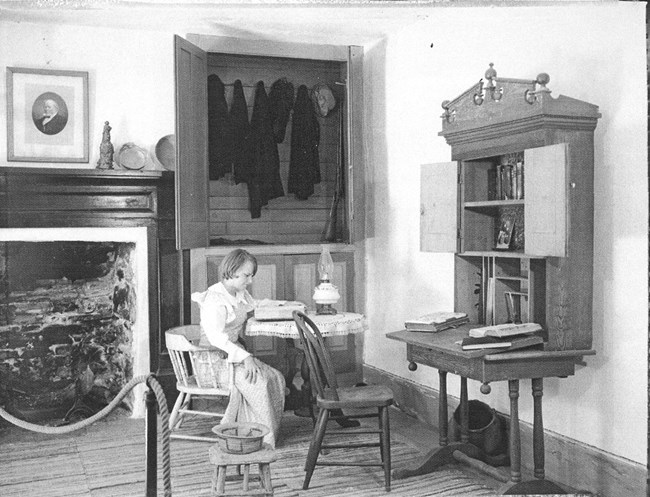 Unveiling of New Activity Room in Fort
May 24, 9:00am
If you have visited Pipe Spring in the past and experienced the interior of Winsor Castle, you have probably been asked to make sure you don't touch anything in the rooms. In honor of our Centennial year, we are breaking our own rules and creating an interactive activity room in those fort walls! This new permanent activity room will allow for visitors to experience life in the 1870s in a new way.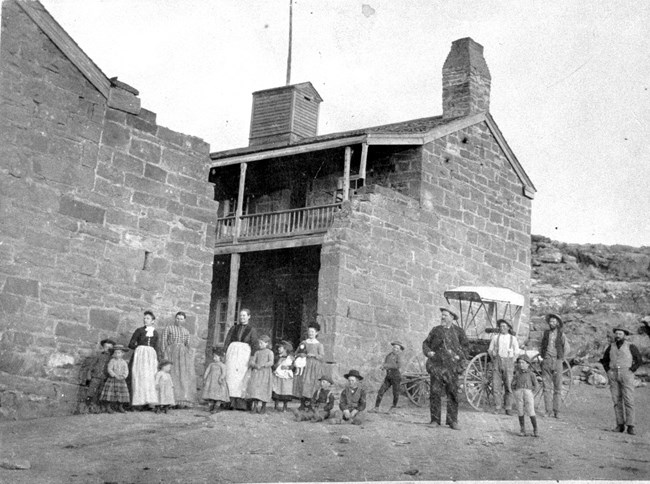 Polygamy Presentation
May 25, 12:00pm
In the 1880s and 1890s, the remote fort at Pipe Spring became a refuge for wives hiding from federal marshals enforcing anti-polygamy laws. A large number of women and children hid at Pipe Spring to save their husbands and fathers from prosecution. Although federal anti-polygamy laws are still in place, polygamy, or plural marriage, continues to shape the region to this day. Learn more about the historic ties to polygamy and how it relates to Pipe Spring today in the 45-minute Ranger-led program at the Visitor Center and Museum.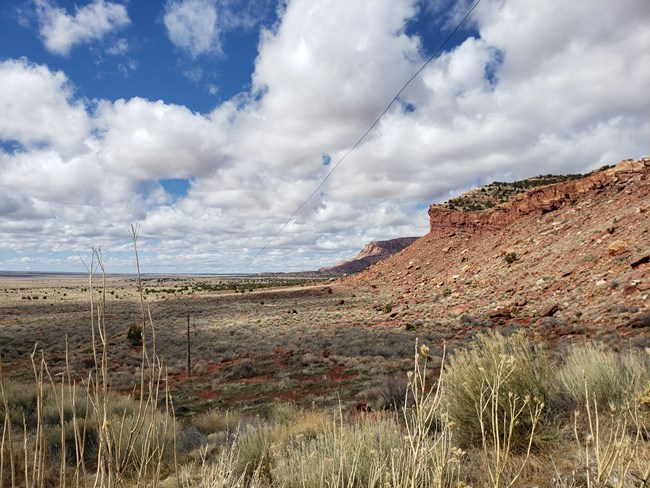 Establishment Day
May 31, 9:00am - 4:00pm
On this day 100 years ago, President Warren G. Harding signed the proclamation establishing Pipe Spring as a National Monument. A portion of the proclamation reads "it appears that the public good would be promoted by reserving the land on which Pipe Spring ands the early dwelling place are located as a National Monument...to serve as a memorial to western pioneer life."
Throughout the day, join Rangers, Tribal representatives, and park partners in cultural demonstrations that showcase the many groups that have called Pipe Spring home over the years and their lifeways.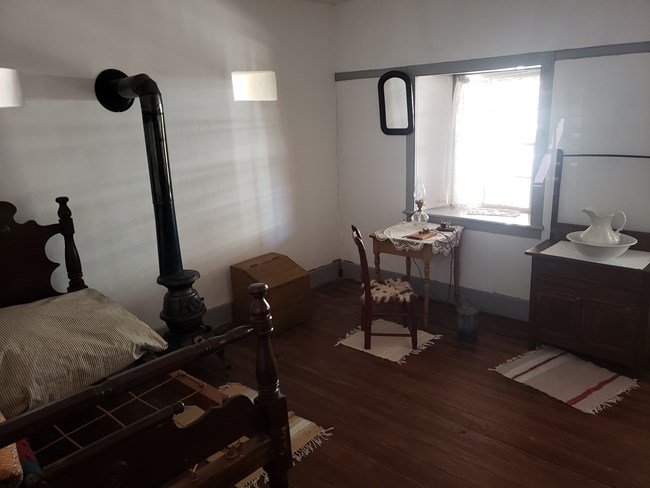 Telegraphers at Pipe Spring
June 1, 12:00pm
Pipe Spring is home to the first telegraph station in Arizona Territory. In December 1871, the first message was sent along the wires of the Deseret Telegraph, a privately owned system that stretched up to Salt Lake City. From there, a telegrapher could connect to the Transcontinental Telegraph Line and send a message across the country. This made communication between Church-run sites in the region much faster and more reliable. But who were the people who actually sent the messages and kept the system working? Join a Ranger at the Pipe Spring Visitor Center and Museum for a 45-minute program to learn about some of the people who made this communication possible.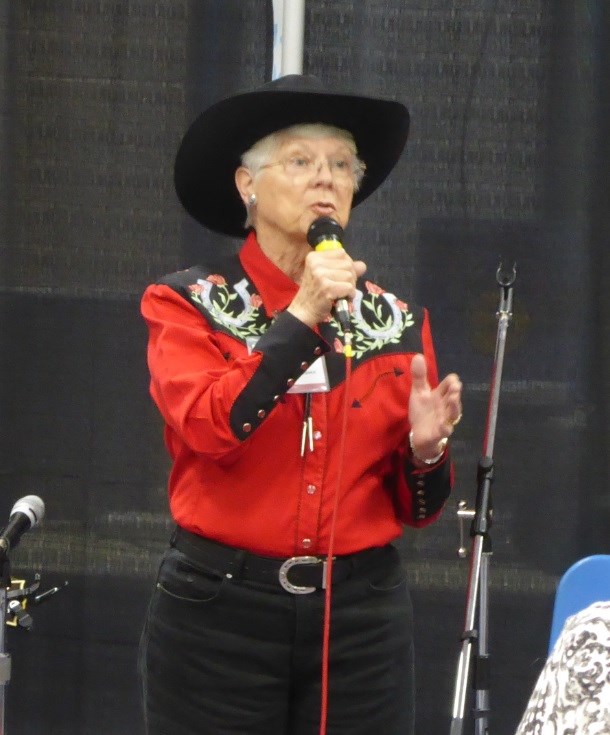 Music and Entertainment on the Arizona Strip
June 2, 1:00pm - 3:30pm
Music and entertainment take a lot of different forms and mean a lot to many different people. These sounds have shared stories, calmed anxious children, and thrilled listeners for endless generations. Beginning at 1:00pm, join Kaibab Paiute Cultural Resource Directior Daniel Bullets as he shares the Southern Paiute Circle Dance and traditional drumming.
Afterward, award-winning cowboy poet Marleen Bussma is accompanied by musician Kenny Hall as they share their sounds and stories of the West. Bring your own chairs, as limited seating will be available around the chuckwagon for this event.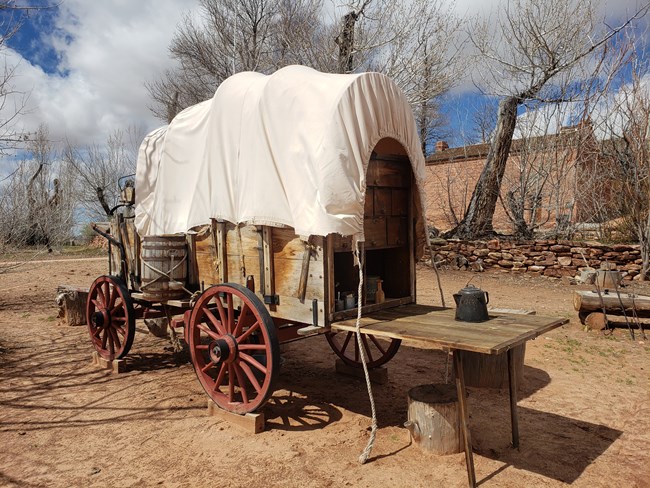 Community BBQ Lunch and Alumni Gathering
June 3, 10:00am - 3:00pm
For major anniversaries and events over the past 100 years, Pipe Spring has hosted a communitywide BBQ, offereing free food to everyone that came until that food ran out, and 2023 is no different. The day will be filled with cultural demonstrations, special presentations, programs, and a BBQ lunch served at 12:00pm, catered by Poppa Naps BBQ of St. George. Bring the whole family out for a day where Pipe Spring really shines.
Are you a former Ranger, volunteer, ranch hand, or intern of Pipe Spring? This is your chance to meet others just like you from throughout the years, tell stories of your time at the Monument, and share your hopes for the next 100 years of Pipe Spring.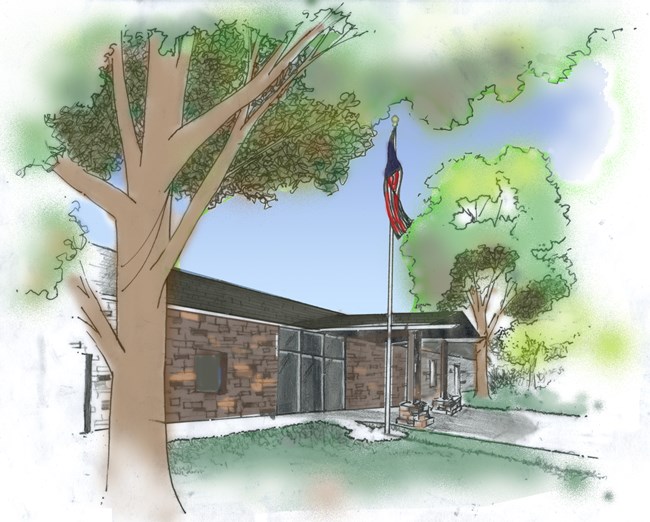 Pop-up Market and Craft Fair
June 3, 9:00am - 3:00pm
Pipe Spring National Monument, in collaboration with the Kaibab Paiute Cultural Preservation Office is hosting a pop-up vendor market on the lawn in front of Pipe Spring National Monument and Kaibab Band of Paiutes Joint Visitor Center and Museum. Native artists , entrepreneurial vendors, folk artists, and craft vendors will all be represented in this pop-up market.
Interested in setting up a booth? Space is still available! Contact Lead Interpretive Ranger, Ian Harvey, at ian_harvey@nps.gov or 928-643-7105.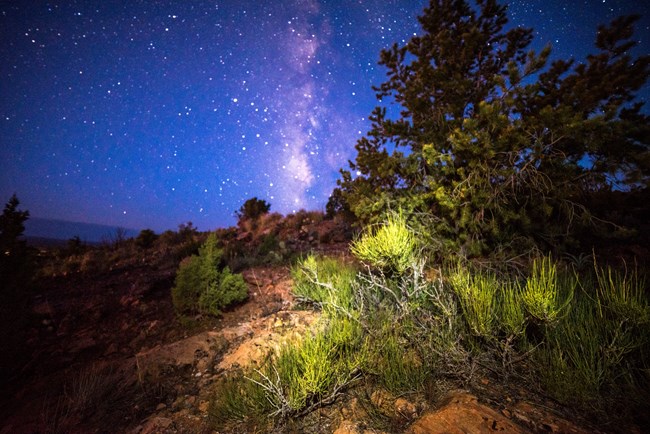 Full Moon Meditation
June 4, 8:00pm
Welcome the rising full moon with a guided meditation on the grounds of Pipe Spring, experiencing the park in a new light. Rangers will guide participants in a meditation whiule sharing information on the night skies above in this International Dark-Sky Park.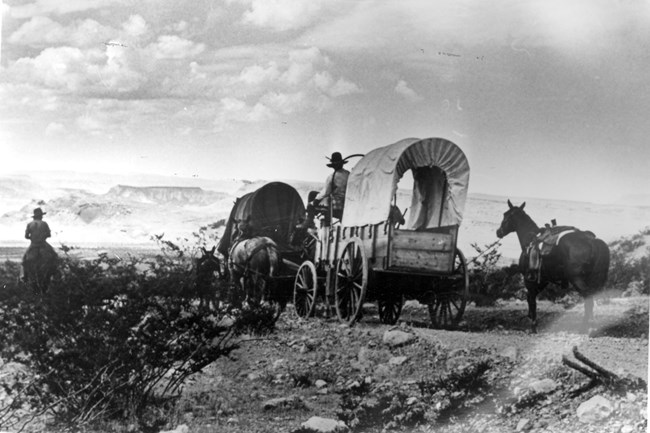 Pioneer Day Games
July 24, 10:00am - 2:00pm
An official holiday in Utah and celebrated throughout the region, Pioneer Day marks the entry of Brigham Young and the first group of Mormon pioneers into the Salt Lake Valley on July 24, 1847. Latter-day Saints throughout the United States and across the world celebrate the day with songs, dances, and pioneer games. At Pipe Spring, join us for a day of Pioneer-era games and activities to commemorate the day!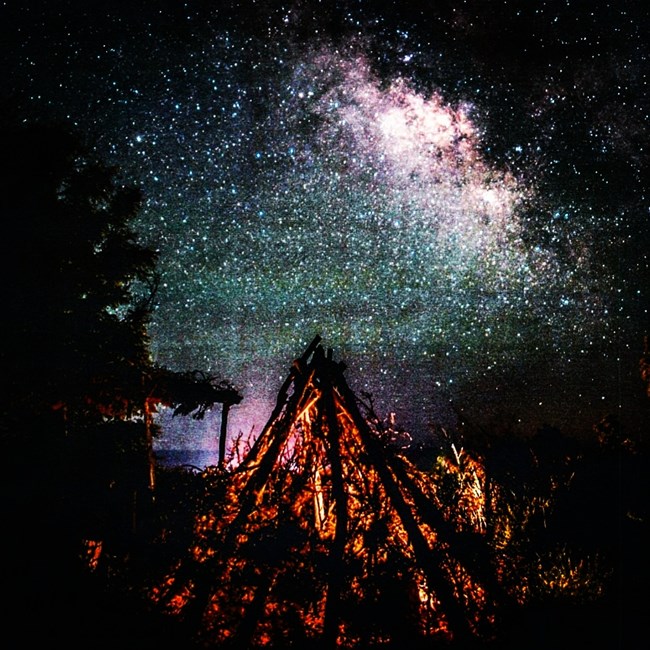 Annual Star Party
August 18, 7:00pm - 10:30pm
With pristine night skies overhead, join astro-rangers as they share the cultural significance of the cosmos and various other star-stories, talks, and presentations. Pipe Spring is an International Dark Sky Park while the Kaibab Band of Paiute Indians is the world's first International Dark Sky Nation. You'll experience both in this joint event, hosted at the Kaibab Paiute RV Park and Campground.
Solar Eclipse Viewing
October 14, 8:00am - 11:00am
This year, the United States will experience its first Annular Solar Eclipse since 2012. This style of eclipse occurs when the Moon passes between the Sun and Earth while it is at its farthest point from Earth. Because the Moon is farther away from Earth, it appears smaller than the Sun and does not completely cover it, creating a "ring of fire" effect in the sky.

If weather permits, Pipe Spring will experience approximately 90% totality, so join astro-rangers as they share the significance of this phenomena and provide an opportunity for you to safely view it from our Visitor Center back patio.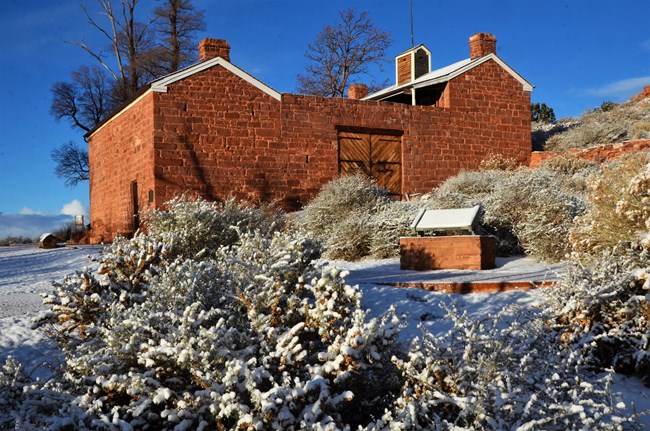 Pipe Spring Holiday Traditions
December 2, 4:00pm - 7:30pm
Previously known as Winsor Castle by Night, this annual holiday event brings out the best traditions across cultures from throguhout the region. Winsor Castle will be open into the evening, lit by lantern light, and decorated in the traditional 1870s Vistorian-style that would have been seen here over 150 years ago. Join Rangers and Volunteers as they share carols, hot cider, roasted pine nuts, Southern Paiute stories, and more! Dress for the weather and we will see you by lantern-light!
Last updated: April 26, 2023