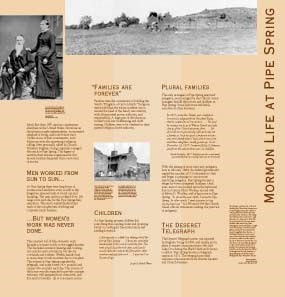 Much like their 19th century counterparts elsewhere in the United States, Mormons on the frontier sought independence, an increased standard of living, and more leisure time. Unlike many of their counterparts, most Mormons were also answering a religious calling. Men personally called by Church President Brigham Young originally managed the ranch at Pipe Spring. The degree of sacrifice their families experienced at this remote location deepened their conviction of service.
Men worked from sun to sun…
At Pipe Spring there were long hours of routine ranch and farm work, as well as the dangerous seasonal tasks of round-ups and branding. The men and boys milked 80 to 100 range cows each day for the Pipe Spring dairy operation. The ranch superintendent kept track of the complexities of tithing and corporate ranch business.