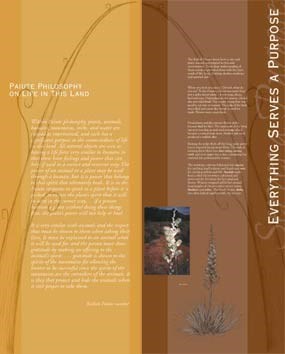 Paiute Philosophy on Life in this Land
Within Paiute philosophy, plants, animals, humans, mountains, rocks, and water are viewed as intertwined, and each has a significant purpose to the connectedness of life in this land. All natural objects are seen as having a life force very similar to humans in that these have feelings and power that can help if used in a correct and reverent way. The power of an animal or a plant may be used through a human, but it is power that belongs to that spirit that ultimately heals. It is in Paiute etiquette to speak to a plant before it is picked, to ensure the plant's spirit that it will be used in the correct way....if a person harvests a plant without doing these things first, the plant's power will not help or heal.
It is very similar with animals and the respect that must be shown to them when taking their lives. It must be explained to an animal what it will be used for, and the person must show gratitude by making an offering to the animal's spirit….gratitude is shown to the spirits of the mountains for allowing the hunter to be successful since the spirits of the mountains are the caretakers of the animals. It is they that protect and hide the animals when it isn't proper to take them.