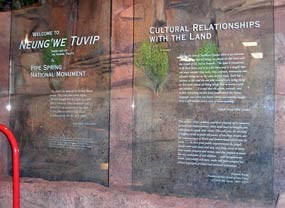 Welcome to Neung'we Tuvip
—homeland of the Kaibab Paiute—
and
Pipe Spring National Monument
This land is the home of the Kaibab Paiute people. This is the place of our origin. We were brought here by Coyote in a sack. This is where my Sehoo (umbilical cord) is buried, it is my connection to this land. It is the place to which I will return to make my leap into the spirit world.
Kaibab Paiute tribal member
Throughout the centuries many have used the land and water of the country between the Grand Canyon to the south and the high plateaus to the north. Ancestral peoples (
E'nengweng
), the Kaibab Paiute (
Kai'vi'vits
), and eventually members of the Church of Jesus Christ of Latter-day Saints, also known as Mormons, lived in the area.