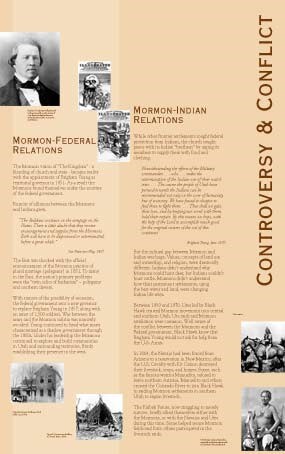 Mormon-Federal Relations
The Mormon vision of "The Kingdom" - a blending of church and state - became reality with the appointment of Brigham Young as territorial governor in 1851. As a result the Mormons found themselves under the scrutiny of the federal government.
Rumors of alliances between the Mormons and Indians grew.
The Redskins continue on the rampage on the Plains. There is little doubt that they receive encouragement and supplies from the Mormons. Both will have to be dispossessed or exterminated, before a great while.
The East was shocked with the official announcement of the Mormon practice of plural marriage (polygamy) in 1852. To many in the East, the nation's primary problems were the "twin relics of barbarism" - polygamy and southern slavery.
With rumors of the possibility of secession, the federal government sent a new governor to replace Brigham Young in 1857, along with an army of 2,500 soldiers. War between the army and the Mormon militia was narrowly avoided. Young continued to head what many characterized as a shadow government through the 1860s. Under his leadership the Mormons continued to explore and build communities in Utah and surrounding territories, firmly establishing their presence in the west.