The Mormon Militia and Pipe Spring
The room you are standing in was built as a "guard house" in 1868 by the Mormon militia. Pipe Spring was chosen as an outpost and supply base on the Arizona Strip because of its reliable water and strategic location between the Vermilion Cliffs to the north and Kanab Creek canyon to the southeast. The need for such a base arose in the mid-1860s when the Navajo began raiding Mormon settlements in southern Utah and the Arizona Strip.

One Navajo raid in January 1866 resulted in the deaths of James Whitmore, the first Mormon settler at Pipe Spring, and his ranch hand, Robert McIntyre. This was not an isolated incident. United States Army campaigns against the Navajo in 1863-1864, led by Kit Carson, had decimated Navajo herds of sheep and cattle, villages and orchards, and tribal social structure. Small bands of Navajo tried to maintain their independence from forced relocation by the Army to Bosque Redondo in New Mexico. They began raiding southern Utah and the Arizona Strip for horses, cattle, and sheep to be used for food, sale, and trade. The Mormons attested that over the course of the 1860s, the Navajos "had driven off one thousand head of horses, mules, and cattle, and about twenty-five hundred sheep. They also killed eight or ten citizens on these raids."

The Mormons responded to these raids by sending out the Mormon militia, or Nauvoo Legion, from St. George, Utah. This territorial militia was first organized in 1849. Men ages 18 to 45 made up the mobile cavalry, and older and younger men were in the infantry which stayed in towns for defensive purposes. Each militia member was expected to have a rifle and 48 rounds of ammunition.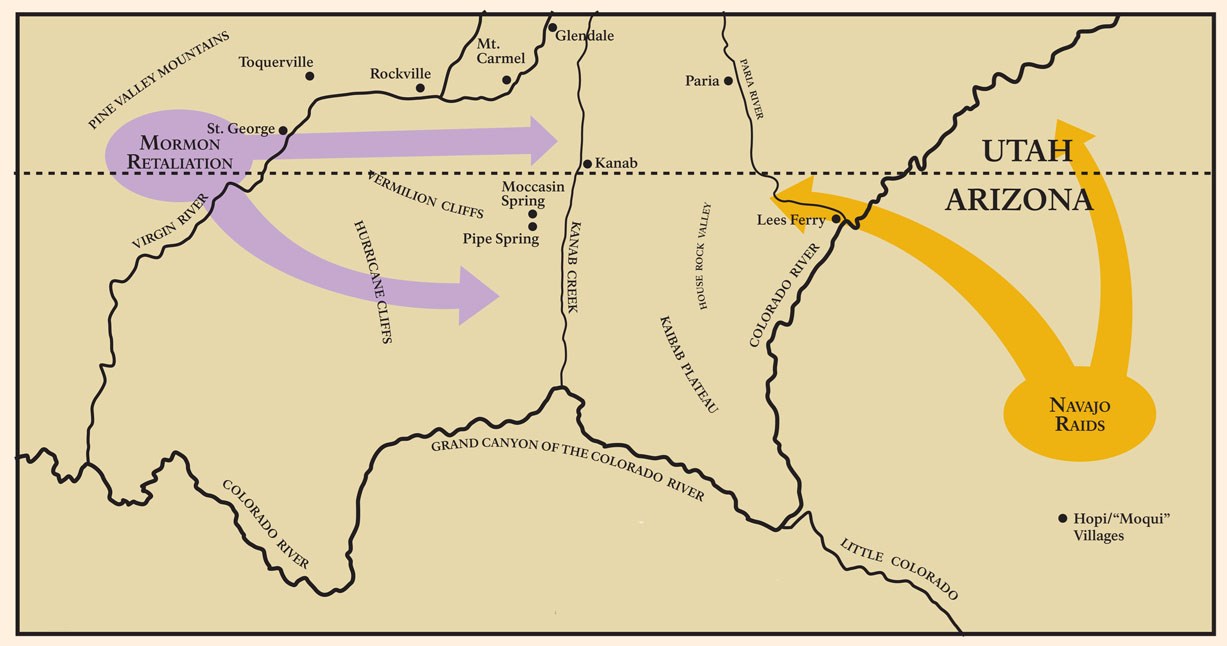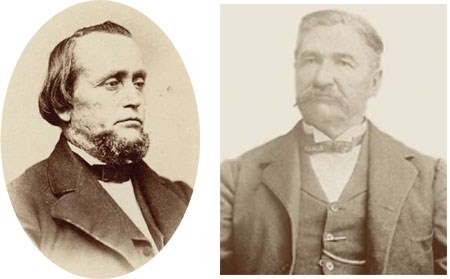 The leadership of Jacob Hamblin gathered at Whitmore's ranch at Pipe Spring. They were on their way to meet with the "Moquis" (Hopi), southeast of the Colorado River, and pursue Navajos who had stolen horses from Mormon settlements the previous winter. Brigadier General Erastus Snow sent the following instructions:

"I . . .recommend that you travel as compact, and separate as little as possible, between our settlements and the Moquis villages, both going and returning. To insure union and safety, I would recommend daily prayers, public and private; and vigilant guard by night, and also around your animals while grazing by day, to prevent surprise, especially across the Colorado . . . .
Tell the Navajos not to let their thieves visit us again unless they make satisfaction for the horses they have stolen from our people, lest some of our angry men slay them."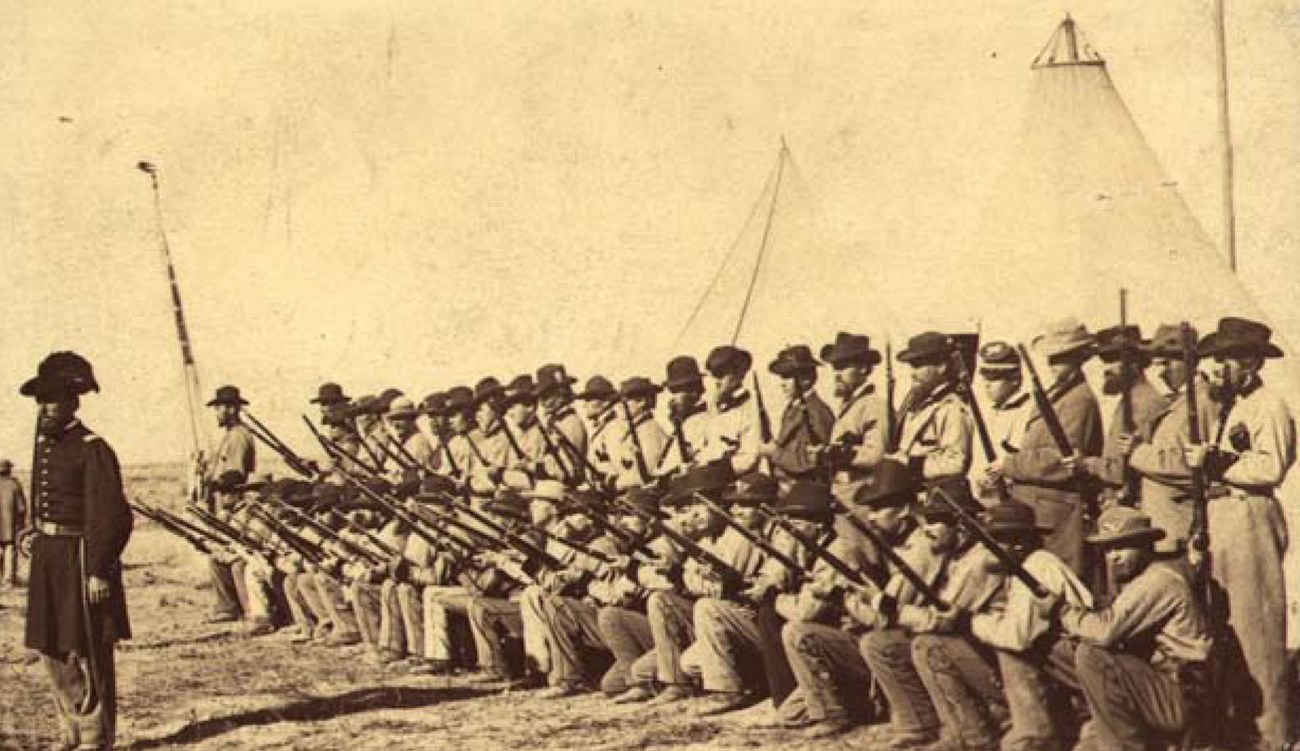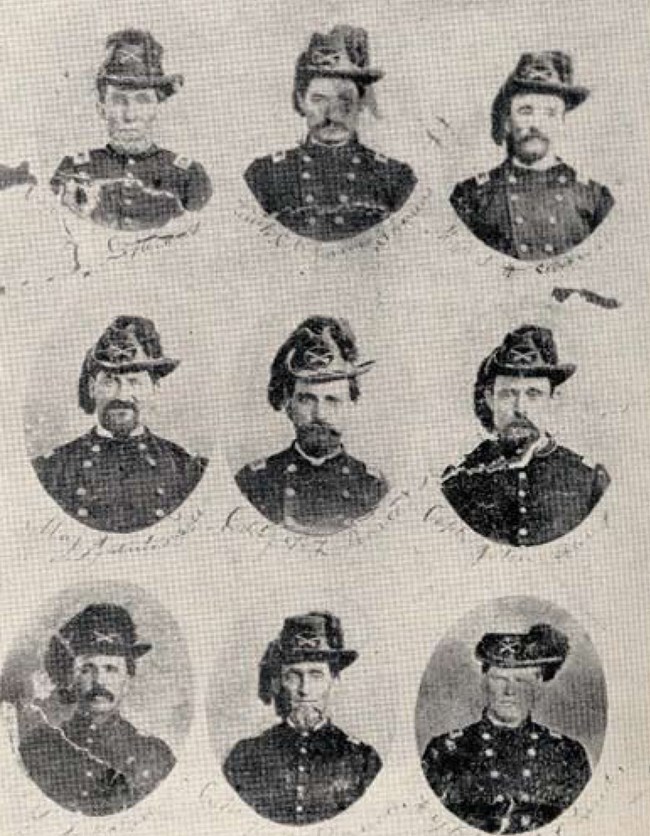 Through the remainder of the 1860s and even into the 1870s, the "Mormon-Navajo war" continued with Pipe Spring serving as a significant outpost for the militia.
"30 head of stock stolen from the Pine Valley ranges. Mr. Hancock nearly killed by Indians. Probably Navajos. Militia is to cut them off at Pipe Springs."
Brigade Adjutant Henry Eyring to Brigadier General Erastus Snow, December 30, 1866.
"Navajos passed through with 20 head of horses. Coplan in persuit [sic] with 21 picked men. We will keep a constant guard at Pipe and Moccasin Springs passes, . . . . We number at this place 14 men. We are not positive whether all the Indians have passed through or not. We have pickets out on both sides of this pass. . ."
Captain John D.L. Pearce to Brigadier General Erastus Snow, November 28, 1868 at Pipe Spring.
". . . we have stacked and secured about 2 ton of hay at the Pipe Spring. Repaired the guard house and built a good shed capable of holding 16 horses. We also have a patch of turnips at that place giving promis [sic] of an excellent crop."
John R. Young and Jacob Hamblin, September 12, 1869.


"We were called out by Brigadier General Snow by telegraph. . . . The message came to St. George and (we) were mustered out in the night . . . . Captain James Andrus, Captain of the Cavalry, took us in charge at the Canaan Ranch and detailed us to Pipe Springs to guard the Winsor Castle Fort for about 42 days, as guards and scouts. We were then honorably discharged and called home by him (General Snow). . . ."
Recollection of George Brooks of time spent at Winsor Castle in 1870-1871.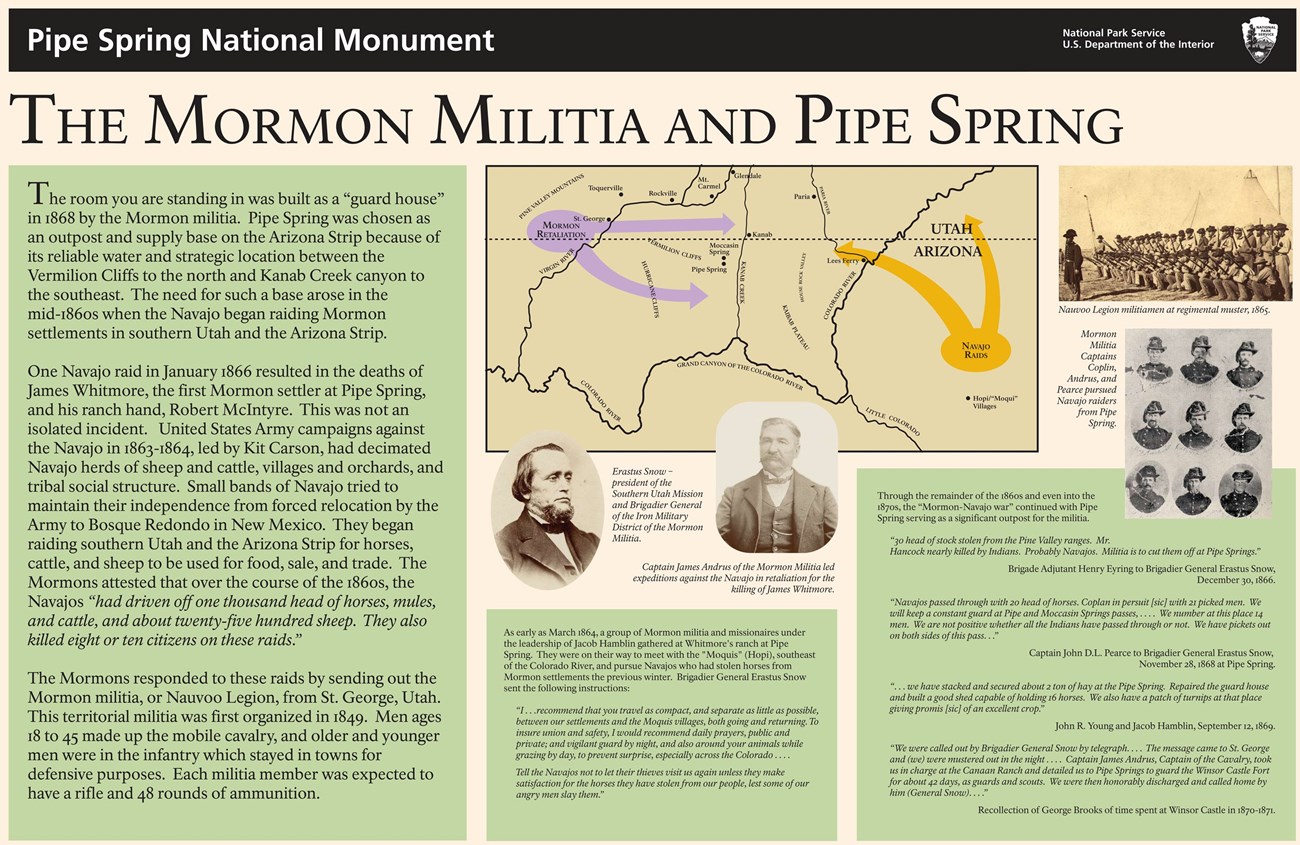 Last updated: January 11, 2017