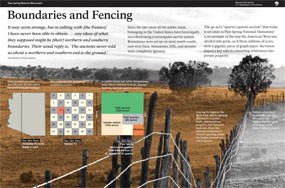 It may seem strange, but in talking with [the Paiutes] I have never been able to obtain . . . any ideas of what they supposed might be [their] northern and southern boundaries. Their usual reply is, 'The ancients never told us about a northern and southern end to the ground.'
John Wesley Powell, explorer
Since the late 1700s all the public lands belonging to the United States have been legally described using a rectangular survey system. Boundaries were set up on strict north-south, east-west lines. Mountains, hills, and streams were completely ignored.
The 40-acre "quarter-quarter section" that today is set aside as Pipe Spring National Monument is an example of the way the American West was divided into grids, as if those millions of acres were a gigantic piece of graph paper. Surveyors played a key role in converting wilderness into private property.