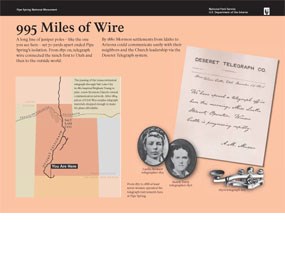 A long line of juniper poles—like the one you see here—set 70 yards apart ended Pipe Spring's isolation. From 1871 on, telegraph wire connected the ranch first to Utah and then to the outside world.
By 1880 Mormon settlements from Idaho to Arizona could communicate easily with their neighbors and the Church leadership via the Deseret Telegraph system.
From 1871 to 1888 at least seven women operated the telegraph instruments here at Pipe Spring.