Fort Washington Marina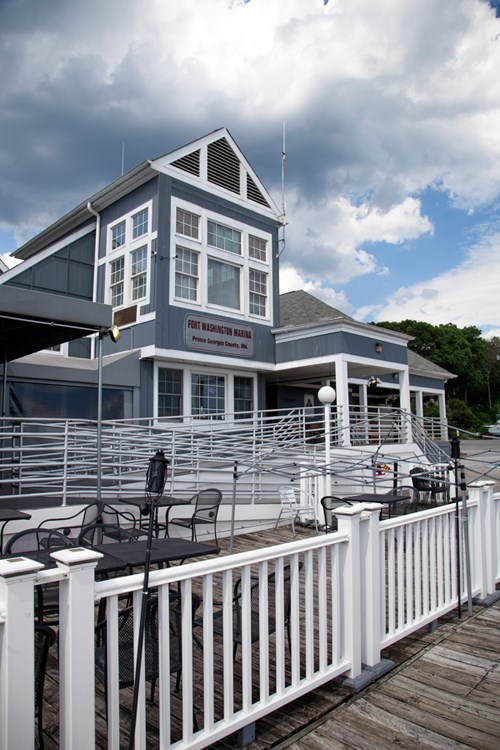 Fort Washington Marina is part of Piscataway Park and provides access to Piscataway Creek and the Potomac River. The marina offers boating opportunities in a natural setting and preserves the Mt. Vernon viewshed.
Things to Do
Explore the natural and undeveloped areas along Piscataway Creek and the Potomac River by boat. Fort Washington Marina offers boat slip rentals and boat repair services.
Hours & Seasons
The grounds of Fort Washington Marina are open year-round. The marina is in season May through October.
Marina Office Hours:
Monday-Saturday 8:30 a.m. - 5 p.m.
Sunday 9:30 a.m. - 4:30 p.m.
Directions
Address: 13600 King Charles Terrace, Ft. Washington, Md. 20744

Directions from the D.C. area:Take the beltway (I-295 or I-495) going south. Take exit 3 to Indian Head Highway (MD Route 210 South) and go approximately 4 miles. Take a right on Fort Washington Road for 3 miles, then a left on Warburton Road and continue into the marina entrance.
Facilities
Learn more about the facilities.
Rules and Regulations
No swimming or wading is allowed in Piscataway Creek. Fishing is prohibited from the Fort Washington Marina docks. Fishing is permitted from the shore with the appropriate license. Please review Maryland fishing regulations before fishing at Fort Washington Marina.
Safety
If there is an emergency - call 911. To contact the United States Park Police (USPP), who enforce the federal laws to protect the resources in our parks, call the 24 hour dispatch 202-610-7505. On National Park Service lands in the State of Maryland the USPP does have concurrent jurisdiction.

Leasing opportunity for Fort Washington Marina
The National Park Service (NPS) is offering a long-term competitive lease opportunity for Fort Washington Marina along Piscataway Creek with access to the Potomac River in Maryland. We're looking for a passionate and innovative operator who's committed to providing outstanding visitor services and to improving marina facilities.

The NPS seeks business proposals detailing how offerors would provide wet slip rentals, fuel service, marine sanitation, parking lot operations, and retail and vending sales. Additional services may include non-motorized boat rentals, boat repair, trailer storage, and food and beverage services.
Request for proposals
The National Park Service has issued a Request for Proposals (RFP) for the leasing opportunity for the Fort Washington Marina (Solicitation Number: NCR-3501-007-20). The RFP explains the business opportunity and the terms and conditions under which the NPS will award the lease.
Site visit
A site visit with an overview of the operations and a tour of the marina facilities for prospective lessees is scheduled for September 24, 2019. All parties interested in attending the site visit must email National Capital Region (NCR) Chief of Commercial Services, Chad Tinney, no later than 12 p.m. EDT, September 23, 2019. All emails must include your name, email address, phone number and the name of the organization or interested party being represented.
Deadlines
Questions related to this RFP must be sent via email by 4:00 pm on October 1, 2019 to Chad Tinney. Any proposal must be received by the Chief of Commercial Services, National Capital Region, National Park Service, 1100 Ohio Drive, Washington, D.C. 20242 by 4:00 p.m. EDT by Friday, November 27, 2019, in order to be evaluated and considered for award of the lease.
Amendments
To receive amendments to this RFP, please email Chief of Commercial Services, Chad Tinney, your contact information (name, email address, and phone number). The NPS will send any additional information specific to the RFP via email to individuals who have been placed on the contact list. Amendment information relative to the solicitation will also be posted on this page.
Point of Contact
Chad Tinney, Chief of Commercial Services, National Capital Region. 202-619-7072
Lease documents
Request for proposals
Attachment A: Draft master lease
Attachment B: Financial forms
Attachment C: Deferred maintenance
Exhibit A: Land assignment
Exhibit B: Insurance requirements
Exhibit C: Real property
Exhibit D: Draft maintenance plan
Last updated: September 4, 2019