Fort Washington Marina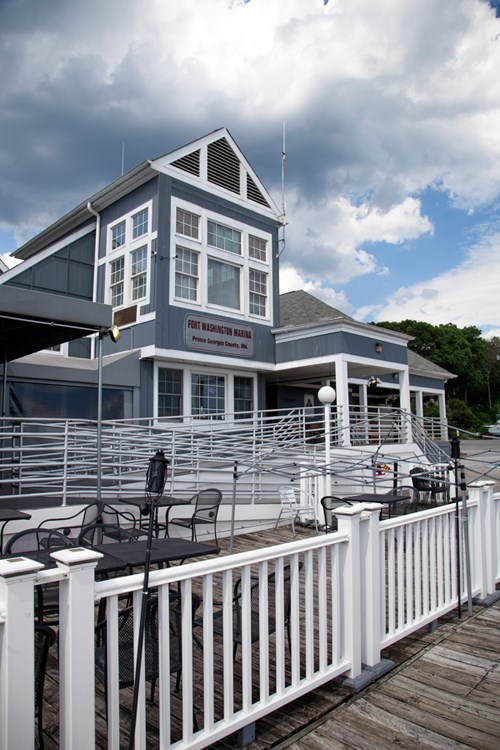 Fort Washington Marina is part of Piscataway Park and provides access to Piscataway Creek and the Potomac River. The marina offers boating opportunities in a natural setting and preserves the Mt. Vernon viewshed.

The National Park Service is preparing to advertise a new leasing opportunity for Fort Washington Marina, and wants to know what services and opportunities you'd like to see offered at the marina. Should we offer more non-motorized boating opportunities? What types of boat repair services are needed? Would you like to see food and drink services? The National Park Service is using the feedback and ideas that you provided to develop a long-term competitive lease opportunity for the marina. This opportunity will be advertised later this summer.
Things to Do
Explore the natural and undeveloped areas along Piscataway Creek and the Potomac River by boat. Fort Washington Marina offers boat slip rentals and boat repair services.
Hours & Seasons
The grounds of Fort Washington Marina are open year-round. The marina is in season May through October.

Marina Office Hours:
Monday-Saturday 8:30 a.m. - 5 p.m.
Sunday 9:30 a.m. - 4:30 p.m.

Directions
Address: 13600 King Charles Terrace, Ft. Washington, Md. 20744

Directions from the D.C. area:Take the beltway (I-295 or I-495) going south. Take exit 3 to Indian Head Highway (MD Route 210 South) and go approximately 4 miles. Take a right on Fort Washington Road for 3 miles, then a left on Warburton Road and continue into the marina entrance.

Facilities
Learn more about the facilities.

Rules and Regulations
No swimming or wading is allowed in Piscataway Creek. Fishing is prohibited from the Fort Washington Marina docks. Fishing is permitted from the shore with the appropriate license. Please review Maryland fishing regulations before fishing at Fort Washington Marina.

Safety
If there is an emergency - call 911. To contact the United States Park Police (USPP), who enforce the federal laws to protect the resources in our parks, call the 24 hour dispatch 202-610-7505. On National Park Service lands in the State of Maryland the USPP does have concurrent jurisdiction.
Last updated: May 28, 2019