Top 10 Summer Visitation Tips
Top 10 Tips for Summer Visitors
Summer visits to Pinnacles National Park require special preparation. Check out these Top Tips from Park Rangers at Pinnacles for this summer, to make sure you're Recreating Responsibly.
Soaring summer daily highs are consistently above 90F (32C) degrees, and often above 100F (38C) degrees. Weather and temperatures are drastically different from coastal areas, so make sure you're prepared for park conditions, regardless of what it's like when you step out your front door!
Pinnacles Weather - Plan Your Visit
The east and west sides both have nature centers and stores, with standard operating hours. These hours can change due to an emergency event or staff availbility needs elsewhere. Make sure you are prepared to enjoy your visit to the park, without depending on a building being open; Bring your own snacks, have a hiking plan in place, look at park alerts, etc. before your arrival!
Park Conditions - Plan Your Visit
Summer means extreme Fire Danger for Pinnacles National Park and the state of California, and with most of the state facing severe drought for the second year in a row, minimizing fire danger is more important than ever. Grills, campfires, and smoking all present serious wildfire risk, and in most cases are prohibited.
Fire Danger - Plan Your Visit
The East and West entrances do NOT connect, and it takes over an hour to drive between them. Both sides offer different trail accesses and experiences, and there is no cell service to coordinate with parties accidentally arriving on separate sides - have a clear plan before your arrival.
Park Map - Plan Your Visit
Parking lots fill early, and often result in the park holding traffic, until spaces free up. Visitors are not always able to park as close as they want to a trailhead. Holiday weekends like Memorial Day are especially busy. Additionally, summer months are often scorching hot, meaning early arrivals make for better hiking conditions as well.
Park Hours - Plan Your Visit
The Pinnacles shuttle running from the Campground to the other areas of the East side has ended for the season. This means driving or hiking to access areas like Bear Gulch; Hiking can be quite far, and parking lots can fill. With shuttle services suspended, plan your transportation to be fully independant!
 
Cell service is unavailable for most carriers in most areas of the park. Have a plan to meet, hike, or camp before your arrival! Be sure to download the NPS App, and select Pinnacles for an offline park map and access to park information! The app is available on your app store.
Park features like the cave systems are frequently subject to closures, due to bat sensitivity, vandalism, flooding, or disease transmission. Check the closure status of the caves online, before your arrival.
Cave Status - Plan Your Visit
The West side is the sunset side, the quiet side, and the side with the park's newest trail. But - limited entry hours on the West side mean you must arrive to the West side between the listed operating hours. If you plan to visit the wonderful west, make sure you check the gate entry hours before driving up the (very narrow) road.
Park Hours - Plan Your Visit
Nearby communities offer scenic wine tasting patios, diverse dining opportunities, boutique shopping experiences, historic sightseeing, and other natural wonders for outdoor recreation. Don't let your visit to Pinnacles bypass the historic and magnificent opportunities that make up our community!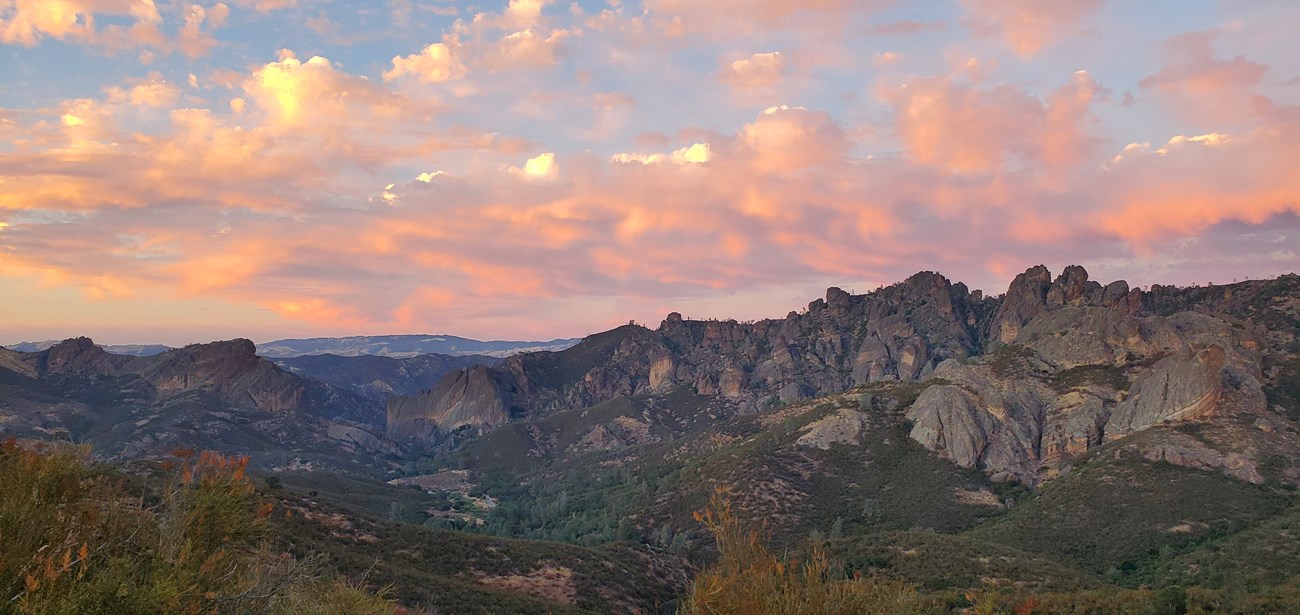 Last updated: July 22, 2023