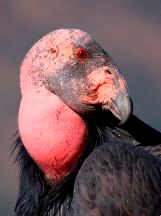 2009 Condor Release
Saturday, September 26, 2009
East Side, Pinnacles National Monument
Join us as we attempt to release up to two California condors for their first flight into the wild.

Information
Shuttles begin at 7:30 am. Please arrive by 8:30 am to allow for the 1.5 mile hike to the viewing area. The ceremony will begin at 10:00 am.

Bring water, hats, layered clothing, comfortable hiking shoes, and food. Binoculars are recommended.

Because we use a passive release method, there is a chance the juvenile condors may not leave the holding pen. Even so, there will be a good chance to see already free-flying condors.
In park transportation arrangements can be made for people with mobility impairments. Please call ahead.

We will hold a condor celebration regardless of the weather.

Volunteering
This date coincides with National Public Lands Day, and will be a fee-free day. For volunteer opportunities, please visit our volunteer page or visit the National Public Lands Day link above.
Accommodations
For camping information, visit our camping page or visit recreation.gov for reservations.

Lodging is available in the area, but there is also a very special opportunity to view our first condor nest through our friends group, Pinnacles Partnership.

For More Information
(831) 389-4486 x243
e-mail us