Lichens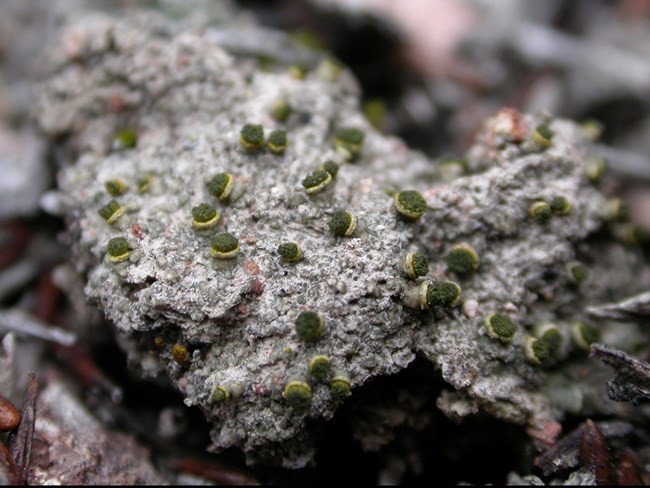 Lichens are a symbiotic partnership of two separate organisms, a fungus and an alga. Visitors can easily see the abundance and diversity of these unique life forms at Pinnacles National Park. The rocky outcrops for which Pinnacles is named provide excellent habitat, and many of the rock surfaces appear to be painted in shades of red, orange, yellow, green, and brown due to lichen growth.

These lichens are not just colorful, they are central to how the park's ecosystems and geology function. Over time, these lichens contribute to rock weathering through chemical processes, although it is likely minor compared to other physical processes (i.e. freeze-thaw). The unique soil lichen communities found on open talus slopes in the chaparral vegetation community are crucial in stabilizing soil. The crowns and trunks of oak trees in the oak woodland communities are typically plastered with lichen, covering nearly every available surface. This dense lichen growth provides food, shelter, and camouflage for a variety of arthropod species. The long, pendulous lichens dangling from oak branches are commonly used as nesting material for birds and rodents, and occasionally as food for deer. In addition, lichens help nutrients cycle through ecosystems and control humidity. Lichens can also tell us a lot about air quality, and even the age and composition of different vegetated areas.
In 2003, we inventoried the lichens at Pinnacles. The project aimed to create a comprehensive lichen species list and reference collection for Pinnacles. The other goals were to collect basic information about distribution and abundance, obtain GPS data for new occurrences of rare lichens, and identify species tsuitable for long-term monitoring programs. Based on the results of this inventory and previous records, the total number of lichens known to occur at Pinnacles National Monument is over 290. We estimate that another 40-50 species remain to be found here. Check out the report here.


Last updated: December 21, 2022
Explore more plants topics