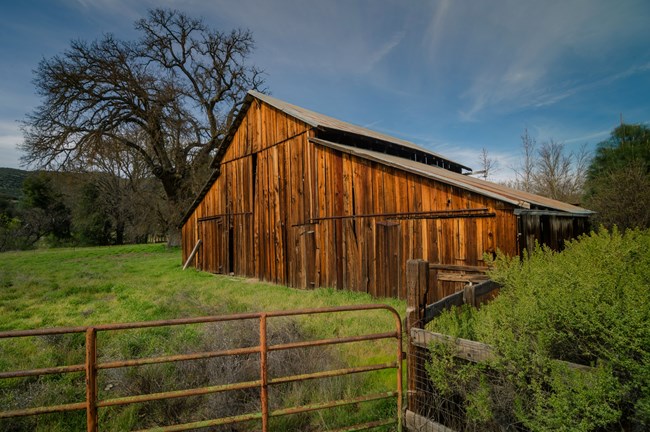 The Spanish had a dramatic impact on the Native Americans who frequented Pinnacles. They traveled into California from Mexico and eventually established 21 religious missions between 1769 and 1823, stretching from San Diego to Sonoma known as "El Camino Real". The mission closest to Pinnacles was built in Soledad in 1791. The Spanish sought to establish a route from Mexico or New Spain up to northern California, they believed they had a God-given right to claim land for Christ and the King. Captain Juan Bautista de Anza led an expedition to establish an overland route to the San Francisco Bay Area from Mexico.
Visit this site to learn more about Juan Bautista de Anza.
The Chalon Indians lived in the area east of Soledad Mission -- close to what is now the western side of Pinnacles National Park. Willingly or not, many of the Chalon and Amah Mutsun people became neophytes (baptized mission workers); however, the mission way of life was devastating to native people. A combination of diseases brought by the Spaniards and harsh changes to their way of life killed many Chalon and Mutsun people, and damaged their cultures. In 1770 the native population in California, which was already dropping from the effects of European diseases, was estimated at 300,000. By the mid-1800s, it was cut in half.
Mexico won independence from Spain in 1821 so California became a territory of Mexico. The Californios of the state rebelled against Mexican rule to establish its own republic, which lasted only a year. California was converted again during the Mexican-American War when it was claimed by the United States in 1847. There was often ethnic tension in the Pinnacles area, between natives, hispanics and white homesteaders. Another interesting character present in the early history of Pinnacles was Tiburcio Vasquez, one of California's most notorious historic outlaws. He was born in Monterey in 1835 and roamed through the state during a twenty year career of cattle rustling and larceny. He settled near the quicksilver mines of New Idria in 1870 and he was known by many homesteaders from Bear Valley all the way to the Salinas Valley. Many stories told of him hiding in the rocks and caves of Pinnacles.