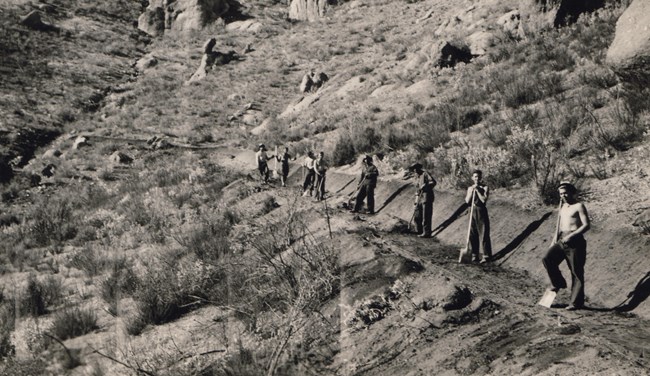 In 1932, Franklin Delano Roosevelt was elected President on the promise of a "New Deal" for the American people. The Great Depression had left millions unemployed, and morale was low across the country. After taking office in 1933, President Roosevelt strove to fulfill his promise by establishing several nationwide relief programs. One of the most successful of these was the Civilian Conservation Corps (CCC).
The men who were hired by the CCC were single and between the ages of eighteen and twenty-five. Camps were set up by the U.S. Army, where they worked, which provided them with free room and board. Much of the work was manual labor and the men worked hard for their monthly salary of $30, but $25 was automatically deducted from this pay and sent home to their families.
In April 1933, the federal government asked superintendents in national forests and parks to submit work proposals for the CCC. In June of that year, NPS Director Horace Albright commented on the significance of the CCC:
"Officials of the National Park Service have a deep appreciation that they were enabled to assist in carrying out President Roosevelt's emergency conservation program, one of the greatest humanitarian movements ever conceived for the relief of distress. In addition to its primary purpose of relief, the conservation work accomplished will be of far-reaching importance to the whole country and will build up the health and morale of a large portion of the young manhood of the Nation, fitting them better to be leaders of the future."
Over its 9-year lifespan, the CCC employed about 3 million men nationwide. The CCC made valuable contributions to forest management, flood control, conservation projects, and the development of state and national parks, forests, and historic sites. In return, the men received the benefits of education and training, a small paycheck, and the dignity of honest work.