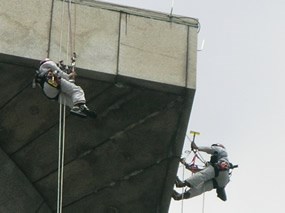 The War of 1812 Monument column was closed on June 22, 2006 when a 500 pound piece of granite fascia fell from the 317 foot level crashing onto the Upper Plaza. The event occurred at 9 p.m. in the evening and luckily there were no injuries.

Following a physical assessment by the engineering firms of Vertical Access and Quinn Evans on July 26 of all the Monument's fascia stones, the consensus of the inspection team was that limited public access to the column's north door presented no hazard to visitors. The required safety conditions include a chain-link fence around the entire Upper Plaza and a confined walkway leading directly across the Upper Plaza directly to the north door, complete with wooden side-panels. The panels are to protect visitors from the unlikely event of ricocheting debris resulting for the failure of other fascia stone fragments. A date for reopening has not been set. Meanwhile, the visitor center is open and other park events and demonstrations are continuing.

The physical assessment of the parapet also discovered that other fascia stones are loose and will need future stabilization. The most hazardous stones are on the southwest side and the farthest from the planned public access. It was determined that there was no risk to the public, once inside the column or on the observation deck. Superintendent Ferguson said, "We hope to have our visitors back up on the observation deck of Perry's Monument just as soon as we can! The view is just outstanding! But, we have to put the necessary safety precautions in place first."

The next step following the temporary stabilization of the all the fascia stones, is to conduct a comprehensive assessment of the entire Monument in order to prepare for necessary repointing and repairs. There is a sense of urgency to see all of this accomplished in time for the bicentennial events surrounding the War of 1812 and the Battle of Lake Erie.