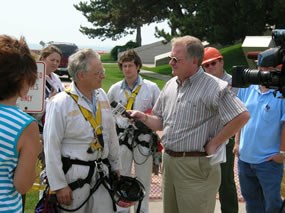 The New York based engineering firm, specializes in "industrial roped access techniques" and has inspected numerous historically significant masonry buildings and structures. Founded in 1992, the Vertical Access firm has distinguished itself in high angle Historic Preservation and will soon add Perry's Victory to their list of clients.
Perry's Victory and International Peace Memorial Superintendent Andy Ferguson believes that this physical inspection will eventually lead to one of three report outcomes: the Monument is safe for reopening to visitor access; the Monument can be reopened once the appropriate protective measures have been implemented, or the Monument must remain closed indefinitely in the interest of public safety. Ferguson says he is still cautiously optimistic that the Monument column can be reopened to visitors this summer.
On June 22nd at about 9 p.m., a large, 500 pound piece of granite fascia stone fell 317 feet onto the Monument's upper plaza. While no one was injured during that event, the Monument column has been fenced off and closed to the visiting public since. A more comprehensive condition assessment is planned for the entire column once the immediate visitor safety issue has been resolved. Interim stabilization may be necessary until a complete repointing/repair of the Monument can be fully funded. The estimated cost of that project is in excess of $5 million. "With celebrations surrounding the bicentennial of the War of 1812 and the Battle of Lake Erie in 2013," Superintendent Ferguson says, "timing is growing critical to see Perry's Victory Monument safe and ready for the next 100 years." Meanwhile, the visitor center has remained open and all of the scheduled events including concerts, musket firing demonstrations and interpretive talks, and carronade (cannon) weekends continue. Visitors can still enjoy the Monument grounds and no one should miss the 20-minute Surround-sound presentation: "The Battle of Lake Erie," shown every half hour in the visitor center.