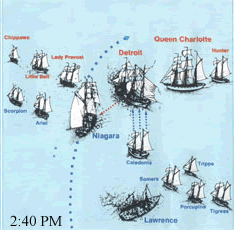 By 2:30 p.m. the flagship was a floating wreck; every gun on her engaged side was disabled and four of every five men fit for duty were either killed or wounded. Perry was facing the dismal prospect of surrender.

Then, as he gazed across to the Niagara, still out of range and relatively undamaged, the commodore made a fateful decision. Collecting four unwounded men Perry manned the flagship's first cutter and rowed through a hail of shot to the Niagara. Miraculously Perry and his boat crew reached the Niagara unscathed.

Following a brief conversation the flotilla commander dispatched Elliott in the same small boat to hurry along the lagging gunboats. Perry then prepared the Niagara for immediate action, put the helm up, and sailed toward the British line.

The British, though they had pounded the Lawrence into a crippled hulk, had suffered terribly. During the engagement Barclay was severely wounded, plus the captain and first lieutenant of every British vessel was incapacitated. The English fleet was now commanded by junior officers - brave men, but with little or no experience maneuvering ships in the chaos of combat. When they observed the Niagara bearing down on their line the British attempted to wear ship - to turn their vessels around to bring the unused starboard broadsides to bear. Orders were issued, but amidst the tumult of battle the battered Detroit and Queen Charlotte collided, becoming helplessly entangled.

Taking full advantage of the enemy blunder, Perry steered the Niagara through the jumbled British battle line. Unleashing both broadsides, the American commodore ravaged the vulnerable British ships. As the Niagara pressed through the British line Perry backed the maintop sail, holding the Niagara stationary while her belching carronades decimated the enemy decks. The wind had also picked up by this time, allowing the sluggish gunboats to rush forward and rake the enemy from astern.