Rinconada Canyon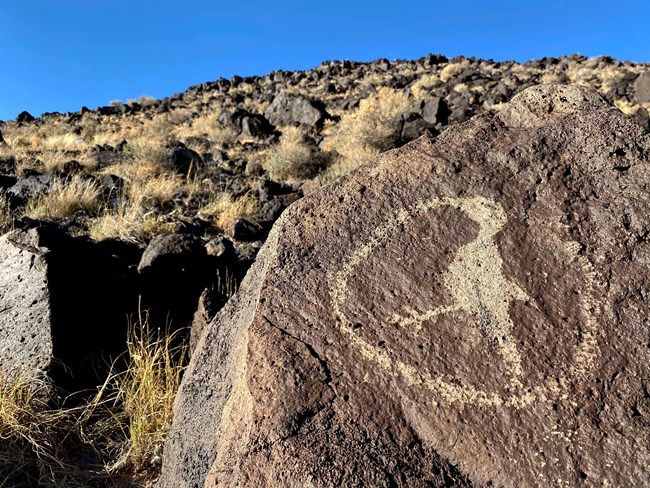 Rinconada Canyon Parking Lot Hours: 8:00 am to 5:00 pm daily.
Leashed dogs/pets are not allowed on the petroglyph viewing section of this trail. If you want to hike with your dog, remain on the trail that runs in the center of the canyon. Or instead, visit Piedras Marcadas Canyon to see petroglyphs while walking with your dog.

Bicycle riding is not allowed on any section of this trail. If you want to ride a bike in the area, we suggest looking up the City of Albuquerque's Paseo de la Mesa trail.

No water.
Vault restroom facility.
Trail Length: 2.2 miles (4km)
Difficulty: easy to moderate
See up to 300 petroglyphs. Binoculars are recommended.
GPS Lat: 35.127 GPS Long: -106.725

Trailhead paved parking lot located at intersection of Unser Blvd NW at St. Joseph Ave.
Rinconada Canyon Trail Map
Rinconada Canyon offers an insight into the geologic, cultural, and natural resources of this region. From the parking lot a sandy path follows the northern escarpment, carrying you over sand dunes. As you walk into the canyon, the sounds and sights of the city fade away and may be replaced with the coo of a mourning dove or a collared lizard sunning itself on a basalt boulder. Here you see prehistoric and historic petroglyphs, rock wall alignments and shelters, and wildlife living in the vegetation growing throughout the canyon.
The geology of the area shows the remnants of volcanic eruptions of 200,000 years ago. The basalt from these flows capped the sandstone of the Santa Fe Formation. As the softer sandstone eroded away, the basalt broke off and tumbled down the hillside. This naturally occuring geologic action of weathering and erosion formed the volcanic escarpment as we see it today and is also where the Ancestral Pueblo People carved petroglyphs.
The Rinconada Canyon trail follows the northern escarpment, allowing the hiker views of a variety of petroglyphs. The trail is 1.1 miles long to the back of the canyon (2.2 miles roundtrip) and is moderately strenuous.
As with any hiking in the park, or the desert Southwest, carry plenty of water and drink often. Wear a hat, sunscreen, and sturdy walking shoes or boots. Watch out for rattlesnakes which inhabit the canyon.
DO NOT leave valuables visible inside your vehicle. Lock your vehicle and set alarm.


Last updated: May 18, 2021