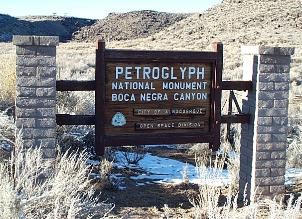 Day Use Area
Open 8:30 am - 4:30 pm daily. Last entry at 4:00 pm is strictly enforced.
This unit of Petroglyph National Monument is owned, staffed, and managed by the City of Albuquerque Open Space Division. The City charges a parking fee of $1 on weekdays and $2 on weekends. Valid Federal Lands passes (Annual, Senior, Access, Military, 4th Grader, and Volunteer) are honored and waive the parking fee. Commercial bus fees do apply. Call (505) 873-6620 for commercial bus rates.
Located off of Unser Boulevard, ¼ mile north of Montaño Road, this canyon provides quick and easy access to three self-guided trails, (Mesa Point, Macaw, and Cliff Base) where you can view approximately 100 petroglyphs. Combined walking time is approximately 1 hour. Although each trail is very short, they vary in difficulty as follows: Mesa Point - strenuous, Macaw - moderate, Cliff Base - moderate.
GPS Lat: 35.161 GPS Long: -106.719
For a trail map of Boca Negra Canyon click here.