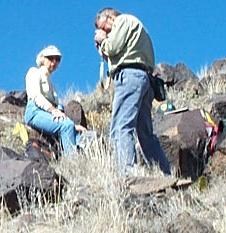 As with all National Parks and Monuments, we owe a huge debt of gratitude to the people who volunteer their time and efforts to making Petroglyph National Monument the place it is, and helping us move toward what it can become.
For Visitor Services park volunteer opportunities contact:
Park Volunteer Coordinator (505) 899-0205 x230 or e-mail us

As of February 2017, all trail watch volunteer positions are filled so applications for the trail watch volunteer program are not being accepted at this time. If you want to be added to the waiting list, please call Ranger Powers at (505) 899-0205 ext. 356. Thank you.
For volunteer opportunities throughout the National Park Service visit: www.nps.gov/volunteer or www.volunteer.gov