Winfield Hancock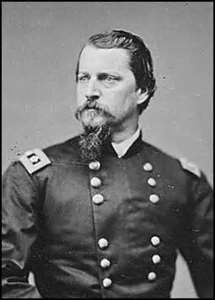 Born in 1824 in Pennsylvania, Winfield Hancock graduated from West Point in 1844. He served in the Mexican War, the Seminole War, and in Kansas during the border disturbances. Hancock participated in nearly all the major engagements in the eastern theatre of the war.
He led the II Corps from Gettysburg to Burgess Mill, it was at Reams Station that Hancock suffered his greatest defeat as corps commander. By November 1864 Hancock relinquished his command and went to organize the 1st Corps of Veterans and led the Department of West Virginia until the end of the war.
After the war he served as the commander of the Fifth Military District during Reconstruction and eventually he assumed command of the Department of the East. In 1880, as the Democratic candidate, he lost the election to James Garfield. Hancock died in 1886.
Back to Biographies
Last updated: February 26, 2015