Basic Information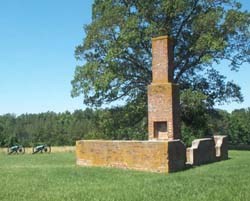 This 2,700 acre park contains a 16-stop driving tour which takes visitors through all four units of Petersburg National Battlefield: General Grant's Headquarters at City Point (present day Hopewell), Virginia; The Eastern Front (where the initial assaults and the Battles of the Crater and Fort Stedman occurred); the Western Front, where intense fighting continued as Grant's Army encircled the city struggling to destory the last of Lee's supply lines; and the Five Forks Battlefield, a battle in which the outcome would eventually lead to the Confederates' retreat to Appomattox.

The best place to begin your visit is the Eastern Front Visitor Center where you can view an overview video which will help you gain a general understanding of this 292 day event. The displays and artifacts within the visitor center provide insight into how intense the fighting was at Petersburg, as well as how miserable life was for soldiers living in trenches. After exploring the visitor center, you can continue down the park's four mile tour road where you will have the opportunity to walk on the same grounds where soldiers, including Native Americans, Blacks, and Whites, all fought for the fate of their nation.

Ranger guided walks are scheduled at different times throughout the year. Visitors may also choose to walk the battefields themselves where you will find numerous educational wayside exhibits. Cell phone tours and podcasts are also available at some locations.

Searching for your Civil War ancestor? Park staff has numerous resources available at the Visitor Center to help you with your research. Maps are also available which may lead you to the exact site where your ancestor fought at Petersburg.

Even if history is not your passion, and you're just looking for a beautiful place to hike, you're still at the right place. Petersburg National Battlefield has some of the most beautiful trail systems in south side Virginia. There are ten miles of wooded nature trails located within the Eastern Front Unit and eight miles of forested nature trails at the Five Forks Battlefield Unit. The Eastern Front trails are suitable for hiking, bicycling, and horseback riding while the Five Forks trails, at this time, are available to hikers and bicyclists.


Eastern Front Visitor Center

From Route 95 South:
Take exit 52 (Wythe Street)
Continue straight for approximately 2.5 miles.
Entrance to park will be on your right.

From Route 95 North:
Take exit 50 D (Wythe Street)
Continue straight for approximately 2.5 miles.
Entrance to park will be on your right.

From Route 295
Take Exit 9 West (toward Fort Lee)
Continue straight for approximately 2 miles.
Entrance to park will be on your right, just beyond Fort Lee.
Eastern Front Visitor Center - Open Year Round
Grant's Headquarters at City Point - Open Seasonally
Five Forks Visitor Center - Closed
Last updated: June 2, 2022