Reams Station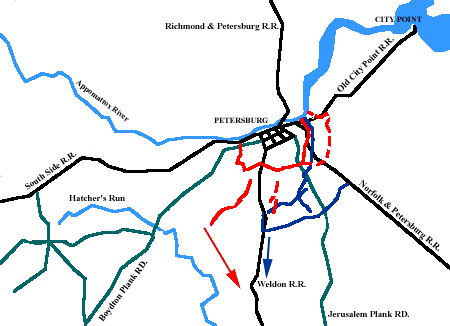 Prelude
Soon after the Union success at the battle of Weldon Railroad, Gen. Hancock's (USA) II Corps was ordered to move south along that rail line, destroying it as it went. The intent was to stretch even further the distance by which Gen. Lee (CSA) had to move his supplies.
By late August 24 the II Corps had worked its way three miles south of Reams Station. Hancock was informed that Gen. A.P. Hill's (CSA) infantry and Gen. Hampton's (CSA) cavalry were moving out of Petersburg's defenses to meet this threat.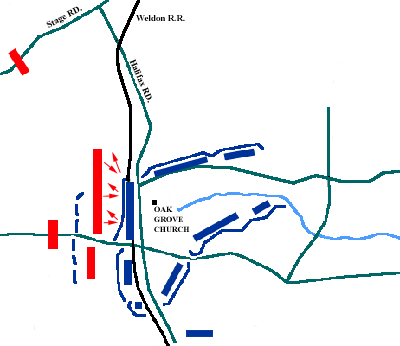 August 25, 1864
2:00 pm
During the morning Hampton had been driving the Union north, back up the Halifax Road towards Reams Station. Meanwhile, Hill's attacks in the early afternoon had only taken some outlying trenches from the Union.
Around 2:00 pm he launched an attack on the main breastworks which fell apart quickly. Since Hill and Hampton failed to coordinate their attacks and the element of surprise had been lost, Hill determined that a large frontal assault was needed to drive the Union forces off the railroad.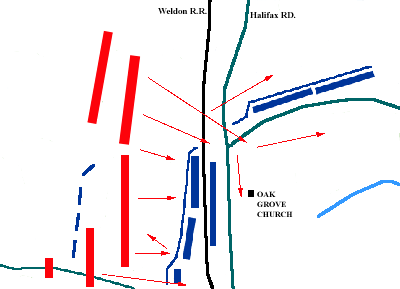 5:00 pm
It was 5:00 pm before the Confederates are ready for their second assault and it began with a heavy barrage from the artillery.
The II Corps was quickly overrun and the amount of unguarded Union prisoners sent back was so large that the Confederate command momentarily believed, due to the smoke and confusion, that their attack was a failure and that those were their men coming back.
Last updated: February 26, 2015