USS Oklahoma casualties identified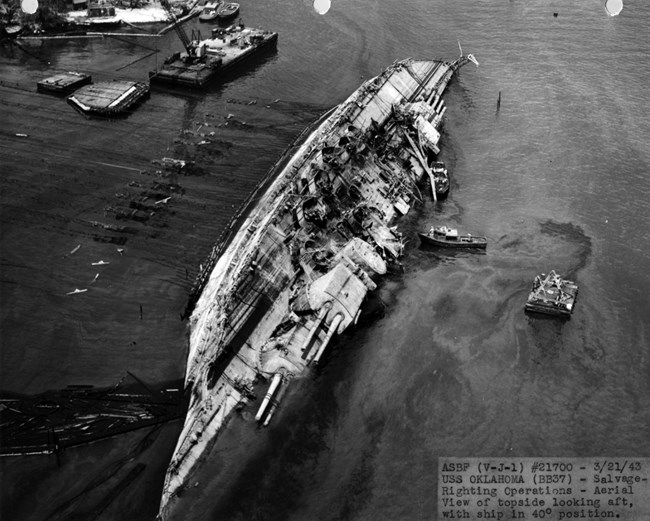 The
USS Oklahoma
, moored at Ford Island, Pearl Harbor, was sunk by Japanese aircraft during the attack on Pearl Harbor. A total of 429 crewmen aboard the USS
Oklahoma
were killed in the early morning hours of Dec. 7, 1941, after the ship quickly capsized from the numerous torpedo hits.
From December 1941 through June 1944, Navy personnel recovered the remains of those who perished, interring them in the Halawa and Nu'uanu Cemeteries in Hawaii.
The remains were disinterred by the American Graves Registration Service from the two cemeteries in September 1947, and transferred to the Central Identification Laboratory at Schofield Barracks in Hawaii. Only 35 men were identified out of the 429 killed. Nearly 400 unidentified remains were buried as Unknowns in 46 plots at the National Memorial Cemetery of the Pacific, known as the Punchbowl, in Honolulu.
In 2003, as a result of the research efforts of Pearl Harbor survivor Ray Emory, a single casket associated with the USS
Oklahoma
loss was disinterred. Anthropological and DNA evidence have shown that remains are extremely commingled, with at least 95 individuals represented in the first disinterred casket based on mitochondrial DNA results, said Dr. Carrie Brown, DPAA Forensic Anthropologist and USS
Oklahoma
Team Lead. Of those, five were initially identified following the disinterment: Fireman 2nd Class Lawrence A. Boxrucker, of Dorchester, Wisconsin; Fireman 3rd Class Gerald G. Lehman, of Hancock, Michigan; Machinist's Mate 1st Class Charles H. Swanson, of Maywood, California; and Ens. Irvin A. R. Thompson, of Hudson County, New Jersey; and Ens. Eldon P. Wyman, of Portland, Oregon.
In 2015, as part of the USS
Oklahoma
Project, the Defense POW/MIA Accounting Agency, through a partnership with the Department of Veterans Affairs, exhumed all of the unknown remains from the USS
Oklahoma
, and began the lengthy identification process. In December 2017, DPAA made their 100th identification from the ship's casualties.
As of June 2021, the identification of 338 individuals, to date, from the USS
Oklahoma
represents the first successful completion of a project of such scope and complexity. Nearly 86% of unknowns from the USS
Oklahoma
have been individually identified and it is expected that 90% will be identified by the end of the project, surpassing the original projected estimate of 80%.
ALPHABETICAL LIST OF USS
OKLAHOMA
IDENTIFICATIONS:
Seaman 1st Class Willard H. Aldridge, 20, of Sitka, Kansas
Lt. Cmdr. Hugh R. Alexander, 43
Fireman 2nd Class Hal J. Allison, 21
Seaman 1st Class Leon P. Arickx, 22, of Osage, Iowa
Quartermaster 2nd Class Daryle E. Artley, 21, of Maywood, Nebraska
Marine Corps Pfc. Marley R. Arthurholtz, 20, of South Bend, Indiana
Navy Chief Warrant Officer John A. Austin, 36, of Warrior, Alabama
Radioman 2nd Class Walter H. Backman, 22, of Wilton, North Dakota
Seaman 1st Class Gerald J. Bailey, 24, of Seattle
Shipfitter 3rd Class Robert E. Bailey, 21
Seaman 1st Class Wilbur F. Ballance, 20, of Paw Paw, Michigan
Coxswain Layton T. Banks, 20, of Dallas
Fireman 1st Class Malcolm J. Barber, 22; Navy Fireman 1st Class Leroy K. Barber, 21; and Navy Fireman 2nd Class Randolph H. Barber, 19; of New London, Wisconsin
Electrician's Mate 3rd Class Cecil E. Barncord, 24, of Wilson Township, Kansas
Fireman 1st Class Harold E. Bates, 27, of Rush Center, Kansas
Fireman 2nd Class Ralph C. Battles, 25, of Boaz, Alabama
Navy Radioman 3rd Class Howard W. Bean, 27, of Everett, Washington
Fireman 1st Class Walter S. Belt, Jr., 25, of Cleveland, Kansas
Marine Corps Pvt. Waldean Black, 20, of Perryton, Texas
Boilermaker 1st Class William E. Blanchard, 24, of Tignall, Georgia
Fireman 3rd Class Clarence A. Blaylock, 20
Machinist's Mate 2nd Class Leo Blitz, and Navy Fireman 1st Class Rudolph Blitz, both 20, of Lincoln, Nebraska
Seaman 2nd Class John G. Bock, Jr., 18
Coxswain Paul L. Boemer, 21
Bandmaster James B. Booe, 42, of Veedersburg, Indiana
Navy Fireman 2nd Class James B. Boring, 21, of Vales Mill, Ohio
Navy Mess Attendant 1st Class Ralph M. Boudreaux, 20, of New Orleans, Louisiana
Fireman 2nd Class Lawrence A. Boxrucker, of Dorchester, Wisconsion (Disinterred in 2003)
Seaman 2nd Class Raymond D. Boynton, 19, of Grandville, Michigan
Fireman 2nd Class Carl M. Bradley, 19, of Shelley, Idaho
Seaman 1st Class Oris V. Brandt, 20, of Kentland, Indiana
Fire Controlman 3rd Class Jack A. Breedlove, 19
Fireman 1st Class Wesley J. Brown, 25, of Helena, Montana
Navy Seaman 1st Class William G. Bruesewitz, 26, of Almena, Wisconsin
Water Tender 1st Class Oliver K. Burger, 26
Seaman 1st Class Millard Burk, Jr., 19, of Pikeville, Kentucky
Ship's Cook 1st Class Rodger C. Butts, 47, of Portsmouth, Virginia
Seaman 1st Class Murry R. Cargile, 21, of Robersonville, North Carolina
Machinist's Mate 1st Class Harold F. Carney, 23, of New Diggins, Wisconsin
Fireman 2nd Class Joseph W. Carroll, 20
Fireman 2nd Class Edward E. Casinger, 21
Seaman 1st Class Biacio Casola, 26
Fireman 1st Class Charles Ray Casto, 20, of East Liverpool, Ohio
Navy Chief Pharmacist's Mate James T. Cheshire, 40, of San Diego
Shipfitter 3rd Class Patrick L. Chess, 24, of Yakima, Washington
Seaman 2nd Class David Clark, Jr., 18
Seaman 2nd Class Floyd Clifford, 20, of Douglas, Kansas
Seaman 1st Class George A. Coke, 18, of Arlington, Texas
Chief Warrant Officer John G. Connolly, 48
Hospital Apprentice 1st Class Keefe R. Connolly, 19, of Markesan, Wisconsin
Fireman 1st Class Grant C. Cook, Jr., 20, of Cozad, Nebraska
Fireman 1st Class Beoin H. Corzatt, 24
Private First Class Alva J. Cremean, 21, of Pueblo, Colorado
Navy Fireman 3rd Class Warren H. Crim
Fire Controlman 1st Class Robert L. Corn, 24, of Baker City, Oregon
Fireman 1st Class Samuel W. Crowder, 35, of Louisville, Kentucky
Storekeeper 2nd Class Glenn C. Cyriack, 20, of Pipestone County, Minnesota
Fireman 1st Class James W. Davenport, Jr., 21
Chief Water Tender Francis D. Day, 37, of Millburn, New Jersey
Electrician's Mate 3rd Class Leslie P. Delles, 21, of St. Charles, Illinois
Chief Machinist's Mate Ralph A. Derrington, 42
Electrician's Mate 2nd Class Leaman R. Dill, 25, of Huron, South Dakota
Patternmaker 1st Class Stanislaw F. Drwall, 25, of Thomas, West Virginia
Marine Corps Cpl. Elmer E. Drefahl, 22, of Milwaukee
Fireman 1st Class Kenneth E. Doernenburg, 23, of Antigo, Wisconsin
Navy Seaman 2nd Class Bernard V. Doyle
Steward's Mate 1st Class Cyril I. Dusset, 21, of New Orleans, Louisiana
Seaman 1st Class Buford H. Dyer, 19
Storekeeper 3rd Class Wallace E. Eakes, 22, of Caney, Kansas
Machinist's Mate 1st Class Eugene K. Eberhardt., 29, of Newark, New Jersey
Seaman 2nd Class David B. Edmonston, 22, Portland, Oregon
Ensign John C. England, 20, of Alhambra, California
Radioman 3rd Class Earl M. Ellis, 23, of Hope, Arkansas
Fireman 1st Class Lawrence H. Fecho, 20, of Willow City, North Dakota
Musician 2nd Class Charlton H. Ferguson, 19, of Kosciusko, Mississippi
Ensign William M. Finnegan, 44, of Bessmer, Michigan
U.S. Naval Reserve Ensign Francis C. Flaherty, 22, of Charlotte, Michigan
(Medal of Honor Reciepient)
Seaman 2nd Class James M. Flanagan, 22, of Jacksonville, Florida
Chief Carpenter's Mate Tedd M. Furr, 39
Fireman 1st Class Michael Galajdik, 25, of Joliet, Illinois
Fireman 2nd Class Martin A. Gara, 20, of Chicago, Illinois
Steward's Mate 2nd Class Jesus F. Garcia, 21, of Agana, Guam
Marine Corps 2nd Lt. Harry H. Gaver, 24, of Annapolis, Maryland
U.S. Naval Reserve Machinist's Mate 1st Class Paul H. Gebser, 39, of San Diego
Seaman 2nd Class George T. George, 26, of St. Louis, Missouri
Electrician's Mate 3rd Class George Harvey Gibson, 20, of Winchester, Kansas
Radioman 2nd Class Quentin J. Gifford, 22, of Mankato, Minnesota
Fire Controlman 2nd Class George Gilbert, 20
Seaman 1st Class Warren C. Gillette, 21, of Klamath Falls, Oregon
Machinist's Mate 1st Class Arthur Glenn, 43, of Fort Wayne, Indiana
Warrant Officer Daryl H. Goggin, 34, of Everett, Washington
Seaman 1st Class Clifford G. Goodwin, 24, of Marion Township, Missouri
Ship's Cook 3rd Class Robert Goodwin, 20, of Wichita, Kansas
Electrician's Mate 3rd Class George M. Gooch, 22, of Laclede, Missouri
Chief Petty Officer Duff Gordon, 52, of Hudson, Wisconsin
Seaman 1st Class Wesley E. Graham, 21, of Watervliet, Michigan
Radioman 3rd Class Thomas E. Griffith, 20, of Dayton, Ohio
Water Tender 2nd Class Edgar D. Gross, 39, of Athens, Alabama
Seaman 2nd Class Vernon N. Grow, 25, of Redding, California
Seaman 2nd Class Hubert P. Hall, 20, of Floyd County, Kentucky
Marine Corps Reserve Pvt. Ted Hall, 24, of Kansas City, Missouri
Shopfitter 3rd Class Francis L. Hannon, 20, of Madison County, Indiana
Machinist's Mate 1st Class George Hanson, 32, of Laramie, Wyoming
Fireman 1st Class Robert J. Harr, 25, of Dallas City, Illinois
Navy Chief Fire Controlman Daniel F. Harris, 40
Chief Petty Officer Albert E. Hayden, 44, of Mechanicsville, Maryland
Seaman 2nd Class Harold L. Head, 20, of Browning, Missouri
Electrician's Mate 1st Class Harvey C. Herber, 34
Gunner's Mate 2nd Class William Francis Hellstern, 20, of Peoria, Illinois
Seaman 2nd Class Floyd D. Helton, 18, of Somerset, Kentucky
Gunner's Mate 1st Class George Herbert, 37, of Fall River, Massachusetts
Signalman 3rd Class Austin H. Hesler, 21
Fireman 1st Class Denis H. Hiskett, 20, of Nebraska City, Nebraska
Ensign Joseph P. Hittorff, 25, of Collingswood, New Jersey
Chief Storekeeper Herbert J. Hoard, 36, of DeSoto, Missouri
Musician 1st Class Joseph W. Hoffman, 24
Fireman 3rd Class Kenneth L. Holm, 29, of Clarkfield, Minnesota
Fireman 3rd Class Harry R. Holmes, 19
Marine Private First Class Robert Kimball Holmes, 19, of Salt Lake City, Utah
Fireman 3rd Class Edwin C. Hopkins, 19, of Keene, New Hampshire
Seaman 1st Class Frank A. Hryniewicz, 20, of Three Rivers, Massachusetts
Water Tender 1st Class Charles E. Hudson, 39, of Stockton, California
Fireman 3rd Class Glaydon I.C. Iverson, 24, of Emmons, Minnesota
Fireman 3rd Class Herbert B. Jacobson, 21, of Grayslake, Illinois
Seaman 2nd Class Challis R. James, 18, of New Boston, Ohio
Fireman 3rd Class Kenneth L. Jayne, 26, of Patchogue, New York
Radioman 3rd Class Theodore Q. Jensen, 22, of Delta, Utah
Fireman 1st Class Billy J. Johnson, 22, of Caney, Kentucky
Fireman 1st Class Edward D. Johnson, 24
Seaman 1st Class Joseph M. Johnson, 22, of Columbus, North Dakota
Fireman 1st Class Jim H. Johnston, 23, of Wesson, Mississippi
Seaman 2nd Class Charles A. Jones, 21, of Harvard, Nebraska
Machinist's Mate 1st Class Fred M. Jones, 31, of North Lake, Michigan
Lt. Julian B. Jordan, 37, of Dawson, Georgia
Seaman 1st Class John A. Karli, 19, of San Marino, California
Marine Corps Pvt. Vernon P. Keaton, 18, of Lubbock, Texas
Fireman 1st Class Leo T. Keninger, 20, of Ackley, Iowa
Fireman 1st Class William H. Kennedy, 24, of Titonka, Iowa
Fireman 1st Class Elmer T. Kerestes, 22, of Holding Township, Minnesota
Baker 2nd Class David L. Kesler, 23, of Berthoud, Colorado
Seaman 1st Class Ralph H. Keil
Electrician's Mate 3rd Class William A. Klasing, 19, of Trenton, Illinois
Coxswain Verne F. Knipp, 22, of Salida, Colorado
Seaman 2nd Class D.T. Kyser, 18, of Muskogee, Oklahoma
Musician 1st Class Elliot D. Larsen, 25, of Monroe, Utah
Mess Attendant 1st Class Johnnie C. Laurie, 25, of Bessemer, Alabama
Seaman 1st Class Elmer P. Lawrence, 25
Fireman 3rd Class Gerald G. Lehman, of Hancock, Michigan (Disinterred in 2003)
Fireman 3rd Class Willard I. Lawson, 25, of Butler County, Ohio
Seaman 2nd Class Harold W. Lindsey, 26
Fireman 3rd Class John H. Lindsley, 22, Wuakegan, Illinois
Navy Buglemaster 2nd Class Lionel W. Lescault, 28, of Worcester, Massachusetts
Fireman 3rd Class Alfred E. Livingston, of Worthington, Indiana (Disinterred in 2007)
Fire Controlman 3rd Class Adolph J. Loebach, 22, of Peru, Illinois
Petty Officer 1st Class Vernon T. Luke, 43, of Green Bay, Wisconsin
Mess Attendant 1st Class Octavius Mabine, 21, of Portsmouth, Virginia
Seaman 2nd Class Howard S. Magers, 18, of Merry Oaks, Kentucky
Seaman 2nd Class Michael Malek, 17
Seaman 1st Class Joseph K. Maule, 18, of Bloomfield, Nebraska
Water Tender 1st Class Edwin B. McCabe, 27, of Newport, North Carolina
Fire Controlman 2nd Class Donald R. McCloud, 21, of Wayne, West Virginia
Fireman 1st Class James O. McDonald, 25, of Levelland, Texas
Seaman 1st Class Hale McKissack, 37, of Talpa, Texas
Machinist's Mate 1st Class Earl R. Melton, 24, of Lakewood, New Jersey
Marine Corps Pfc. John F. Middleswart, 19, of San Diego
Machinist's Mate 2nd Class Archie T. Miles, 22, of Elmwood, Illinois
Seaman 1st Class Wallace G. Mitchell, 19, of Los Angeles
Radioman 3rd Class Charles A. Montgomery, 21, of Folcroft, Pennsylvania
Hospital Apprentice 1st Class John M. Mulick, 21, of Elma, Iowa
Seaman 2nd Class Ray H. Myers, 19, of Central City, Iowa
Seaman 1st Class George E. Naegle, 22, of La Crosse, Wisconsin
Fireman 1st Class Elmer D. Nail, 23, of Kansas City, Missouri
Fire Controlman 1st Class Paul A. Nash, 26, of Carlisle, Indiana
Electrician's Mate 3rd Class Don O. Neher, 28, of Kansas City, Missouri
Gunner's Mate 1st Class Arthur C. Neuenschwander, 33, of Fessenden, North Dakota
Fireman 1st Class Frank E. Nicoles, 24, of Eau Claire, Wisconsin
Boatswain's Mate 1st Class Arnold M. Nielsen, 32, of Oakland, California
Seaman 2nd Class Laverne A. Nigg, 23
Seaman 1st Class Joe R. Nightingale, 20, of Kalamazoo, Michigan
Signalman 3rd Class Charles E. Nix, 26, of Danville, Illinois
Fireman 1st Class Charles R. Ogle, 20, of Goedsbery Township, Missouri
Seaman 1st Class Camillus M. O'Grady, 19, of Saline County, Kansas
Storekeeper 3rd Class Eli Olsen, 23, of Audubon, Iowa
Electrician's Mate 3rd Class Alphard S. Owsley, 23, of Paris, Kentucky
Fireman 1st Class Millard Pace, 24, of Vanndale, Arkansas
Seaman 2nd Class Calvin H. Palmer, 23, and Navy Seaman 2nd Class Wilferd D. Palmer, 21, of Minot, North Dakota
Pharmacist's Mate 3rd Class George L. Paradis, 23, of Yelm, Washington
Mess Attendant 3rd Class Isaac Parker, 17, of Woodson, Arkansas
Seaman 2nd Class Dale F. Pearce, 21, of Dennis, Kansas
Shipfitter 1st Class Charles F. Perdue, 32
Seaman 2nd Class Walter R. Pentico, 17
Water Tender 1st Class Milo E. Phillips, 26
Seaman 2nd Class James N. Phipps, 24, of Rainier, Oregon
Fireman 1st Class Gerald H. Pirtle, 19, of El Dorado, Kansas
Seaman 2nd Class Rudolph V. Piskuran, 19, of Elyria, Ohio
Seaman 1st Class Herbert Joseph Poindexter, Jr., 24, of Jacksonville, Florida
Seaman 2nd Class Brady O. Prewitt, 20, of Liberal, Missouri
Fire Controlman 3rd Class Robert L. Pribble, 19, of St. Petersburg, Florida
Ensign Lewis B. Pride, Jr., 23, of Madisonville, Kentucky
Fireman 3rd Class Jasper L. Pue, Jr., 21, of San Antonio
Seaman 1st Class Paul S. Raimond, 20, of Converse, Louisiana
Fireman 1st Class Dan E. Reagan, 20, of Haslet, Texas
Radioman 3rd Class Irvin F. Rice, 22, of Detroit
Water Tender 2nd Class Porter L. Rich, 27, of Lake Preston, South Dakota
Seaman 1st Class Russell C. Roach, 22, of Zanesville, Ohio
Seaman 2nd Class Joseph M. Robertson, 18
Seaman 1st Class Harold W. Roesch, 25, of Rockford, Illinois
Fireman 1st Class Walter B. Rogers, 22, of Bison, South Dakota
Seaman 1st Class Joseph C. Rouse, 23
Yeoman 3rd Class Edmund T. Ryan, 21, of Wilbraham, Massachusetts
Electrician's Mate 3rd Class Roman W. Sadlowski, 21, of Pittsfield, Massachusetts
Seaman 1st Class Kenneth H. Sampson, 20, of Kansas City, Missouri
Seaman 1st Class Lyal J. Savage, 19, of Dexter, New York
Seaman 1st Class John E. Savidge, 20, of Elisabeth, New Jersey
Seaman 2nd Class Charles L. Saunders, 18, of Winnie, Texas
Lt. j.g. Aloysius H. Schmitt, 32, of St. Lucas, Iowa
Pharmacist's Mate 1st Class John H. Schoonover, 39, of Port Edwards, Wisconsin
Fireman 1st Class Chester Seaton, 20, of Tacoma, Washington
Ensign Verdi D. Sederstrom, 25, of Montevideo, Minnesota
Gunner's Mate 3rd Class Herman Schmidt, 28
Fireman 1st Class Andrew J. Schmitz, 26, of Richmond, Virginia
Fireman 2nd Class William K. Shafer, 20, of Alhambra, California
Signalman 3rd Class William J. Shanahan, Jr., 23, of Cedar Rapids, Iowa
Fire Controlman 1st Class Edward J. Shelden, 29, of Indianapolis
Signalman 1st Class Eugene M. Skaggs, 33, of Ansted, West Virginia
Seaman 1st Class Edward F. Slapikas, 26, of Wanamie, Pennsylvania
Metalsmith 1st Class Leonard F. Smith, 29, of Albany, New York
Water Tender 1st Class Walter H. Sollie, 37, of Myrtlewood, Alabama
Seaman 1st Class Kirby R. Stapleton, 24, of Chillicothe, Missouri
Seaman 1st Class Donald A. Stott, 19
Fireman 1st Class Paul E. Saylor, 21, of Johnson City, Tennessee
Machinist's Mate 1st Class Ulis C. Steely, 25, of Corbin, Kentucky
Seaman 1st Class Walter C. Stein, 20, of Cheyenne, Wyoming
Fireman 1st Class Samuel C. Steiner, 20
Machinist's Mate 2nd Class Everett R. Stewart, 22
Seaman 1st Class Maurice V. Spangler, 20, of Defiance, Ohio
Ensign Charles M. Stern, Jr., 26, of Albany, New York
Ensign Lewis S. Stockdale, 27, of Anaconda, Montana
Fire Controlman 3rd Class Robert T. Stout, 21
Seaman 1st Class Milton R. Surratt, 21, of Greenville, South Carolina
Machinist's Mate 1st Class Charles H. Swanson, of Maywood, California (Disinterred in 2003)
Seaman 1st Class Edward E. Talbert, 19
Marine Pfc. Charles R. Taylor, 26
Seaman 1st Class Robert M. Temple, 19, of Des Moines, Iowa
Fireman 2nd Class Benjiman C. Terhune, 19
Seaman 2nd Class Arthur R. Thinnes, 17, of Milwaukee
Fireman 1st Class Charles W. Thompson, 19, of Weaubleau, Missouri
Ensign Irvin A.R. Thompson, of Hudson County, New Jersey (Disinterred in 2003)
Ensign William M. Thompson, 21, of Summit, New Jersey
Navy Seaman 2nd Class Richard J. Thomson, 19, of League City, Texas
Seaman 2nd Class Cecil H. Thornton, 21
Seaman 1st Class David F. Tidball, 20
Seaman 2nd Class Lloyd R. Timm, 19, of Kellogg, Minnesota
Fireman 1st Class Everett C. Titterington, 21
Seaman 1st Class Orval A. Tranbarger, 20, of Mountain View, Missouri
Navy Fire Controlman 2nd Class Harold F. Trapp, 24, and Navy Electrician's Mate 3rd Class William H. Trapp, 23, of La Porte, Indiana
Gunner's Mate 3rd Class Shelby Treadway, 25, of Manchester, Kentucky
Fireman 1st Class Neal K. Todd, 22, of Akeley, Minnesota
Fireman 1st Class William D. Tucker, 19, of Bedford, Iowa
Fire Controlman 3rd Class Victor P. Tumlinson, 19, of Raymondville, Texas
Seaman 1st Class Billy Turner, 20
Fireman 1st Class Louis J. Tushla, 25, of Atkinson, Nebraska
Seaman 2nd Class Russell O. Ufford, 17, of Kansas City, Missouri
Navy Fireman Second Class Lowell Earl Valley, 19, of Ontonagon, Michigan
Aviation Machinist's Mate 2nd Class Durell Wade, 24, of Bentley, Mississippi
Seaman 2nd Class Lewis L. Wagoner, 20, of Douglass County, Missouri
Storekeeper 1st Class Harry E. Walker, 36
Fireman 3rd Class Robert N. Walkowiak, 20, of Oshkosh, Wisconsin
Seaman 1st Class Edward Wasielewski, 21, of Detroit
Fireman 1st Class James C. Webb, 23, of Hobart, Arkansas
Musician 2nd Class Lloyd P. Wiegand, 19
Seaman 1st Class William E. Welch, 18, of Springfield, Ohio
Machinist's Mate 1st Class Alfred F. Wells, 32, of Syracuse, New York
Seaman 1st Class Ernest R. West, 22, of Runnells, Iowa
Fireman 2nd Class John D. Wheeler, 26, of Fort Douglas, Arkansas
Chief Water Tender Claude White, 40
Electrician's Mate 3rd Class Alton W. Whitson, 22, of Seattle
Seaman 2nd Class George J. Wilcox, 19, of Byram, Mississippi
Naval Reserve Seaman 1st Class James C. Williams, 20, of Portland, Oregon
Fire Controlman 1st Class Bernard R. Wimmer, 28
Seaman 2nd Class Everett G. Windle, 20, of Kansas City, Missouri
Fireman 1st Class Rex E. Wise, 21, of South Haven, Kansas
Seaman 2nd Class Frank Wood, 25, of Jackson, Ohio
Fireman 1st Class Lawrence E. Woods, 28, of Greenwood, Texas
Chief Water Tender Paul R. Wright, 41, of Meadville, Missouri
Ensign Eldon P. Wyman, of Portland, Oregon (Disinterred in 2003)
Fireman 2nd Class Martin D. Young, 21, of Hawesville, Kentucky
Navy Seaman 1st Class Robert V. Young
Source: The
Defense POW/MIA Accounting Agency
Last updated: October 23, 2021