Person
Peter Salem (Salem Middlesex)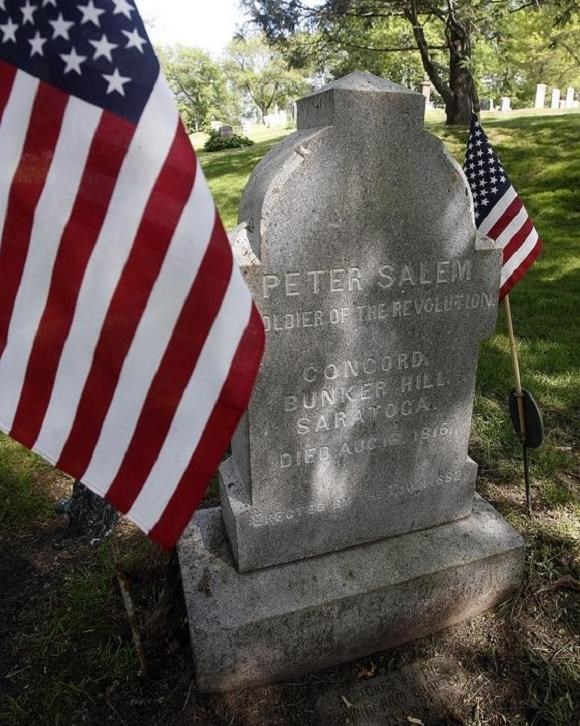 Significance:
Patriot of Color at Battle Road and the Battle of Bunker Hill
Place of Birth:
Framingham, Massachusetts
Place of Death:
Framingham, Massachusetts
Place of Burial:
Framingham, Massachusetts
Cemetery Name:
Old Burying Ground
Peter Salem (1750-1816) grew up enslaved in Framingham, as did his mother.1 In early 1775, he was emancipated from his role as a farm worker for a short interim so that he could enlist in his former enslaver's Framingham Minute Men company. His role in the Battle of Bunker Hill became a legend, though it did not help him as a veteran.
In early 1775 his first enslaver, Jeremiah Belknap, sold 25 year old Peter Salem to Major Lawson Buckminster, then commander of Framingham's Minute Men. Maj. Buckminster emancipated Peter Salem. On April 19, at Lexington and Concord, Peter Salem fought in Captain Simon Edgell's Framingham company.2 After this first battle, he transferred to Captain Thomas Drury's company which was part of Colonel John Nixon's 5th Massachusetts Regiment. This company included several other African American minute men: Titus Coburn, Salem Poor, and Seymour Burr, all of whom fought at the Battle of Bunker Hill on June 17, 1775.3
As a member of Col. John Nixon's regiment, Peter Salem was among the first to rush to Charlestown Neck and Breed's Hill to help fortify the American positions there.4 Nixon was recognized as a seasoned veteran by his colleagues.5 He positioned his men in the redoubt on Breed's Hill, where they remained until the British Regular Army overtook it in a second attack. Each Colonial infantry man had only thirteen cartridges, so they needed to fire carefully.6 Under Col. Nixon's leadership, Peter Salem found himself at the heart of the battle.
Colonial observers attributed the shot that killed Major John Pitcairn at the end of the Battle of Bunker Hill to Salem. At that time, rebelling New Englanders saw Pitcairn as a violent enemy and found it particularly satisfying that the Major could have been killed by an African American.7 American observers claimed that one shot to the chest took Pitcairn down when he was at the top of the redoubt, while the British Regular Army noted four different shooters fire at him at the bottom of the fortification.8 It is possible that all of these sightings add up to a complete sequence, with Pitcairn being hit by at least five shots by different militia men. Peter Salem's role in Major Pitcairn's demise at Bunker Hill became an even more popular legend when American artist and veteran John Trumbull included a Black soldier, thought to be Salem, in his famous 1786 painting, The Battle of Bunker's Hill.9
Just after the Battle of Bunker Hill, General George Washington arrived in Cambridge to take command of the emerging Continental Army. In October, the General declared that enslaved people could no longer be recruited for the militia. Peter Salem was able to enlist in the 6th Massachusetts Regiment because he was emancipated.10
Salem served in Colonel John Nixon's 6th Massachusetts Regiment from April 24, 1775 to December 31, 1779. On January 1, 1776 he reenlisted with the 4th Continental Regiment for a year, sending him to New York and the Battles of Harlem Heights and Trenton.11 He reenlisted for a second time on January 1, 1777 for an additional three years, and, as a result, fought in the Battles of Saratoga, Monmouth and Stony Point. After he was honorably discharged from the 6th Regiment on December 31, 1779, he reenlisted again, serving from January 1780 through March 1, 1780.12
After his discharge in the spring of 1780, Peter Salem returned to Massachusetts, settling in Salem. He did not draw any benefit from his fame as the infantryman who might have killed Major Pitcairn. He married Katy Benson in September 1783. The couple had no children. The marriage was dissolved by the time of the 1790 census. Salem then built himself a cabin in Leicester, MA. There, he earned his living by weaving chair seats. For additional income, he gardened, wove baskets, and repaired chairs.13 On August 16, 1816 Peter Salem, age 66, died in the Framingham poorhouse. He was interred in a pauper's grave at the Old Burying Ground in Framingham.14
When Peter Salem died in 1816, veterans could not receive a pension. Congress did not pass a pension law granting pensions to Revolutionary War veterans who had not been disabled until 1818.15 In 1882, the (then-)Town of Framingham established an annual Peter Salem Day. The town spent $150 to erect a monument in his memory in 1882 at the Old Burying Ground. Some years later, the Daughters of the American Revolution placed a stone on the grounds where Salem's cabin had once stood.16
---
Footnotes:
We do not know his parents' names or backgrounds.
Euell A. Nielsen, "Peter Salem (ca.1750 -1816)," BlackPast.org, https://www.blackpast.org/african-american-history/salem-peter-ca-1750-1816, January 19, 2007; John Hannigan, Department of History, Brandeis University. Scholar in the Park Papers, (Friends of Minute Man National Park, Summer 2014, https://www.nps.gov/mima/patriotsofcolor.htm); George Quintal, Jr., Patriots of Color: "A Peculiar Beauty & Merit": African Americans and Native Americans at Battle Road & Bunker Hill (Boston: Government Printing Office, 2004) See the full text below; Massachusetts Soldiers & Sailor of the Revolutionary War, 17 vols., (Boston: Wright & Potter Printers, 1896-1904); "Hero at Bunker Hill," Unsung Heroes Project, https://www.unsungheroesproject.com/peter-salem.html.
Nielsen, "Peter Salem (ca. 1750 -1816);" Benjamin L. Carp, "Bunker Hill, Battle of," Encyclopedia of the New American Nation, edited by Paul Finkelman, vol. 1 (Charles Scribner's Sons, 2006), pp. 231-232. For more on the militia men of color who participated in the Battle of Bunker Hill, see: Quintal, Patriots of Color. For carefully researched context, see Hannigan, Scholar in the Park Papers.
See John R. Elting, The Battle of Bunker's Hill (Philip Freneau Press Bicentennial Series on the American Revolution), (Phillip Freneau Press, 1976).
To learn more about John Nixon, see: Harry Schenawolf, "Forgotten Warrior of the American Revolutionary War, Brigadier General John Nixon," Revolutionary War Journal, June 20, 2016, https://www.revolutionarywarjournal.com/brigadier-general-john-nixon/. Justin Winsor writes in his 1881 Memorial History of Boston that "(a) good deal of the military spirit of the [Cambridge] camp was derived from a veteran of the French and Indian Wars, John Nixon." Justin Winson, The Memorial History of Boston Including Suffolk County Massachusetts 1630 to 1880 In Four Volumes, Volume II, The Provincial Period (Boston: James R. Osgood & Company, 1881).
"Rev War Biography: Peter Salem," American Battlefield Trust, https://www.battlefields.org/learn/biographies/peter-salem. The breastwork to the left of the redoubt was manned by Colonels Brewer, Nixon, Woodbridge, Little, and Moore's regiments. Each of these regiments (except for Little's) were approx. 300 strong. Richard Frothingham, History of the siege of Boston, and of the battles of Lexington, Concord and Bunker Hill (Boston, 1849), p. 136.
Scott O'Connell, "Support sought for Revolutionary War monument," Metro-West Daily News, May 26, 2011, https://www.metrowestdailynews.com/article/20110526/News/305269080; David Owen, "The two free Salems of Bunker Hill in the Revolutionary War, two of 100 black warriors at Bunker Hill," recoveryonline, July 3, 2016; "On This Day: Peter Salem and the Battle of Bunker Hill," National Museum of African American History and Culture, https://nmaahc.si.edu/blog/peter-salem-and-battle-bunker-hill (accessed 02/26/2021); Nielsen, "Peter Salem (ca.1750 -1816)"; "Rev War Biography: Peter Salem."
"On This Day: Peter Salem and the Battle of Bunker Hill." See for example the compiled statements in Samuel Swett, History of Bunker Hill Battle. With a Plan. ...: Much Enlarged with New Information Derived from the Surviving Soldiers Present at the Celebration on the 17th June Last, and Notes (Boston: Monroe & Francis, 1826) and Richard Frothingham, History of the siege of Boston, and of the battles of Lexington, Concord and Bunker Hill (1849). See also J.L. Bell, "Peter Salem? Salem Poor? Who Killed Major Pitcairn?," Journal of the American Revolution, June 18, 2018, https://allthingsliberty.com/2018/06/peter-salem-salem-poor-who-killed-major-john-pitcairn/.
"On This Day: Peter Salem and the Battle of Bunker Hill;" "Rev War Biography: Peter Salem," American Battlefield Trust, https://www.battlefields.org/learn/biographies/peter-salem (accessed on 02/28/2021); O'Connell, "Support sought for Revolutionary War monument;" Nielsen, "Peter Salem (ca.1750 -1816);" William Barry, A History of Framingham, Massachusetts: Including the Plantation, from 1640 to the Present Time, with an Appendix, Containing a Notice of Sudbury and Its First Proprietors; Also, a Register of the Inhabitants of Framingham Before 1800, with Genealogical Sketches (Framingham, Massachusetts: J. Monroe and Company, 1847), p. 160.
General Washington would change his mind on this count, but that's another story. Thomas J. Fleming, Now We Are Enemies: The Story of Bunker Hill (St. Martin Press, New York, NY, 1960).
"Black Patriots of the American Revolution." Wallbuilder Report: Black History Issue, 2004. https://wallbuilders.com/black-history-issue-2004/.
"On This Day: Peter Salem and the Battle of Bunker Hill."
"Rev War Biography: Peter Salem," "Hero at Bunker Hill."
"Rev War Biography: Peter Salem," Nielsen, "Peter Salem (ca.1750 -1816)."
These pensions, based on financial need, were granted for life. When a larger-than-anticipated number of applicants led to financial difficulties for the young nation, Congress amended the 1818 law in 1820 and again in 1822. Jean Nudd, "Using Revolutionary War Pension Files to Find Family Information". In: Prologue Magazine, Summer 2015, Vol. 47, No. 2 (accessed 03/13/2021).
"Rev War Biography: Peter Salem."
---
Peter SalemI was born in Framingham.II 'He was a slave, originally owned by Capt. Jeremiah Belknap. He was admitted to the church under the half-way covenant Aug. 16, 1760. He was sold by Capt. B. to Maj. Lawson Buckminster, before the War.'III
He marched on the Lexington Alarm on 19 April 1775 'to Concord and Cambridge' as a minute man in Capt. Simon Edgell's company, serving for four days. On 24 April 1775 he enlisted from Framingham into the eight months' service in Capt. Thomas Drury's company in Col. John Nixon's regiment. Twelve days before the Battle of Bunker Hill he, with others in his company, signed a petition to Gen. Artemus Ward 'stating that they had enlisted to serve in Col. Nixon's regiment, but had been shifted to Col. [Thomas] Gardner's regiment, and requesting that they might be permitted to continue in Col. Nixon's regiment.' Their protest was evidently heard since we find him listed on the 1 August 1775 roll as still being in Drury's company, in Nixon's regiment. He is also listed on a 30 September 1775 company return dated Winter Hill.IV
Temple, the highly respected town historian of Framingham, asserted that Peter Salem was at Bunker Hill and that he fired the shot that killed Maj. John Pitcairn:V
During the action, he with others, was sent from Capt. Drury's company, as a support to Col. Prescott in the redoubt. He reached the redoubt just as Prescott's men had spent their last powder; and with a single charge in his gun, and perhaps another in his powder horn. Just then, in the language of Judge [Needham] Maynard, "I saw a British officer * * come up with some pomp, and he cried out, "Surrender, you [damned] rebels!" But Prescott * * made a little motion with his hand, and that was the last word the Briton spoke; he fell at once." There is concurrence of testimony which leaves no doubt that this shot was fired by Peter Salem. Maj. Pitcairn fell into the arms of his son, who bore him off to a boat, and thence to a house in Prince street Boston, where he died. The loss of so gallant an officer at this critical moment, formed one of the most touching incidents of that eventful day.
Peter Salem's 'flintlock musket used at the Battle of Bunker Hill' was once on display at the Bunker Hill monument.VI
In September 1776 he enlisted in Capt. Micajah Gleason's company in Lt. Col. Thomas Nixon's regiment, serving in the New York campaign. His unit served at the Battle of White Plains where his Captain was killed. By 9 November 1776 he was stationed at North Castle (NY). His name appears on receipts for wages from September to December 1776.VII
Upon his return home he enlisted in Lt. Lawson Buckminster's 2nd company, in Col. Micah Stone's 5th Middlesex County militia. With Gen. Burgoyne preparing to advance on northern New York, the call once again went out for soldiers to meet this serious threat. He joined the Continental Army on 1 January 1777 for a three-year term in the 4th company of Capt. John Holden, in Col. Thomas Nixon's 6th Massachusetts regiment.VIII This unit served at both Battles of Saratoga, at Valley Forge, at the Battle of Monmouth, and was then stationed at the Hudson Highlands. Temple stated that during this time Peter Salem served "as the Colonel's body servant."IX
A 16 February 1779 'return of men who were in camp on or before Aug. 15, 1777, and who had not been absent subsequently except on furlough' was certified at 'Camp near Peekskill.' His name appears on a May 1779 muster roll and on the June and July 1779 pay rolls. Each regiment at the Highlands, at Gen Washington's command, was expected to provide at least once company of Light Infantry. Capt. John Holden's company was one of these elite units and was one of the units that stormed the fortress at Stony Point on 16 July 1779 under the command of Gen Anthony Wayne. The men had been ordered, under penalty of death, to use only bayonets and not to fire muskets under any circumstances. Peter Salem was undoubtedly in this action. His name appears on the rolls from August to December 1779. By 1 January 1780 he had transferred to Capt. Peter Clayes' company in the same regiment. He was discharged from the service on 1 March 1780.X
Temple states:XI
At the close of the war in 1783, Peter married Katy Benson, a granddaughter of Nero, and built a small house on land then owned by Peter Rice on the exact spot where now stands the dwelling house of Moses M. Fiske, near Sucker pond.XII He lived here till 1792 or 93. But his marriage proved an unhappy one; and Peter left his native town and settled in Leicester.
The 1790 census of Framingham listed him as head in a household of two free people of color.XIII
The most complete insight into his life was given to us by Leicester historian Emory Washburn, in 1860:XIV
After the war, he came to Leicester, and continued to reside there till a short time before his death. The history of the town would be incomplete without giving him a place …
He was born in Framingham, and was held as a slave, probably until he joined the army; whereby, if not before, he became free. This was the case with many of the slaves in Massachusetts; as no slave could be mustered into the army. If a master suffered this to be done, it worked a practical emancipation. Peter served faithfully as a soldier, during the war, in Col. Nixon's regiment. A part of the time he was the servant of Col. Nixon, and always spoke of him in terms of admiration.
He lived in various places in the town; but his last abode was a cabin which he built for himself, on the south side of the road leading to Auburn, about a quarter of a mile from the house formerly of William Watson.XV In front of his cabin he planted and reared two or three poplar-trees; and, around it, dug and cultivated a little garden, in which, besides the few vegetables that he planted, a few clumps of flowering shrubs and a stinted rose or two, with a few sweet-smelling herbs, gave evidence of his unequal struggle with a hard and rocky soil.
Horticulture, however, was not his forte. He earned a precarious livelihood by making and mending baskets, bottoming chairs, and the like; which gave him admittance into everybody's house, where his good nature rendered him a universal favorite, especially with the children. His military training in the army had given him a sort of instinctive soldierly bearing; and his habits of obedience there to his superiors, infused, into all of his intercourse with the considerable people of the town, a marked courtesy of manner, which he never omitted or forgot.
It was always a pleasant sight to observe the promptness and precision with which the heel of Peter's right foot found its way into the hollow of his left one, his body grow erect, and the right hand spring up to a level with his eye, to salute Massa Moore or Mistress D. on passing, in return for the salutation or nod of recognition with which everybody greeted him.
It was a treat, too, for the younger members of the family to gather around Peter, while engaged in mending household chairs; or, sitting in the chimney corner, with the youngest on his knee, while the flickering blaze lighted up his Black face, to listen to his stories of the war, and what he had seen "when he was out with Massa Nixon."
He was especially at home at the firesides of those who had been in "the service," and generally found a welcome chair at the hospitable board. They were, to him, companions in arms; and he never seemed to think he could grow old while any of them remained to answer his roll-call.
But though Peter had gone through seven years' hard service unharmed, and had not lost a jot of his freshness of feeling, age crept upon him unawares at last. His erect form began to stoop; his military step grew unsteady; the thinned and whitened covering which had concealed an ugly wen or two, that had perched themselves upon the top of his head, no longer served to screen this defect in his personal symmetry. His resources grew smaller and smaller; till, at last, the hand of charity had to supply the few wants which the old man required.
In this respect, there is a frightful equality in the law. Overseers of the poor never heed whether the man that is hungry is a saint or a sinner. If he needs fire to warm or clothes to cover him, though scarred all over in the service of his country, it is their "duty" to hunt up his "settlement," and give notice, as the law requires.
Peter's settlement was in Framingham, and the good people of that town took early measures for his removal thither.
It was a sad day for Peter; but, before taking his final departure, he went around and made a farewell visit to each of his favorite haunts, and to each of his old friends as time had spared. With a heavy heart, he paid them his last salute, and disappeared from the spot which had been his home for so many years. His cabin soon went to decay. A rough stone chimney served for many years to mark where it had stood; and the lilac and the rose he planted, bloomed for a few years, and were then broken down, and died. The last object that marked the spot was a poplar tree; and even that has grown old, and will ere long disappear.
But will any one say that this humble Black man, whose hand did such service in the very redoubt on Bunker Hill; who periled his life, through some of the most trying and arduous scenes of the war, for that freedom for others which he had never been permitted to share till he won it personally by personal valor, --- will any one say that his name does not deserve a place among those whom it is the purpose of these simple annals to commemorate?
Temple continues the story:XVI
On his return to Framingham, Peter was not treated in all respects like the common poor; but to the credit of his former masters be it recorded, that Maj. Lawson Buckminster and Capt. Jeremiah Belknap, together with Samuel Hemenway, gave a bond to the town "to support him during his natural life."XVII He died at the house of William Walkup Sen. August 16, 1816, and was buried in the north central part of the old cemetery …
His grave stood unmarked until 1882 when the Town of Framingham expended $150 to fill and grade the site, which 'was in a low part of the cemetery,' and erect a granite monument.XVIII On this monument at the Old Burying Ground Cemetery (formerly called Church Hill Cemetery) on Main Street is inscribed:
PETER SALEM
A SOLDIER OF THE REVOLUTION
CONCORD
BUNKER HILL
SARATOGA
DIED AUG. 16, 1816
ERECTED BY THE TOWN, 1882.
Other honors were accorded to him. 'On June 11, 1927 the Chicago Defender, the leading Black weekly in the United States, carried the notice that the National Equal Rights League … had issued a nationwide call for the observance of "Peter Salem day," June 17 … [t]he purpose of the day would be "to notify white Americans of valuable service and sacrifice we have made for them from the country's birth and demand equal rights as a just return."'XIX In May 1971, a medal honoring him was struck by the American Negro Commemorative Society.XX The Framingham Chapter DAR dedicated the restoration of his gravestone in a special ceremony on 12 November 2000.XXI A companion headstone was laid:
RESTORED BY THE
FRAMINGHAM CHAPTER
DAR
JULY 22, 2000
In September 1783 Peter Salem married Katy Benson,XXII a granddaughter of Nero of Framingham. No record of any children could be found.
Footnotes:
Status assumed to be 'free' since soldier was a Minute Man. Peter Salem is today portrayed by Bruce Harris, Park Ranger at Minuteman NHP, who is storyteller on a recently-instituted interpretive program the 'A Walk with Peter Salem.' (for spreadsheet – Status: Free)
Washburn, Emory. Historical Sketches of the Town of Leicester, Massachusetts … (1860), 268.
Temple, J.H. History of Framingham, Massachusetts … (1887), 324.
Secretary of Commonwealth. Massachusetts Soldiers and Sailors of the Revolutionary War (1896-1908), 13:743-4; listed as 'Salem.' Also 2-CD Family Tree MakerTM set "Military Records: Revolutionary War."
Temple, J.H. History of Framingham, Massachusetts … (1887), 325. There is some controversy on this issue. Sorting out all of the stories is beyond the scope of this study but is being researched in a scholarly manner by Mark Nichipor of Minuteman NHP. However, some findings of this study and of this compiler's lifetime work can be shared:

Proceedings of the Massachusetts Historical Society (1791-2002) 113 vols, 14(1875):93 printed a 1787 entry from the notebook of Reverend Jeremy Belknap which recorded: "A negro man belonging to Groton, took aim at Major Pitcairne, as he was rallying the dispersed British Troops, & shot him thro' the head, he was brought over to Boston & died as he was landing on the ferry ways." The only man of color from Groton in this study is Barzillai Lew.
Swett, Colonel Samuel. History of Bunker Hill Battle (1825), 43 repeats nearly the same story but names the 'negro man' as Salem and elaborates in Note M. that "Gen. Winslow stated, a contribution was made in the army for Salem and he was presented to Washington as having slain Pitcairn … "The actions of Salem Poor might also lend themselves to this account.
Frothingham, Richard. History of the Siege of Boston, … (1903), 195 states that in 1775 Dr. John Eliot wrote in his almanac the following account of [Pitcairn's] fall: "This amiable and gallant officer was slain entering the intrenchments. He had been wounded twice; then putting himself at the head of his forces, he faced danger, calling out, 'Now for the glory of the marines!' He received four balls in his body. "At least three other men claimed to have shot Pitcairn: Joseph Spaulding of Chelmsford, Phinehas Whitney of Harvard and Benjamin Webber of Gloucester. It is at least conceivable that all four men (Peter Salem included) shot Pitcairn.
Temple, J.H. History of Framingham, Massachusetts … (1887), 295 states that Drury's company was stationed at the 'hay breastwork,' an area in the gap between the redoubt and the rail fence, and that Peter Salem and others were detailed from there to reinforce the redoubt. Needham Maynard in his published account stated that sixty men were 'sent up' and that Prescott was told that more would be sent if he needed them. 

In summary, no convincing evidence has yet been examined by this compiler that would negate the claims made for Peter Salem to have shot Pitcairn.

Listed as #29 on an "Inventory of Possessions of the Bunker Hill Monument Association .." which was taken on 3 February 1967 (original inventory list now at Charlestown Navy Yard – copy kindly provided by Phil Hunt). A side notation states "Stolen, 1974 or 5." Carl Zellner, in a 19 June 2001 phone conversation, elaborated that the Metropolitan District Commission (MDC) took over the site from the Bunker Hill Monument Association and managed it until its acquisition by the National Park Service. Mr. Zellner visited the site in 1971 and stated that the musket was gone by then. And old-timer told him that the musket had been taken out for repair and was never returned. A photo of the musket on display can be seen in [Morrison, Allan. "Negroes Who Fought at Bunker Hill." EBONY magazine, February 1964.].
Secretary of Commonwealth. Massachusetts Soldiers and Sailors of the Revolutionary War (1896-1908), 13:743-4. Also 2-CD Family Tree MakerTM set "Military Records: Revolutionary War."
Ibid.
Temple, J.H. History of Framingham, Massachusetts … (1887), 325.
Secretary of Commonwealth. Massachusetts Soldiers and Sailors of the Revolutionary War (1896-1908), 13:743-4. Also 2-CD Family Tree MakerTM set "Military Records: Revolutionary War."
Temple, J.H. History of Framingham, Massachusetts … (1887), 325.
This site, at the northeast corner of Sucker Pond at what is now the Fairbanks Road Playground off Cochituate Road in Framingham, was visited by Bruce Harries and this compiler but no signs of a foundation could be found.
United States Census, National Archives and Records Administration, Record Group 29 (1790-1850). Index, 1790, Massachusetts, Framingham, 142 [see copy of original census return appended].
Washburn, Emory. Historical Sketches of the Town of Leicester, Massachusetts … (1860), 266-269.
This road, now named Peter Salem Road, extends eastward off Route 56. In October 2002, Don Lennerton, Town Historian of Leicester, pointed out the foundation site of Peter's cabin. It resides on a southeast-facing hillside just a few hundred yards from the Route 56 intersection, on the south side of the Peter Salem Road and just a few yards west of the major transmission lines that cross the road there. A well was discovered on the property in the early 1900's by a Mr. Henry Watson [per "Houses Built in Leicester Previous to 1800" by Cora B. Knight Denny (1910), 23]. The DAR acquired this site in 1909 [per Greene, Robert Elwell. Black Defenders of America 1775-1973 (1974), 20] and beautified the area and erected a sign [see copy of old photo appended] but all of this has long since disappeared. The property is now shown on the area tax map in the Assessor's Office as being privately-owned.
Temple, J.H. History of Framingham, Massachusetts … (1887), 327.
This compiler spent many hours, at the office of the Town Clerk in Framingham, searching through old town reports of the period for this document but could not find it.
"Report of Committee on Memorial Stone Over Grave of Peter Salem" manuscript copy in "Peter Salem" file at Framingham Historical Society.
Foner, Philip S. Blacks in the American Revolution (1975), 43.
"Medal Honors Framingham Black Who Fought in American Revolution," story in 13 June 1971 South Middlesex News; copy at Framingham Historical Society. A U.S. Post Office stamp issued during the Bicentennial, depicting Trumbull's painting of the Battle of Bunker Hill, purportedly showed Peter Salem as the 'servant' standing behind Lt. Thomas Grosvenor. It is highly unlikely that the man shown in the portrait is Peter Salem; instead it is more likely to be Asaba (Grosvenor) - see his biographical sketch for more information.
Both Bruce Harris and this compiler attended this ceremony at the invitation of Mrs. Andrea Crossman of the DAR [see photo taken at the gravesite].
Vital Records to 1850. Births, Marriages and Deaths. Vols for most Massachusetts towns, Framingham, Marriages, 337; listed as 'Salem Middlesex.' Temple stated that Peter Salem was sometimes called Salem Middlesex – his authority is being relied upon here. There was another man by this name who long resided in Weston (MA).
Last updated: February 28, 2022