April 19, 1775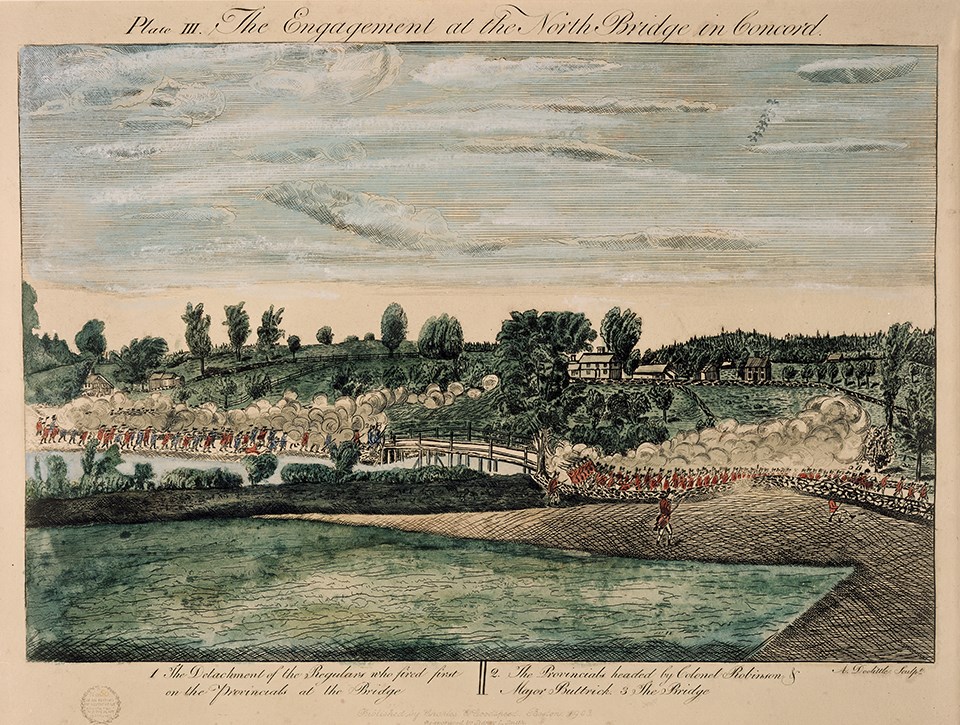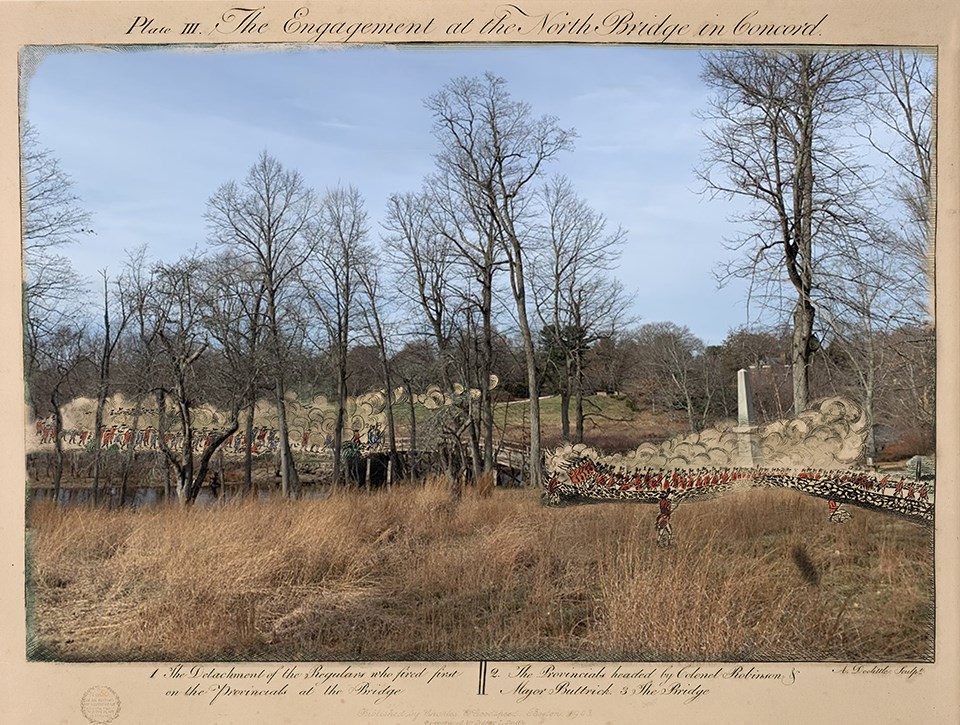 Left image
Amos Doolittle painting of the North Bridge
Right image
The North Bridge Today
Credit: NPS Photo
Minute Man National Historical Park in Lexington, Lincoln, and Concord, Massachusetts, preserves and interprets the sites, structures, and landscapes that became the field of battle during the first armed conflict of the American Revolution on April 19, 1775. It was here that British colonists risked their lives and property, defending their ideals of liberty and self-determination. The events of that day have been popularized by succeeding generations as the "shot heard round the world." Often referred to as the "Battles of Lexington, and Concord," the fighting on April 19, 1775 raged over 16 miles along the Bay Road from Boston to Concord, and included some 1,700 British regulars and over 4,000 Colonial militia.

British Casualties totaled 273; 73 Killed, 174 wounded, 26 missing.
Colonial casualties totaled 96; 49 killed, 41 wounded, and 5 missing.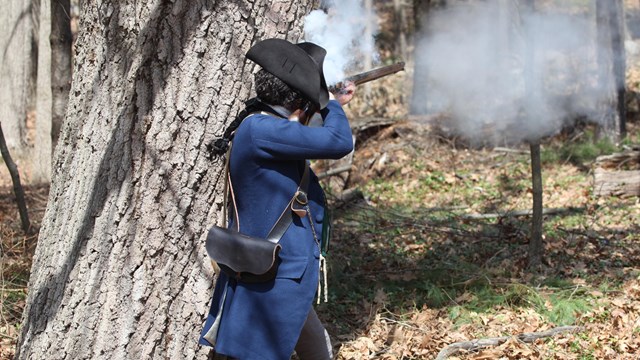 Battle Site Explorations
At Minute Man, we use history, living history, science and technology to help us learn about the past.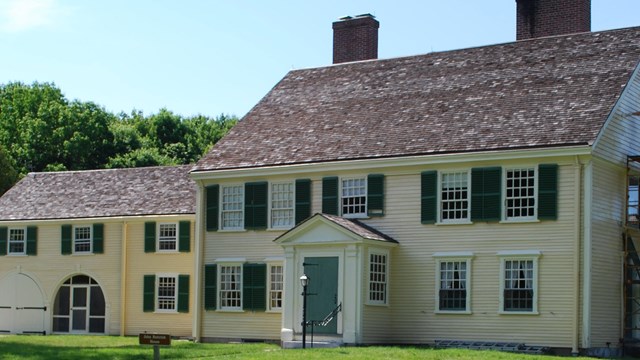 April 19, 1775 Witness Houses
Learn about the many April 19, 1775 witness houses at Minute Man!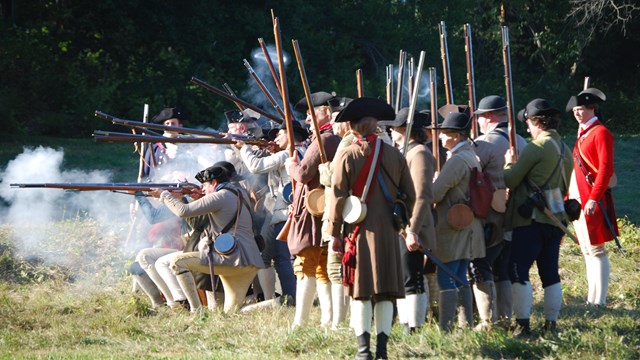 The Militia and Minute Men of 1775
Ranger Jim provides some basic information about the militia and minute men of 1775.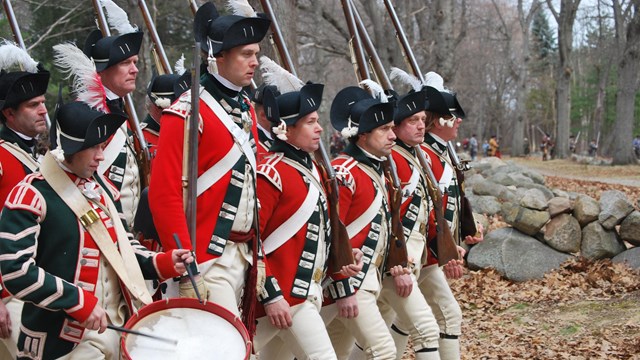 The British Soldier of 1775
Here you will find quick and useful information about the British soldiers in 1775.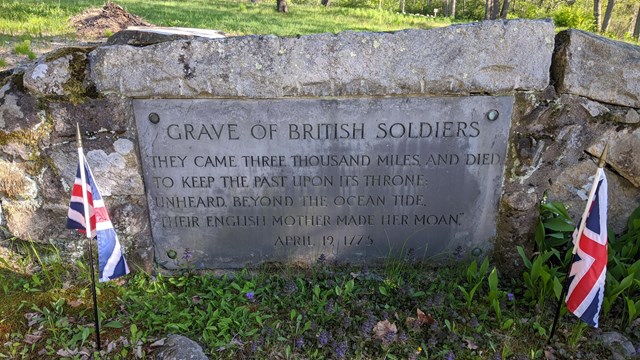 Grave Sites
Minute Man National Historical Park is both a battlefield and graveyard. Many soldiers killed during the battle remain within the park today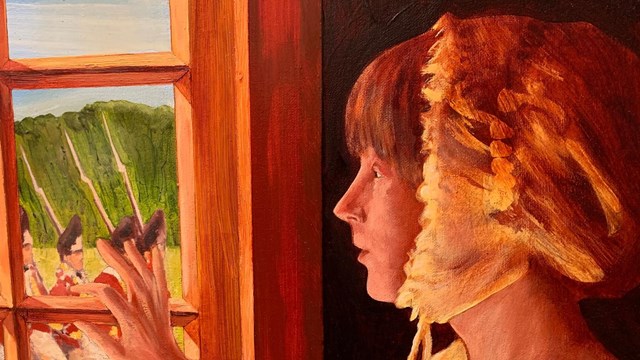 People
Learn about the people whose lives we commemorate at Minute Man.
Prelude to War~ April 18, 1775
In the days, weeks, and months leading to April 19, 1775, tensions across the colony of Massachusetts reached a boiling point. The previous summer British warships closed Boston Harbor, Royal Governor, General Thomas Gage, tasked with implementing the wildly unpopular Massachusetts Government Act, also dismissed the elected Massachusetts legislature, the Great and General Court. In October Patriot leaders called for a Provincial Congress in Massachusetts. Towns across Massachusetts chose to send representatives to this essentially illegal body which immediately proceeded to assume political power. They took control of the colony's militia forces, and began stockpiling arms, ammunition and provisions. Their goal was to raise and equip an army of 15,000 men.

Isolated in Boston, General Gage was running out of options. At last, following the advice he received from his superiors in England, Gage decided to send a force of around 700 soldiers on a secret expedition into the countryside to seize and destroy arms and supplies and disrupt the colonists' warlike preparations. His target was the town of Concord, 18 miles northwest of Boston, where a considerable quantity of these arms and supplies were stockpiled. The expedition consisted of 21 companies of Grenadiers and Light Infantry, the elite soldiers of the army. Grenadiers were chosen for their height and courage. They wore distinctive bear-fur caps which adds to their height and frightening appearance. Light Infantry were soldiers chosen for their physical speed, stamina and intelligence. They were trained to spread out, take advantage of cover, and skirmish with the enemy. Their uniforms were adapted to this service with short coats and leather caps instead of brimmed hats which helped them move more easily through woods.
April 19, 1775
The Regulars are out!
Retreat Along The Battle Road
Last updated: September 29, 2022