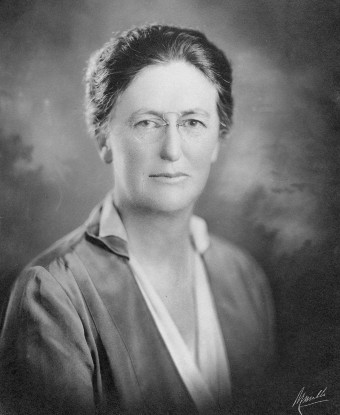 Significance:
Political Activist
Place of Birth:
Quincy, MA
Date of Birth:
February 18, 1874
Place of Death:
Castine, ME
Date of Death:
October 1962
Mary "Molly" Dewson was born in Quincy, Massachusetts, in 1874. She attended three private schools, including the prestigious Dana Hall, before entering Wellesley College, from which she graduated as a social worker in 1897. At Wellesley, she was senior class president and her classmates believed she might one day be elected president of the United States. After graduating, Dewson began working as a secretary of the Domestic Reform Committee of the Women's Educational and Industrial Union, a social and reform club in Boston. There she conducted statistical studies of homelife that led to several articles. She also reorganized the club's employment office for domestic workers, formed social clubs for them, and taught at a school for housekeeping. In 1899, she published The Twentieth Century Expense Book, about how to manage a household on a budget. In 1900, she left the union to set up the parole department of the Massachusetts State Industrial School for Girls. She was also the department's first superintendent. While there, she tracked the girls to understand the motives behind their delinquency and crimes, and to aid in their rehabilitation. These activities led to further articles and a presentation at the 1911 National Conference of Charities and Correction, entitled "The Delinquent Girl on Parole." Even before leaving the Industrial School (1912), she became involved in the minimum wage movement (1911). She was named executive secretary of the Minimum Wage Investigative Committee, which produced a report that led to Massachusetts' (and the nation's) first minimum wage law. This report brought her national recognition.
Molly Dewson was ready for a break. In 1913 she and her lifelong partner, Mary G. (Polly) Porter, moved to a dairy farm in Worcester, Massachusetts. By 1915, however, Dewson had recharged. She entered the Massachusetts suffrage movement. During World War I, both she and Porter went with the American Red Cross to France to aid war refugees. Dewson was chief of the Mediterranean Zone by war's end. After returning from Europe, Dewson worked as Florence Kelley's principal assistant in the National Consumers' League campaign for state minimum wage laws for women and children. From 1925 to 1931, Dewson served as president of the New York Consumers' League, working closely with Eleanor Roosevelt, leading the lobbying effort of the Women's Joint Legislative Conference and playing a central role in the passage of a 1930 New York law limiting women to forty-eight-hour work weeks.
In 1928, Dewson entered politics more personally, organizing Democratic women for Al Smith's presidential campaign at Eleanor Roosevelt's request. She performed a similar feat for Franklin Roosevelt's 1930 gubernatorial and 1932 presidential races. Because of her work on FDR's campaigns (and Eleanor Roosevelt's intense lobbying), Dewson was appointed head of the Democratic National Committee's Women's Division (DNC). She reorganized the division utterly. She found government jobs for female party workers, more than had been given to women under any previous administration. She is credited with securing the post of secretary of labor for Frances Perkins, and placing women high up in the Social Security and National Recovery Administrations. Even so, she opposed the Equal Rights Amendment. Despite this opposition, she began to push for state laws or state party rulings that would provide even representation in membership and leadership positions for women on party committees from the precinct level up. She created the Reporter Plan, which educated female party workers on New Deal programs so that they could explain them to voters. In the 1936 election, the women's division provided 90 percent of the campaign fliers the DNC produced. That same year she got a rule passed that provided for a member and an alternate for each state on the DNC Platform Committee; the rule also required that each pair be composed of one man and one woman. Dewson's organizational abilities so impressed FDR that he nicknamed her "the little general."
She withdrew from the women's division's day-to-day affairs in 1936 because of poor health, but continued to be available to her successors. In 1937 she again returned to active public life when she was nominated and confirmed as a member of the Social Security Board. There she set up effective systems of federal-state cooperation, an issue that had been problematic. However, she again had to step down because of illness in 1938.
For several years, she and Porter split their time between New York City and Castine, Maine. In 1952, they retired to Castine full time. Even in retirement, Dewson was busy, becoming the vice-president of the Maine Democratic Advisory Committee in 1954. Dewson died in Castine in 1962 of complications following a stroke.
Article courtesy of the Eleanor Roosevelt Papers Project, George Washington University.
Last updated: July 31, 2020