Frances Perkins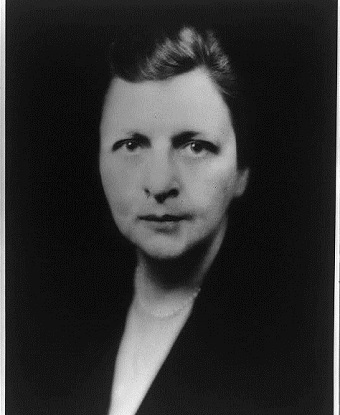 Quick Facts
Significance:

Former United States Secretary of Labor, first woman to hold a cabinet position.

Place of Birth:

Boston, MA

Date of Birth:

April, 1880

Place of Death:

New York City

Date of Death:

May, 1965
Frances Perkins was born in 1880 in Massachusetts. She challenged gender norms of the day by attending college. In the late-nineteenth century, it was unusual for women to receive advanced education as they were expected to become wives, mothers, and caretakers.  Attending Mount Holyoke College, Perkins learned about the dangers of sweatshop work and child labor, which later influenced her career.
After college, Perkins moved to Chicago to be a teacher. She also became active at the Hull House, a settlement house founded by Jane Addams. The Hull House was dedicated to helping poorer residents of the city by providing job training and free child care.
After spending several years as a social worker, Perkins moved to New York City and attended Columbia College where she earned a master's degree in political science. She then got a job advocating for the rights of workers.
Perkins was passionate about her work and the governor New York, Franklin Delano Roosevelt, was impressed by her work ethic. He appointed her the Commissioner of the New York State Department of Labor. Perkins used this position to make factories safer for workers and she supported the creation of a minimum wage.
After Roosevelt became president of the United States, he appointed Perkins the Secretary of the Department of Labor. Perkins became the first woman to hold a cabinet position. She worked with President Roosevelt to enact social welfare programs as part of the New Deal, including Social Security and the Fair Labor Standards Act. She also led efforts to eliminate child labor and establish a minimum wage.   
Even though she had a successful career, Perkins experienced many personal hardships. She married a man named Paul Wilson and had a daughter. Shortly after marrying, her husband showed signs of debilitating depression and was eventually institutionalized. Perkins became responsible for raising and providing for her daughter.
Perkins helped countless people with her years of public service. She died in 1965 and is buried in Maine.
Sources:
Downey, Kristin. The Woman Behind the New Deal: The Life of Frances Perkins, FDR's Secretary of Labor and his Moral Conscience. New York: The DoubleDay Publishing Group, 2009.
Pasachoff,Naomi. Frances Perkins: Champion of the New Deal. New York: Oxford University Press, 1999.
https://www.hullhousemuseum.org/about-jane-addams/
Last updated: July 23, 2018