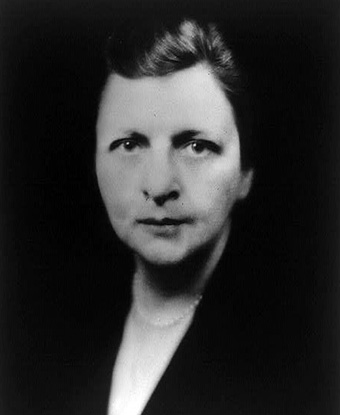 Significance:
Former United States Secretary of Labor, first woman to hold a cabinet position, suffragist
Place of Birth:
Boston, MA
Date of Birth:
April 10, 1880
Place of Death:
New York City
Date of Death:
May 14, 1965
Place of Burial:
Newcastle, Maine
Cemetery Name:
Glidden Cemetery
Frances Perkins was born in 1880 in Massachusetts. During her childhood, she often spent summers visiting her grandmother at the Perkins Family Homestead in Newcastle, Maine. She always considered this her "true home," and lived there later in life.1 Perkins challenged gender norms of the day by attending college. In the late nineteenth century, it was unusual for women to receive advanced education as they were expected to become wives, mothers, and caretakers. At Mount Holyoke College, Perkins learned about the dangers of sweatshop work and child labor, which later influenced her career.
After college, Perkins moved to Chicago to be a teacher. She also became active at the Hull House, a settlement house co-founded by Jane Addams. The Hull House was dedicated to helping poorer residents of the city by providing job training and free child care.
After spending several years as a social worker, Perkins moved to Greenwich Village in New York City to attend school. At Columbia University where she earned a master's degree from the faculty of political science, Frances also became active in the suffrage movement, attending meetings and street protests. After her graduation in 1910, she got a job advocating for the rights of workers as the leader of the New York Consumers League. In 1911, she was witness to the deaths of 146 people, mostly women, in the Triangle Shirtwaist Factory fire in New York City. Several stairwell doors in the building had been locked to keep workers from taking unauthorized breaks. Many of the fire's victims ended up trapped behind these doors.
Perkins was passionate about her work and former New York state governor Theodore Roosevelt, was impressed by her work ethic. He recommended that she serve as the executive secretary for the Committee on Safety in the City of New York. Spurred by what she saw at the Triangle Fire, in 1912, she left the Consumers League and took the job. Perkins used her position at the Committee on Safety in the City of New York to advocate for legislation to make factories safer for workers, to cap the maximum number of hours women could work in a week, and she supported the creation of a minimum wage.
In 1913, Frances married Paul Caldwell Wilson. She chose to keep her maiden name, and defended her choice in court. Their daughter, Susanna, was born in December 1916. Shortly after Susanna's birth, Paul began showing signs of mental illness, and would be in and out of institutions for the rest of their marriage. Frances would often live with other women in DC, including Mary Rumsey (founder of the Junior League) and Representative Carolyn O'Day. Her husband remained in New York City.
Frances Perkins held several positions in New York State government, including becoming the first New York State Industrial Commissioner—a job to which the newly elected state governor, Franklin Delano Roosevelt, appointed her in 1929. Expanding factory inspections and investigations, she worked to implement unemployment insurance laws, to end child labor, and to continue to improve the safety conditions of factories.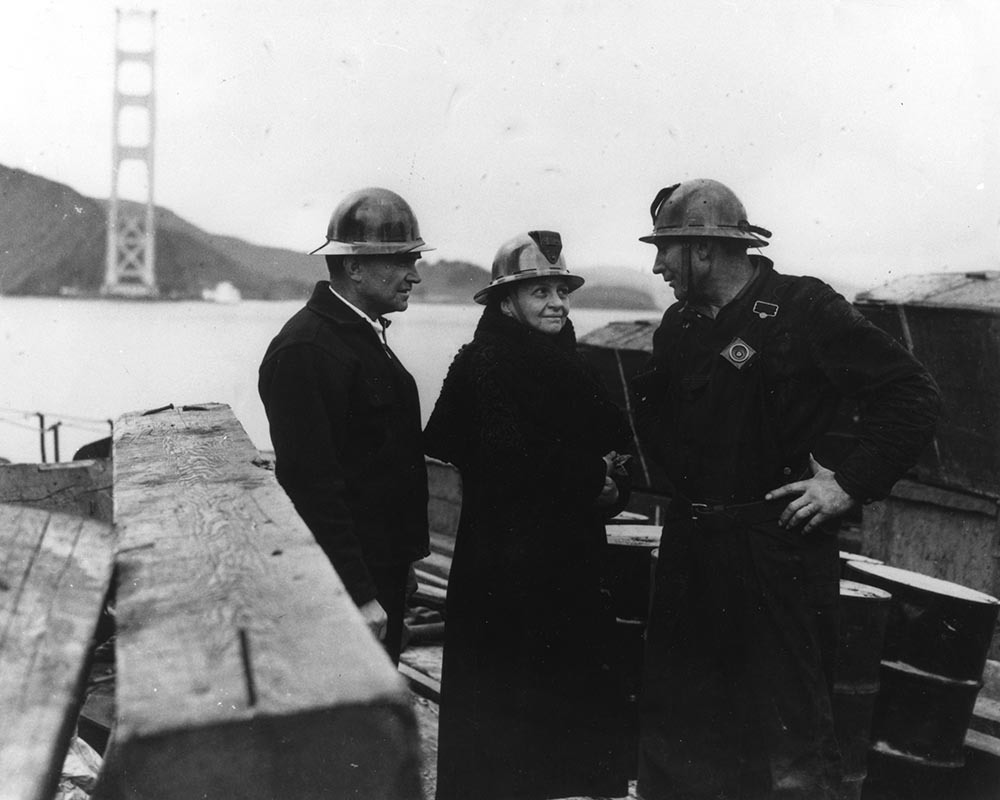 Atop the Golden Gate Bridge: steel crew foreman Grover McClain, Labor Secretary Frances Perkins and welder S.E. Stanley during 1935 bridge construction. Frances Perkins Center.
In 1933, President Franklin Roosevelt appointed Perkins as Secretary of the Department of Labor. Perkins became the first woman to hold a cabinet position. She worked with President Roosevelt to enact social welfare laws and programs as part of the New Deal, including Social Security and the Fair Labor Standards Act. She also continued to lead efforts to eliminate child labor and establish a minimum wage. When President Harry Truman took office in 1945, he selected a new Secretary of Labor, and Perkins' tenure ended. She continued in federal service on the United States Civil Service Commission, where she fought against discrimination in federal hiring. She left the Commission when Paul died in 1952.
From 1937 to 1940, Frances Perkins lived at 2326 California Street NW in Washington, DC with Representative Carolyn O'Day. The house has been designated a National Historic Landmark.
After her civil service career, Frances Perkins taught at Cornell University in Ithaca, New York and other institutions until her death in 1965. She is buried in Glidden Cemetery, Newcastle, Maine.
Notes:
1 The Perkins Homestead, also known as the Brick House, in Newcastle, Maine was listed on the National Register of Historic Places as the Brick House Historic District on February 13, 2009 for its pre-twentieth century and archaeological significance. It was designated a National Historic Landmark on August 25, 2014 for its association with Frances Perkins. It is owned by the Frances Perkins Center, which preserves and shares the legacy and influence of Frances Perkins. 
Sources:
Downey, Kirstin. The Woman Behind the New Deal: The Life of Frances Perkins. New York: Doubleday, 2009.
Martin, George, Madam Secretary, Frances Perkins. Boston: Houghton Mifflin, 1976.
Pasachoff, Naomi. Frances Perkins: Champion of the New Deal. New York: Oxford University Press, 1999.
Hull House Museum. About Jane Addams.
Frances Perkins Center. Her Life: The Woman Behind the New Deal.
Last updated: March 22, 2021