Edward Bordinghammer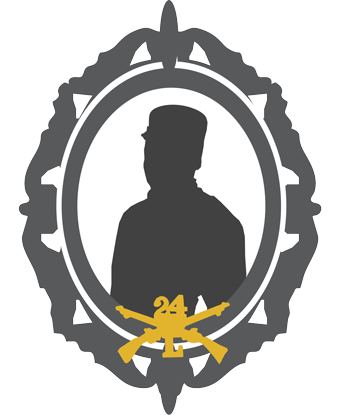 Quick Facts
Significance:

Buffalo Soldier

Place of Birth:

Pulaski, Giles County, Tennessee

Date of Birth:

1851 or 1852

Place of Death:

Washington, D.C.

Date of Death:

11/26/1919

Place of Burial:

Arlington, Virginia

Cemetery Name:

Arlington National Cemetery
Fort Thomas, Arizona
Fort Bayard, New Mexico
Camp Dyea/Camp Skagway, Alaska
Grierson Springs, Texas
Fort Grant, Arizona
Camp Wikoff, New York
Fort Gibson, Oklahoma
Fort Reno, Oklahoma
By the end of his first enlistment, Edward had achieved a Sergeant rank. Though all of his service was in the 24th Infantry, Edward served in Companies E, K, and L. Edward was part of a number of detachments, served as a court witness, and was given escort duty. Military records routinely describe his character as "Very Good."
In 1899 Edward joined the recently formed Company L, 24th Infantry. Company L was in the Presidio for a brief period of time before they were sent north. First they traved to the
Vancouver Barracks
, then set sail for
Dyea
, Alaska. Company L was replacing the
14th Infantry
who had been in Alaska since the height of the
Klondike Gold Rush
. After the stampede dwindled and a fire destroyed their military camp, Company L moved 10 miles east to Skagway. The 1900 U.S. Census in Skagway shows that Edward was one of two musicians with the unit. Edward retired from the military on August 2, 1900.
We don't know much about Edward's life after he left the military. In 1905 he was living in Washington, D.C., working as a laborer at the Navy-Yards or Naval Station. He earned $1.76 a day (approximatly $49 in 2017). In 1910 he was renting a room from Amelia Barnes, a widow with two children. In December of 1915 Edward Bordinghammer married Amelia Barnes. They collected their marriage license the same day as President Woodrow Wilson and Edith Bolling Galt. Edward passed away on November 26th, 1919 in Washington, D.C. He is buried in Arlington National Cemetery.
Most of what we know about Edward Bordinghammer, and the other soldiers of Company L, comes from offical government and military documents. We continue to search for documents that show the soldiers' points of view. If you have any information or family stories about Company L, 24th Infantry, U.S. Army, please
contact us
. Until then, this summary and others will be incomplete and unbalanced.
Last updated: June 4, 2018