Person
Keish (Skookum Jim Mason)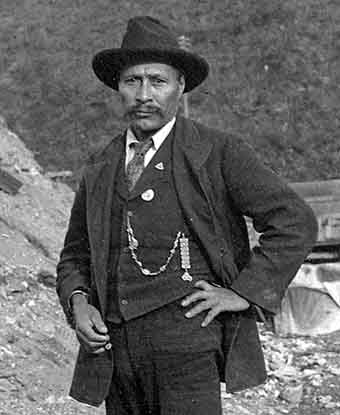 Significance:
Discoverer of gold that started the Klondike Gold Rush
Place of Birth:
Tagish, Canada
Place of Burial:
Carcross, Canada
Keish, born in 1855 in Tagish, would also later become known as Skookum Jim Mason. Keish was born near Lake Bennett to the Dakl'aweidi Clan. His family was tightly linked to the trade between coastal Tlingit people and the inland Tagish. His father was a Tlingit man from the Crow clan and his mother was Tagish from the Wolf clan. These strong family ties seemed to influence Keish because as a young man he worked in Dyea as a packer on the Chilkoot Trail.
Keish got the nickname Skookum (strong) Jim, for being able to haul huge loads of more than 100 pounds on the Chilkoot Trail. He also met George Carmack on the Chilkoot Trail, who would become a friend and partner. Carmack would eventually start a family with Keish's sister, Shaaw Tláa (Kate Carmack). These two men, along with Keish's cousin, began prospecting together in 1888. In 1887, Keish assisted Captain William Moore with a survey over another low lying pass to the east of the Chilkoot Trail. Moore would go on to develop this route to later competed with the Chilkoot Trail as a major route to the Klondike, known as the White Pass Route.
In the early 1890s, Keish left the area and his friends to head north to Forty Mile, along the Yukon River and began prospecting on his own. He returned some years later and reconnected with his sister and friend George. Soon after his return in August of 1896, the family group of four discovered gold on Rabbit (Bonanza) Creek. This discovery was the beginning of the Klondike Gold Rush. Together Keish, George Carmack, Kate Carmack, and Dawson (Tagish) Charlie worked what would become known as Discovery Claim and collectively earned nearly one million dollars. 
After the strike of good fortune, Keish built a home for his wife and daughter in Carcross, Yukon Territory where he spent the winters trapping and hunting. In the summer, he would return to the Klondike Fields and continue searching for gold. In later years, Keish built a home for his sister in Carcross, and developed a Trust that went to his people. For this reason the Tagish people and people of the Yukon consider Keish to be a generous man of historic significance.
Last updated: February 10, 2020