Person
Julia Archibald Holmes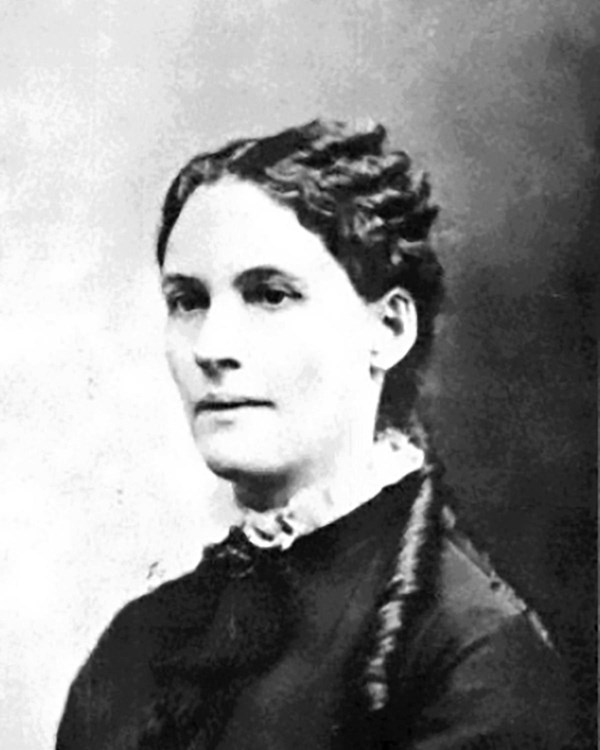 Significance:
A slavery abolitionist and women's suffragist who travelled the Santa Fe Trail
Place of Birth:
Noel, Nova Scotia
Place of Death:
Washington, DC
Julia Archibald Holmes was born February 15, 1838 in Nova Scotia. Her family moved to the eastern US in 1848, settling in Worcester County, Massachusetts. Julia's parents were staunch abolitionists who relocated their family to "Bleeding Kansas" amidst conflict over slavery in the region. The Kansas-Nebraska Act of 1854 mandated that voters in Kansas would determine if slavery was legal in the state, fueling emigration from anti-slavery and pro-slavery groups in an attempt to influence the vote.  
The Archibalds settled on the Wakarusa River and their property became a stop on the Underground Railroad. They helped found Lawrence, Kansas—a community of abolitionists. During their time in Kansas, the Archibalds spent time with other activists including John Brown who introduced Julia to her husband, James Henry Holmes. 
In 1857, Julia married Holmes (who went by Henry), seeing his involvement with John Brown's abolitionist militia as a sign that they were well matched. As newlyweds, Julia and Henry moved to Emporia, Kansas to farm but that lifestyle did not suit them. Joining Julia's brother on a trip down the Santa Fe Trail in 1858, Julia and Henry set out to have an adventure. 
The wagon party was composed of around 50 people—only two of whom were women. Julia traveled in what was known as a "Bloomer Costume", comprised of a calf-length skirt with puffy pantaloons underneath. The controversial outfit was a feminist statement, but it was a practical choice for life on the trail—during which Julia walked (instead of rode) to prepare for an ascent of Pikes Peak.
Joining the Lawrence Party, a group of gold-seekers headed for Colorado, Julia and Henry set their sights on reaching the summit of Pikes Peak. Julia wanted to show women that they could do anything men could do—and she did just that. Upon reaching the top in 1858, Julia became the first recorded European-American woman to climb the famous mountain. She shared her story with publications in the East including the feminist journal Sybil and the Whig Press. Her writings gained attention and she was later offered a correspondent gig with the New York Herald Tribune. 
After reaching Pikes Peak, Julia and Henry traveled to New Mexico, eventually arriving in Santa Fe in 1860 with their newborn son. Shortly afterward, they travelled to Washington, DC, to seek a territorial government position for Henry. With fellow Republican abolitionist Abraham Lincoln in office, Henry was appointed as the Secretary of the Territory of New Mexico. The family travelled back to New Mexico on the Santa Fe Trail with the US mail wagon train. 
The Holmes' abolitionist views were not wholly welcomed by the other New Mexico territorial appointees of the time. A power struggle ensued, exacerbated by Henry's choice to help his family operate a weekly newspaper called the Santa Fe Republican. Positions published in the paper led to Henry's arrest for sedition and the family's exit from New Mexico. 
After the Civil War, Julia divorced Henry and moved to Washington, DC, with her children. There, she became the first female member of the United States Board of Education and was a secretary for the National Woman Suffrage Association. Her hard work for the U.S. Department of the Interior was rewarded with pay equal to her male counterparts (which was unusual at the time). 
While in DC, Julia was extremely active in the suffragist movement.  In 1869, she participated as a delegate at the National Woman Suffrage Association convention. She helped foster suffrage associations and helped organize female clerks with her sister. Along with a growing number of suffragists, she attempted to register to vote in 1871. Although Julia died in 1887 before women received the right to vote, her commitment to women's suffrage helped pave the way for women's rights and her abolitionist work helped forward anti-slavery sentiment in New Mexico. 
Learn More
Sources
Birney, A. (2012). Julia Archibald Holmes, Santa Fe Trail sojourner. Wagon Tracks, 26(4), p. 17-20. 
Colorado Women's Hall of Fame. (2014). Julia Archibald-Holmes. Retrieved from https://www.cogreatwomen.org/project/julia-archibald-holmes/
Osborne, A. (2017, Feb. 6). Julia Archibald Holmes: First woman to summit Pike's Peak. Colorado Virtual Library. Retrieved from https://www.coloradovirtuallibrary.org/digital-colorado/colorado-histories/beginnings/julia-archibald-holmes-first-woman-to-summit-pikes-peak/
SFTA Hall of Fame: Julia Anna Archibald Holmes. (2012). Wagon Tracks, 27(1), p. 11.
Spring, A. W. (1949). A bloomer girl on Pike's Peak, 1858: Julia Archibald Holmes, first white woman to climb Pike's Peak. Denver, CO: Denver Public Library.
Last updated: March 7, 2023