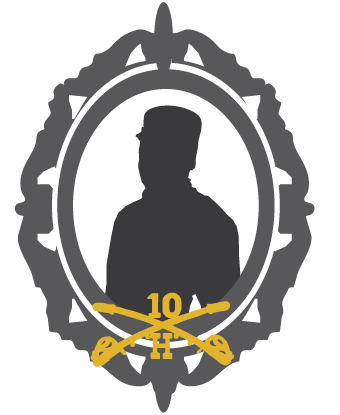 Significance:
Buffalo Soldier
Place of Birth:
Caldwell County, Missouri
Place of Death:
Leavenworth, KS
Date of Death:
August 11, 1924
Early Life
John Franklin Casey's military career was as fascinating as his personal life. Casey joined Troop H of the 10th Cavalry September 28, 1872, when he was around 20 years old. He stayed with Troop H for his entire military career, and was stationed primarily in Arizona and Texas, with forays into other southwestern states and transport duty by train, to Florida. Over his fifteen years of service, Casey reached the rank of First Sergeant, was demoted to Private (the lowest rank), and later regained his status of First Sergeant.
According to Casey's enlistment papers, his complexion was very fair. He was born into slavery in Missouri, and his mother had a very fair complexion, as well. His father was likely his master. His half-sister, Dilce Suggs, said "I know we had the same mother, she was part negro and part white and I have understood she may have had Indian blood in her too. Mother died at my birth, so I have understood since my childhood. Mother was called Ellen and she was a slave, owned by David Inyard (?).
I believe mother had had a husband named Brown, I don't know his given name or the name of his owner. He and mother had been owned by a man named Brown and he sold mother to Davis Inyard. I believe he was her last owner. I really don't know whether John F. Casey and I had the same father, though I believe we did. Now I guess that is wrong. I believe John was born while mother was the slave of Mr. Brown and that his father was named Casey, a white man, I don't know his given name, I am only telling what I heard from others when I was young."
According to Casey's second wife's son, Madison J. Evans, "[John Casey] claimed among the white folk here that he was a Spaniard, but to mother he admitted that he was partly of the colored race and partly of the white race. … both of my parents (Eliza Turner and her first husband) were mulatto's."
Casey's first wife, Pabla, was Mexican and they had two children, Mary and Frank; Mary died at a young age. In pension documents, officials raise a concern that this marriage, between a black soldier and a Mexican woman, might not have been legal at that time. In later court martial documents, the Army calls Pabla Casey's "lawful wife." They were married in Texas, in 1877 and separated by 1888. It seems they never were officially divorced, or if they were, those documents were lost by the 1920s. Both Casey and Pabla remarried.
Military Career
While Casey was stationed at
Fort Davis
, in Texas, he was court martialed in 1885. First Sergeant Casey was accused of hunting with "public women" ("ladies of the night") while he was married. His wife, Pabla, and their children lived within the garrison. Casey denied the charges, and despite a glowing recommendation from his captain, he was found guilty and "reduced to the Grade of a Private soldier and to forfeit to the United States (10) ten dollars per month of his pay for six (6) months."
In Casey's court martial defense, Captain Charles Cooper said, "I have known him [John Casey] since I took the company, or since I have been at this post rather, since August, 1882, and for the last two years or eighteen months since I have been captain of the company his character has been good and excellent in every respect. Always proved to be a good, efficient soldier and was about one of the best men I had in my company, --was my First Sergeant."
By the time Casey arrived in Bonita Canyon in 1885, he had worked his way up to the rank of Corporal. Many of the soldiers stationed in Bonita Canyon, including Casey, carved their names or initals into stones which they assembled into a stone monument to President Garfield. After Bonita Canyon (they left when Geronimo and Chief Naiche surrendered, in September 1886), Casey, Captain Cooper, and a few other men in Troop H captured Chief Mangus, the last major Chiricahua Apache chief. Casey was instrumental in negotiating a peaceful surrender. He translated English into Spanish, for Mangus' mother, who then translated Spanish into the Chiricahua dialect of Apache, an Athabascan language. After Chief Mangus and his band surrendered, they, along with many other Chiricahua Apache, were transported by train to Florida. Casey and other men from Troop H guarded the prisoners on their journey, and later received promotions for their roles in ending the Apache Wars.
Later Life
Casey's last enlistment ended in March, 1888 and he returned to Missouri, his home state. After Casey's time in the Army, his primary occupation was barber, and many white men went to his barbershop, including his future wife's son, Madison J. Evans. Casey married his second wife, Eliza Turner June 20, 1888, and they may have had a daughter together. They remained married until Eliza passed away April 28, 1905.
Casey was his third wife's third husband. Emma Louise Thomas was a white woman, also from Missouri. Because interracial marriage was illegal in Missouri until 1967, Emma and Casey were married in Kansas, although they continued to live in Missouri. In 1920 Emma and Casey moved to Leavenworth, Kansas, so that Casey could become a member of the National Military Home there. Because of his small pension, Casey and Emma lived in a house near the Military Home, where Casey took his meals. They remained married until Casey died on August 11, 1924 at their house near the Leavenworth National Military Home.
John Casey liked to claim his very first marriage (before Pabla) was to the notorious Belle Starr, also from Missouri. The pension officials took his claim seriously and looked into it, although his half-sister Dilce Suggs told them, "his besetting sin was to tell tall tales, based upon his own imagination, exaggerated about a great many things, though he was honest in his business and was very kind-hearted." The pension officials never found any support that Casey was married to Belle Starr, but it was a tall tale he told quite a few people throughout his life.
Much of what is known about John Casey and other Buffalo Soldiers stationed at Bonita Canyon is gleaned from enlistments, court documents, and other official records. Some of his biographical information was first compiled in Warriors of Color, by Harold Ray Sayre. If you have any information about John Franklin Casey, or any other soldier stationed here, we would be glad to hear from you. Please email us.
 
Last updated: December 15, 2018