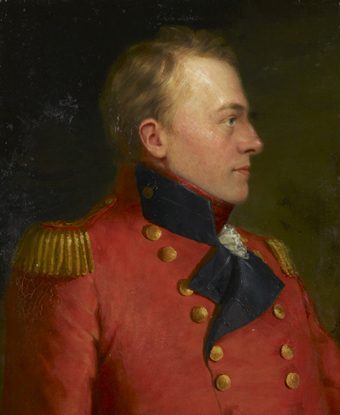 Significance:
Royal Army leader
Place of Birth:
St. Peter Port, Guernsey Island, England
Date of Birth:
October 6, 1769
Place of Death:
Queenston, Ontario
Date of Death:
October 13, 1812
Although lacking a formal education, General Sir Isaac Brock established himself as a clever and popular general. His willingness to fight alongside his troops and dedication to the defense of Canada made him an inspiring leader and a war hero for the colony, however also contributed to his untimely death at the Battle of Queenston Heights.
From an early age, Brock was a studious and scholarly child, interested in learning and reading anything he could get his hands on. This clever nature helped him rise rapidly through the ranks of the British army. He was sent to the Caribbean upon enlisting at the age of 15, and had his first combat experience in 1801 at the Battle of Copenhagen. He gained a great appreciation for Lord Nelson's tactics and would use this as he became a military leader.
In 1802, he was assigned to Canada and faced with resolving the common issues of mutiny and desertion that plagued Canadian troops. Brock realized that the Americans' low opinion of Canadian militias would likely result in a possible invasion. A full decade before the War of 1812 was declared, Brock was organizing for Canada's defense. Some of the innovations to help war preparations that Brock instituted included improving recruitment and training for militia, making alliances with First Nation leaders, and improving defense fortifications.
As soon as war was declared, Brock was eager to guide his army into battle. Despite the protests of General George Prevost overseeing all operations in Canada, Brock led a successful attack on Fort Mackinac in upper Michigan. After an unsuccessful push by the Americans, led by General William Hull, to invade Canada from Detroit, Brock felt justified in pushing ahead with an invasion of Detroit that he had already been planning. Brock met with Shawnee leader Tecumseh in July 1812 and organized an attack capitalizing on Hull's fear of Indians. This tactic ended up being very successful, with Hull surrendering immediately. This cleverness impressed Tecumseh and the Shawnee warriors, and cemented their alliance against the Americans.
Brock knew that this offense would result in retaliation, and hurried to prepare defenses throughout Upper Canada. The retaliation came a few months later, along the Niagara Peninsula at Queenston Heights. Brock was stationed at nearby Fort George at the time and ordered an immediate attack. Brock personally led the charge on foot, but his considerable height and conspicuous officer's uniform made him an easy target. A single musket ball entered his heart and Sir Isaac Brock died almost immediately.
Brock was never satisfied with his Canadian posting and frequently requested transfers back to Europe to fight in the Napoleonic Wars. However, unwilling to abandon Canada to the Americans, even when a transfer order came through early in 1812, he stayed on. Although Brock never identified himself with Canada, he has been adopted by Canadians as a favorite war hero, referred to as "the hero of Upper Canada." Statues, towns named after him and even a university bearing his name are spread all over a grateful nation.
Last updated: February 22, 2019