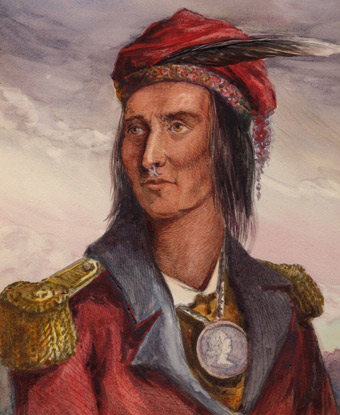 Significance:
Shawnee leader
Place of Birth:
Scioto River, Ohio
Date of Birth:
March 9, 1768
Place of Death:
Chatham-Kent, Canada
Date of Death:
October 5, 1813
Tecumseh began life in the Shawnee village of Piqua, Ohio on March 9, 1768 as a great meteor flashed and burned its way across the heavens. This event accounts for his name: The Shooting Star, or Celestial Panther Lying in Wait. Tecumseh grew to be a famous warrior and dynamic orator. These skills, paired with his belief that the white man would never rest until all American Indians were dispossessed, made him a powerful and influential force. 
Tecumseh conceived of an alliance of all remaining native people, from Canada to the Gulf of Mexico, from the prairies of the Midwest to the swamplands of Florida. All Indian people would set aside their ancestral rivalries and unite into a single movement to defend their culture, their homelands, and their very lives. 
Providing spiritual impetus for Tecumseh's movement was the teaching of his younger brother, known as Tenskwatawa, The Open Door, or The Prophet. In 1808, the Shawnee brothers established a new capital on the banks of the Wabash and Tippecanoe rivers, while Tecumseh traveled extensively in an effort to build his alliance. 
In the summer of 1811 Tecumseh traveled south to meet with the Creek, Chickasaw, and Choctaw people. The Shawnee leader had promised a sign of his power, and as he arrived in Alabama a huge comet appeared, brightening the skies and fading after his departure. Then, shortly after he left for Prophetstown, a series of violent earthquakes arched out of their epicenter in southeastern Missouri to destroy lives and property throughout the midwest and south. In the minds of the Creek and many others, Tecumseh had made good on his promises. 
Meanwhile, growing tensions between the U.S. and Great Britain exploded into war. Tecumseh saw the War of 1812 as his final opportunity to construct an independent Indian nation. He journeyed to Canada in July of 1812 and forged an alliance with the British. General Isaac Brock placed Tecumseh in command of all Native American forces with the understanding that, should the British and Indians be victorious, the Old Northwest would comprise an independent Indian nation under British protection. 
Despite a number of victories, this partnership turned fatal on October 5, 1813, at the Battle of the Thames River. Outnumbered three-to-one by General William Henry Harrison's army, the Indian and British forces were overwhelmed, without fortifications, and ultimately doomed.
Tecumseh's vision of a unified American Indian homeland was never fully realized. Within 35 years of Tecumseh's death at Moraviantown, many Native nations east of the Mississippi River were forcibly relocated. But today the great Tecumseh is still revered for his intelligence, leadership, and military skills, and he is honored throughout North America.
Last updated: August 31, 2020