On August 16, 1812, the terrified American General William Hull surrendered Fort Detroit along with his 2,500 men. It was a stunning victory for British General Isaac Brock and for Canada—and a shocking and humiliating loss for the Americans.
"He is a coward" Captain Thomas Jessup, August 1812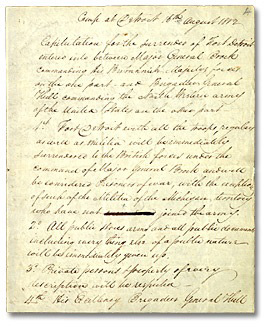 During the winter of 1812, the territorial governor of Michigan, William Hull, ventured to Washington.  His purpose was to lobby the Madison Administration for command of the expected American invasion of Canada.  Having distinguished himself in a number of Revolutionary War battles, many saw Hull as a natural choice.  
The conventional strategy for invading Canada centered on the capture of the vital city of Montreal. Hull instead proposed an invasion from the west, using Fort Detroit as a base. Hoping for a quick and decisive knockout blow, President Madison endorsed Hull's bid. Embracing Hull's plan for invasion would have enormous consequences for both the American and British sides, and had huge influence on the early course of the war.
Hull reached Fort Detroit in July, and crossed into Canada proclaiming "I come to find enemies not to make them. I come to protect and not to injure you." Initially, Hull's declarations appealed to the ambivalent population, and 500 Canadian militia deserted. Facing a prevailing sense of defeatism among his forces that threatened his ability to oppose the invasion, British Major General Isaac Brock bolstered Canadian resolve by improving the militia's capabilities, tightening up compulsory requirements for service, and aggressively courting Indian allies.
Haunted by the threat of Indian atrocities, Hull began to lose his nerve for the invasion. In August, he ordered his forces withdrawn from Canada back to Fort Detroit.  Some of Hull's dispirited men began to lose confidence in their general.  One officer declared, "He is a coward…and will not risk his person."
Sensing fear, Brock pursued the Americans, parading his Indian allies around Fort Detroit for psychological effect.  He later called for Hull's surrender with this unnerving message: "It is far from my intention to join in a war of extermination, but…the numerous body of Indians who have attached themselves…will be beyond control the moment the contest commences."
On August 16, a terrified Hull surrendered Fort Detroit, along with his 2,500 men. It was an inspiring victory for Brock and Canada, a shocking and humiliating loss for Hull and the Americans, and a momentous early turning point in the War of 1812.
Last updated: March 5, 2015