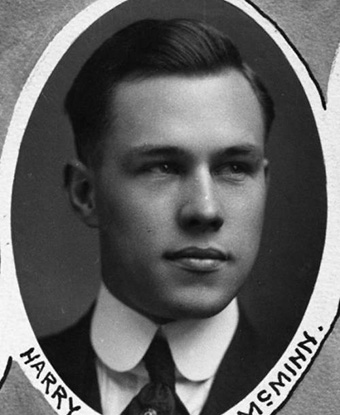 Significance:
Tennessee legislator who cast the deciding vote to ratify the 19th Amendment
Place of Birth:
Mouse Creek, Tennessee
Date of Birth:
November 12, 1895
Place of Death:
Niota, Tennessee
Date of Death:
February 19, 1977
Place of Burial:
Niota, Tennessee
Cemetery Name:
Niota Cemetery
Born and raised in the small town of Niota in Eastern Tennessee, Harry T. Burn became the youngest member of the Tennessee General Assembly when he was elected in 1918 at the age of twenty-two. He entered history two years later, on August 18, 1920, when he cast the deciding vote to ratify the 19th Amendment to the U.S. Constitution. In his pocket was a letter from his mother, Febb Burn, urging him to "be a good boy" and vote for the amendment. He took her advice.
By the summer of 1920, thirty-five states had ratified the women's suffrage amendment. Eight had rejected it. One more was needed for it to become law, and Tennessee looked like suffragists' best (and possibly only) hope. The legislature had called a special session to vote on the amendment. The battle in Nashville had been fierce. Suffragist and anti-suffragist campaigners lobbied, cajoled, and browbeat lawmakers in the Tennessee State Capitol and the halls of the nearby Hermitage Hotel.[1] One of their targets was Harry Burn.
Burn personally supported suffrage, but he was under tremendous political pressure. He was up for reelection that fall and knew his constituents in McMinn County did not want women to vote. The Tennessee suffragists had lobbied him and thought he seemed supportive, but they couldn't be sure. In the meantime, many of Burn's Republican colleagues and mentors, concerned about their political fortunes in the state, pressured him to oppose suffrage.
On August 18, Burn entered the General Assembly chamber wearing a red rose in his lapel, the symbol of the anti-suffragists. When a motion to table the amendment—which would have all but doomed it—came up, he voted for it. But the vote was a tie. Seeking to kill the amendment once and for all, the anti-suffrage Speaker called for another vote on the amendment itself. Burn's yes or no vote could pass it—or send it down to defeat.
Anyone watching could conclude that Burn had chosen to oppose suffrage. But in fact, he was wracked by indecision. A letter from his mother, Febb Burn, had been delivered to him in the chamber. "Hurrah and vote for suffrage and don't keep them in doubt," it read. "I've been watching to see how you stood but have not seen anything yet…Don't forget to be a good boy and help Mrs. [Carrie Chapman] Catt." As he waited to vote, he had the letter in his pocket.
To the astonishment of the onlookers, when Burn's name was called, he voted "aye." The 19th Amendment would become the law of the land. The next day, Burn explained his choice. "I believe in full suffrage as a right," he said. "I believe we had a moral and legal right to ratify. I know that a mother's advice is always safest for her boy to follow, and my mother wanted me to vote for ratification."
After a hard-fought campaign, Harry Burn narrowly won reelection in the fall of 1920. He went on to a long career in public office in Tennessee. He married Ellen Folsom Cottrell in 1937 and had one child, Harry T. Burn, Jr. Burn died on February 19, 1977 at the age of 81.
Notes
[1] The Tennessee State Capitol was added to the National Register of Historic Places on July 8, 1970 and designated a National Historic Landmark on November 11, 1971. The Hermitage Hotel was added to the National Register of Historic Places on July 24, 1975 and designated a National Historic Landmark on July 28, 2020.
Last updated: July 31, 2020